eChecks are one of the easiest available methods of depositing money to an online casino. It functions the same way as a physical check does but without the extended wait time of mailing it to the other party and waiting for the recipient to cash it. The process is instantaneous and happens over the Internet. To submit an eCheck all one needs is to have a valid checking account and fill out the needed forms. The process is the same as with the standard checks that many people are familiar with and have been using for decades.
Before you can issue checks, you need to open a checking account with a bank that supports this payment method. The eCheck client will require some basic information from you such as your name, permanent address, bank account number etc. Depositing to Online Casinos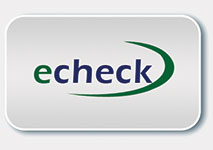 To make a deposit using eCheck go to the cashier page and select 'Instant eCheck', enter your details and confirm the payment. The information required is the same as with regular paper checks: name, account number, routing number, bank name etc. The payment is instant and you can start playing a game as soon as you wish.
Withdrawing from Online Casinos
When choosing to withdraw your winnings via eCheck you should take into account that not all casinos support this method of withdrawal. Contact the casino's customer support to better understand what your options are. In the event that you cannot withdraw your money via eCheck, you must resort to using other transfer methods like wire transfer, physical check or third party payment services.
Fees and Limits
This type of online transaction is considered to be one of the most comfortable and hassle-free payment methods, because of its simplicity, ease of use and swift transfer of funds. Also worth mentioning is the low cost of the transaction. The average cost of an eCheck transaction cost anywhere between 0.30$ and 1.50$. Although some casinos limit first eCheck transactions to an average of 100$, once the player has achieved a history of good standing with the casino they increase the limit to 500$ and beyond.
Security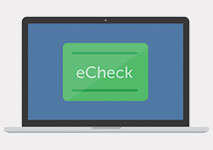 Using eChecks is a secure way to make payments to casinos that accept them. The payment is made directly from the client to the casino, cutting out the middleman such as when paying with a credit card. Casinos also make use of this system's advanced security which incorporates digital fingerprints and tracking. Another advantage of this system is that since the whole process happens online payment tracking is much simpler and easier. Each transfer is assigned its own unique tracking code which the player may use as a reference and as a transaction record. Of course having to provide one's personal and banking information to the eCheck system may be a hard pill for some people to swallow. The entire process is heavily encrypted so the customer's private and financial details are safe.
The casinos themselves have no direct access to information and a person can forward payments to multiple casinos at once from the eCheck system.
Availability
eChecks are accepted by most large and reputable online casinos, but not all customers have access to them. Availability in the United States entirely depends on the local state laws and regulations concerning online casinos. While online casino in the US are technically legal depositing funds to them is simply put difficult.
International casinos have adopted the eCheck payment method for the simple fact that North American players prefer to pay using checks and are more likely to have a checking account than European players. Similarly to the US Canadian laws regarding online betting are troublesome though not to the same extent. Online casinos in the United Kingdom on the other hand are completely legal and thriving. They have many diverse payment methods eChecks being one among them.
Advantages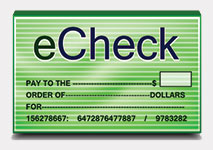 We are living in the age of the Internet and we are always connected to it even when we are away from a computer or on the move. Most banks that service checking accounts also have their own mobile applications for Android and iOS. This makes it easier for players to charge their casino accounts if they are away from a computer or cannot access one for whatever reason.
The main appeal of eChecks over classic paper ones for players and casino owners alike is that the transfer of money is immediate and the player can begin a game almost as soon as they have sent the payment. Whereas if they sent a paper check they would have to wait several days at which point they may lose the desire to play. In addition the sum can be refunded by the bank within 60 days of issuing the check (similarly to a credit card) should any trouble or fraudulent activity occur.
ECheck users are provided with a card which they can use to withdraw their winnings from any ATM in the world. Although this must also factor in the casino's commitment to honoring their obligation of giving you your winnings. For this reason one must always research a casino before reaching the decision to play there.
Though not as popular as other methods of payment eChecks transaction bring with them a few bonuses for players. Typically around a 10% deposit or a set sum bonus awaits players at most large casinos.
Disadvantages
A drawback to using eChecks is that because of the much smaller time window in which funds are released from your account, you need to have the full sum in your checking account at the time of the transfer, otherwise the check will bounce. Also one must take into account the fact that the bank will most likely not issue a copy of a canceled check even if presented with a paper one.
Conclusion
It is easy to say that eChecks are a safe and reliable method of payment when taking part in online gambling, which can be incredibly simple to use. The direct nature of the transaction leaves little room for fraudulent activity and the ease of tracking payments further simplifies the resolution of any issues that may occur.