Being the world's leading payment system for more than 50 years, Visa has become a global standard when it comes to credit and debit cards. With an estimated 900 million card holders around the globe, it is no surprise that Visa is accepted almost anywhere in the real world and on the Internet.
Visa credit and debit cards offer exceptional protection to users, as well as the opportunity to make payments and receive funds in exchange for very low fees in almost any part of the world. Moreover, multiple banking and financial institutions are licensed to issue Visa cards to their customers, which means that the brand's credit and debit cards can be obtained easily and at conditions that are convenient to the client.
As Visa is regarded as one of the most trusted payment methods today, it is widely popular among online gamblers for the safety and the convenience it offers. Players can use it for instant deposits and hassle-free withdrawals at almost any web-based casino. Topping up their balances with Visa cards, they avoid processing fees and can enjoy increased deposit limits and various reload bonuses. How Visa Cards Work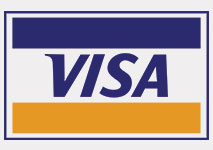 Just like other popular payment services providers such as MasterCard or American Express, Visa offers traditional credit cards to its customers, as well as debit cards and pre-paid cards. Their annual fees, reward systems, and other conditions vary, depending on the organization or institution that issues them, the particular type of card, as well as which country you reside in.
A Visa credit card allows customers to take advantage of a monthly credit, while the company's pre-paid cards let them spend only what they have. Visa debit cards, on the other hand, give direct access to the funds in your bank account and just like with pre-paid cards, do not allow overspending.
Funding your online casino balance with Visa is easy and fast, no matter which type of card you have. Using this payment system for online gambling is very convenient, because it is available for withdrawing winnings, as well.
Applying for Visa Cards
Users can acquire a Visa card easily from their bank, as most banks offer at least several types of Visa credit, debit, and prepaid cards. Annual fees, interest rates, and rewards are different for each bank, so it is recommended that gamblers check the terms and conditions of the largest card issuers in their country.
Due to the convenience of its cards, Visa, along with a few other leading financial services providers, is expected to fully replace traditional cash payments with electronic transfers. When choosing a Visa card, online casino players should take into account all the differences and perks each variety has to offer.
Visa Credit Cards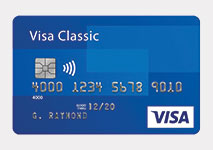 Users can choose from a wide variety of credit card products and programs that will correspond to their individual needs and spending habits. The Visa credit cards allow flexibility and safety, while the debt can be paid off over a certain period of time, negotiated between the bank and the customer. This provides great flexibility and convenience, whether you are using your card for making purchases, paying bills, receiving cash for emergencies or playing your favorite real money slots, roulette or baccarat games in your preferred casino.
Visa Debit Cards
Debit cards, including Visa debit cards, function much like checks or cash. They give instant and secure access to the funds in your bank account and can be used for making payments, shopping, cash withdrawals, and online gambling. Typically, the fees when having a Visa debit card are smaller, so this type of card has become one of the most preferred payment options around the world.
Visa Pre-Paid Cards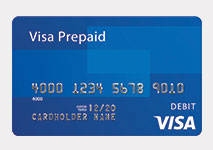 The greatest advantage of using a Visa pre-paid card is that having a bank or checking account is not necessary. Multiple banks, financial institutions, and retail stores can issue Visa pre-paid cards, so when applying, users are not required to provide perfect credit scores. With their pre-paid card, they are able to spend only pre-loaded funds and stick to a fixed budget. This type of card is ideal for online casino players who wish to keep track of their spending.
In addition, Visa credit/ debit cards can be used for making payments at millions of POS terminals around the world and online, and for withdrawing cash from almost any existing ATM.
Depositing in Online Casinos via Visa Cards
When using Visa cards, gamblers can make deposits to their casino accounts instantly. All they need to do is open the Cashier section at the casino website, choose "Credit Cards" as their preferred deposit method and proceed with Visa from the list of options available.
To register your card, you need to enter your name, the Visa card number and expiring date, as well as the 3-digit security code. It is called CVV number (Card Verification Value) and it is printed in the signature area at the back of the card. Then, you need to enter the amount of money you want to top up your casino balance with.
If all data is correct, your Visa card should be accepted and the transaction confirmed. This takes no more than a minute, so you will be able to play for real money immediately.
Withdrawing Your Winnings via Visa Cards
Withdrawals from online casinos are just as easy and straightforward – players need to register their card after choosing Visa Cards from the withdrawal options at the casino's Cashier or Payments page.
While deposits are instant with Visa, the processing of the transfer from your gambling account to your credit/debit card will take 3 to 5 business days to complete. Some casinos may also ask you to provide a readable copy or image of your ID and your Visa card to prove that you are the actual card holder.
Most web-based gambling operators do not charge fees for making deposits through Visa debit or credit cards. However, some banks may impose small fees.
Security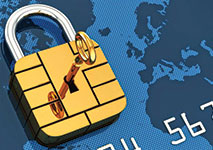 When it comes to security, Visa cards offer the typical protection you can expect when using a credit or debit card online. To ensure safety and full protection, gamblers need to play at well-established, reputable online casinos, which offer proper SSL encryption. The Secure Sockets Layer technology, or SSL, is featured on all respected gambling websites and guarantees that all personal and financial data entered will remain private.
Players can easily determine whether a web page is SSL secured by checking the site URL – it should start with "https", and by checking if there is the so-called "lock" icon.
Fees And Limits
Usually, deposits made via Visa credit, debit or pre-paid cards are free, but some casinos will charge 2% to 3% of the sum. The minimum deposit with a Visa card is $10 or $20, while the maximum limit ranges from $500 to $2,000 per transaction, depending on your status at the casino.
The fees for withdrawals also vary for different casinos, but players need to take into account that their card issuer may also impose a fee.
Advantages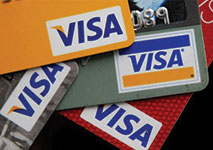 Visa cards are becoming more popular among online gamblers because they offer simplicity and convenience, as well as the opportunity to play at multiple web-based casinos. Making deposits with Visa cards is easy, convenient and instant. You are able to play with your funds only minutes after the transaction is confirmed.
In addition, processing fees are very low, if any. In addition to the reload bonuses at some casinos, they make Visa cards a very cost-effective payment option.
Disadvantages
Some banks may not allow transactions with online casinos due to their policies regarding gambling activities.
Another disadvantage, which is valid for credit cards in general, is that some players can easily lose track of how much they are spending on gambling. Having a fixed budget with a Visa pre-paid or debit card may be more suitable for less disciplined gamblers.
Before choosing a particular type of Visa card, players need to review all existing offers at their local bank offices and find one that will meet their individual needs.
Conclusion
The greatest benefit for online casino players is that Visa cards are accepted by hundreds of web-based gambling providers and can be used for purchases and payments globally. The exceptional flexibility and the low fees of Visa credit and debit cards are making them the most preferred payment method for gamblers and Internet users.
Unlike modern options such as e-wallets, players can not only load funds instantly into their casino balances, but they can also withdraw their winnings easily at any ATM around the world.
As long as they are playing at respectable, trusty online casinos, gamblers have nothing to worry about. Their Visa credit or debit card will provide them with the highest levels of security and convenience possible.