PayPal is a widely used online payment system that offers its customers around the world safe and convenient transactions in multiple currencies. It allows for sending and receiving funds even to users with no credit card or bank account and it is the most recognized e-payment processing services provider in the world.
Founded in 1998, PayPal is often associated with electronic commerce, especially since it was acquired by eBay in 2002. However, its electronic financial services are also widely used for transferring funds between individuals and business entities, as well as for online gambling. As most players at web-based casinos today have PayPal accounts, an increasing number or gambling operators are offering it on their sites. Still, due to the strict policies of the company regarding online gambling, online casinos without proper licences do not have PayPal as a payment option. US-based players may also face difficulties with this system, as most US states do not regulate online gambling.
Known for its simplicity, high levels of security and instant transactions, however, PayPal is among the most popular deposit and withdrawal methods for online gamblers worldwide.
How PayPal Works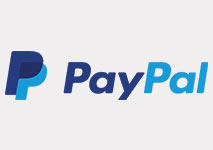 One of the most preferred financial services of PayPal is its digital wallet, which is accepted by almost all Internet merchants. It works by allowing its customers to send and receive money even without a bank account or a credit card. Users can have a PayPal account as long as they provide an email or a valid telephone number.
Opening a PayPal account is free of charge and there are low or no transaction fees, as opposed to other banking and financial options. After registering, users can connect their PayPal e-wallet with their bank account or their credit/debit card. Transfer processing is instantaneous, so gamblers are able to top up their online casino balances within seconds and play for real money immediately after confirming their deposit.
Registering a PayPal Account
Signing up for a PayPal account is simple and free of charge on the service's official website. Players can easily open a personal account by providing their email address and the country they are based in. Then, they need to enter their chosen password and confirm the registration. The website also requires basic personal information before creating the account – full name, address, date of birth, and a telephone number.
To verify their accounts, players need to receive a confirmation email from PayPal and follow the link in it. In order to be able to make payments or receive funds, they also need to add a payment method such as a credit/ debit card or a bank account.
Linking with the user's preferred payment processor is simple and easy, but a small, refundable fee will apply for generating a 4-digit security code. This code will appear in the user's bank statement and will need to be entered in a special field on the PayPal website, which says "Confirm my debit or credit card". Once this process is complete, the fee for generating the code will be refunded.
The PayPal Business Debit MasterCard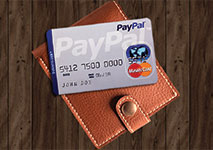 When signing up at the PayPal website, players can create either a Personal, or a Business account. Business accounts offer more benefits when selling products and are designed for companies, but they can be used by individuals, as well.
PayPal Business account holders have the opportunity to receive a plastic debit card for free, which provides direct access to their PayPal balance. The PayPal Business Debit MasterCard can be used to withdraw cash from any ATM that supports MasterCard, Maestro or Cirrus, or to make purchases in thousands of stores which accept Debit MasterCard. Using this card for purchases earns you 1% cash back rewards.
The PayPal Debit MasterCard is available only to US-based account holders, but it can be used around the world. Standard transaction fees for cash withdrawal and shopping will apply, with charges ranging from 2.2% to 3.9%.
Funding the PayPal e-wallet can be done also via bank transfers or local bank payments. Users can have several payment options linked to their PayPal account.
Depositing at Online Casinos via PayPal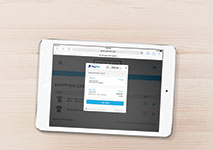 Making deposits at online casinos via PayPal is quick and easy, so it would not be difficult for gamblers to use this method. You need to be logged into your online casino account and then visit the Cashier/ Banking page. Choose PayPal from the list of options and the amount of funds you want to deposit. A pop-up window will appear where you will need to log into your PayPal account and confirm the transaction.
Typically, deposits are processed in a matter of minutes, so you will be able to place wagers and play for real money almost instantaneously. Most web-based gambling merchants offer 10 to 15% reload bonuses on each deposit made via PayPal.
Providing further convenience to its users, PayPal also supports 30 different currencies, including popular ones such as USD, GBP, CAD, EUR, SEK, CHF, and more.
Withdrawing Winnings with PayPal
Withdrawing funds from your online casino balance works equally easy. After choosing PayPal as a withdrawal method, you will log into your account in a pop-up window and specify the sum you wish to transfer from the casino to your PayPal account.
The withdrawal will be processed in 1 to 3 business days, depending on the casino's individual policy. However, this is faster than most withdrawal methods – bank transfers can take more than a week to complete, for instance, therefore it is widely preferred by gamblers.
The PayPal Mobile App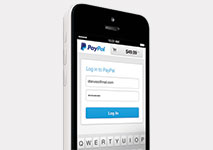 PayPal has simplified topping up and withdrawing funds from online casino accounts by introducing its free mobile application, available to both iPhone and Android users. The app allows you to conveniently transfer money to and from your account even if you do not have access to a computer.
The PayPal app also sends players instant notifications when they receive money from their casino winnings. Moreover, it displays all changes to the PayPal balance, which helps you monitor and control your spending.
Fees and Limits
Processing payments between individuals via PayPal is free, as is loading your account with funds or paying a merchant. Like other vendors, most web-based gambling operators do not charge fees for deposits and withdrawals using PayPal.
However, PayPal may charge you a small fee for transferring funds from the e-wallet to your bank account or credit card. Typically, it is 2.9% plus $0.30, in addition to any currency conversion fees if you opted for a different currency.
The minimum single deposit limit is $50, while the maximum stays at $5000. There is also a monthly maximum deposit limit of $10,000. When withdrawing via PayPal, you need to verify your account in order to withdraw more than more than $500 per month.
Security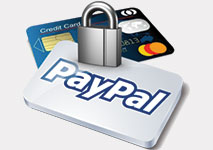 PayPal is considered one the safest online payment methods and certainly, one of the most secure ways to deposit and withdraw funds from online casino balances. While this system is exceptionally easy to use, it protects players by not displaying their personal or financial information on gambling websites. It allows anonymity, while through the SSL encryption, it keeps all data safe and secure.
PayPal also complies with the European banking licence terms which require the highest levels of security. In addition, all users can monitor their PayPal activity, as the service keeps full history of all transactions.
Advantages
With more than 200 million users worldwide, PayPal is one of the most recognized and respectable Internet payment systems. It offers online casino players great convenience and protection, as well as instant deposits and fast withdrawals.
Its simple interface and its mobile app makes PayPal one of the leading payment methods and is increasing its popularity among gamblers. Other undeniable benefits are the absence of fees and the reload bonuses for deposits.
Disadvantages
Despite the many advantages of PayPal as a deposit and withdrawal method at online casinos, there are still serious issues that need to be taken into account. Namely, PayPal is not available to many US-based gamblers, just as many online casinos, due to the harsh gambling legislation in the country.
PayPal itself do not accept all gambling-related transactions because of its policy towards gambling in general, so before choosing it as a payment method, one should closely review its policies and conditions.
Conclusion
Despite its few limitations, PayPal remains one of the most preferred methods for loading and withdrawing funds from online casinos. It is safe, fast and easy-to-use, so its popularity is expected to only rise in the future.
Web-based gambling operators offer attractive bonuses to players who choose it as a deposit method, which makes PayPal even a more cost-effective option. And as it is accepted by thousands of merchants on the Internet, gamblers' casino winnings can be easily used for shopping, paying for various services or buying gifts.