Payforit is a carrier billing service that provides users with the option to make online payments using their smartphone. Payforit is jointly owned by mobile operators Three, EE, O2 and Vodafone.
In 2003, T-Mobile, Orange, Telefonica and Vodafone formed a consortium to create a platform for consumers to make payments online via their mobile phones. The platform was meant to work with all operator networks and there were plans to create a framework across all of Europe. The service initially launched in Spain, but plans for expansion were scrapped in 2005. As a result, the UK founders of Simpay started work on their own project called Payforit, which they launched in the United Kingdom in 2007. How the Method Works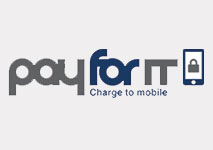 Payforit charges your mobile carrier, who in return puts those charges on your phone bill at the end of each month's payment period. The service is available on every mobile carrier in the UK and can be used on both prepaid and standard plan phones. If you have a prepaid plan, the charges will simply be deducted from your available balance. Whereas, if you are on a pay-as-you-go basis, the charges will appear on your phone bill at the end of each pay cycle.
Payments are made over an Internet connection either on a mobile network or on WiFi. When on a 3G or LTE network, the service naturally recognizes your phone number through your mobile service provider and does not ask for it. When on a WiFi connection, the service cannot see your phone number and as a result you must enter it manually. You will receive an authorization code via SMS which you must enter on the purchase page, only then will your purchase be complete.
This payment method does not rely on credit cards or bank accounts.
Depositing to Online Casinos with Payforit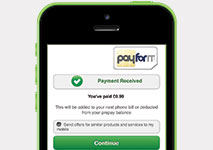 To deposit via Payforit, just go to the cashier page of the casino. There select the 'Pay by Mobile' option. A pop up window will appear where you will be asked to enter how much money you wish to deposit and your mobile number. After that you will be sent a text message asking you to confirm the transaction. If the transaction clears through, the funds will be immediately available and you can start playing.
Withdrawing from Online Casinos with Payforit
This type of service is designed for one-way payments only and does not support cashbacks. As the user does not receive an eWallet, there is nowhere to withdraw any money to. Players seeking to cash out will be forced to resort to other transaction methods such as traditional checks, wire transfers or using a third-party eWallet service.
At this point in time, it is unfortunately not possible to make withdraws via Payforit.
Fees and Limits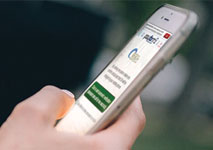 When using Payforit the customer only pays for what they purchase. There are no transaction fees for the service itself. However, the amount you can transact is strictly limited on a carrier by carrier basis. Orange customers are limited to spending £30 per month. All other carriers impose a daily spending limit of £30. Using Payforit for online subscriptions is limited to £4.50 per week, unless the consumer has prior approval from PhonepayPlus. The service is originally designed for buying from app stores or making in-app purchases, so the spending limits make sense in this context.
Security
In spite of its simplicity, Payforit is one of the most secure payment methods. To make a purchase one needs to use the mobile phone they are charging the purchase to. When making a purchase on a mobile network, your phone number will be recognized by the network. When buying something on a WiFi connection an authorization code will be sent to your phone, which you must enter to continue with the purchase. So even in the event that someone gets a hold of your mobile phone number they cannot harm you in any way.
The only way to cause any damage is to physically steal a phone.
Advantages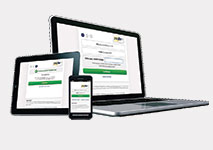 Payforit is an excellent payment solution where efficiency and discretion are concerned. It is much safer to use online than a credit card or a bank account, as the possibility for someone causing you harm is practically nonexistent. Furthermore, where bank transfers can take up to several days to process, payments made via Payforit are completed within seconds.
Disadvantages
As dependable as Payforit seems, it is unlikely to satisfy too many gamblers. The deposit limits are laughably small for anyone who wishes to take part in serious gambling. While budget-oriented players might appreciate this feature, high rollers will unsurprisingly be disappointed. Coupled with the fact that withdrawing funds is impossible, the service becomes ill-suited for the purposes of high-roller gambling.
To use the Payforit service you have to disclose your mobile phone number. Some people might take up an issue with this as it might lead to a breach in privacy. Some unscrupulous sellers may also choose to send you promotional texts or ads directly to your personal phone.
Also worth noting is that Payforit provides the network for the transactions, but does not police them. This means that any extra charges or disputes must be resolved between you and the seller or online casino directly. On top of that should your phone be lost or stolen, you are liable to pay up to £100 for charges made on that device after the fact.
Payforit is a service only available to consumers who own a phone with a UK phone subscription. People from outside the United Kingdom have to make use of another online payment solution.
Conclusion
Payforit is an excellent service when it comes to making instantaneous micro-transactions on your phone. However being unable to withdraw your winnings or deposit more than £30 per day makes this service unfit for use in online casinos. Gamblers should look at other online transaction methods that will surely satisfy their needs better.