Skrill is an e-commerce business focused on providing low-cost money transfers over the Internet. The company is headquartered in London, UK. Founded on 27 July 2001 in the UK under the name Moneybookers, the company quickly established itself as a major player in the online financial services sector.
In 2007 Skrill was bought by Investcorp for $105 million and put for sale again in 2009 for £365 million. Currently Skrill is a subsidiary of Paysafe Group, which also owns Skrill's one-time competitor Neteller. Skrill has been a pioneer in the development of safe and quick online transactions, their payment gateway having been implemented by some Internet giants such as Facebook, eBay and Skype.
Skrill is a very popular service for many online gamblers and there is hardly an online casino that does not support it. It currently operates in nearly every country around the globe, with the exception of a several banned or limited ones such as Iraq, Iran, Cuba, North Korea etc. How the Method Works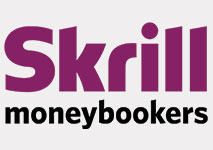 Skrill offers its users an eWallet, which functions like an Internet bank account. Users can make instant payments to websites that support this service, while also receiving money from other people. Transactions between Skrill accounts are instantaneous. A user may fund their Skrill account via conventional means such as credit card or bank transfers.
Making a Skrill account is straightforward, albeit somewhat time consuming. All you need to do is enter your country of residence, choose your main currency, provide your name, address and email. After that a verification email will have been sent. Just click on the verification button and your Skrill account is set up and running.
Depositing to Online Casinos
After setting up a Skrill account you can begin making payments immediately. On the cashier section choose the eWallets section and after that select Skrill/Moneybookers. You will need to provide the email address, used to register the Skrill account, and enter the sum you wish to deposit. You will need to login to your Skrill account to confirm the transaction.
Payments via Skrill are made instantaneously and you can start your betting session.
Withdrawing from Online Casinos
Withdrawing your winnings from a casino is the same process as depositing. On the cashier page opt to cash out, choose the Skrill/Moneybookers transaction method, enter your details and confirm the transaction. The money will be moved to your Skrill account instantly.
Costs and Fees
Skrill has fees when it comes to depositing or withdrawing. These are entirely reliant upon which method you use and the country you are living in. They are either a percentage of the sum or a set price. Receiving money costs the user nothing, but forwarding costs 1,9% up to a maximum amount based on the sender's country. Using the service is free as long as the user makes transactions or logs in once every 12 months. If that fails to happen a service fee of €3.00 is charged to the account every month. Skrill also offers currency conversion, the price of which amounts to 3.99%.
Security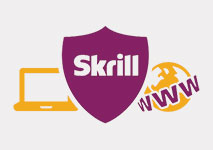 Skrill has taken great precautions to safe-guard their users' data. When making payments the user is only required to submit their email and Skrill password and no card or bank information is revealed. Furthermore all information on Skrill servers is encrypted in the event that somehow a data leak takes place. Modern encryption technology has become so advanced that is practically impossible to decrypt data without the decryption key. Skrill applies to highest precautions as dictated by the Payment Card Industry Data Security Standard. Because of this they were the first e-money issuer licensed by the Financial Conduct Authority in the United Kingdom. Additionally Skrill employs a 2-factor authentication system by tech giant Google. This system demands not only username and password, but also information that only the legitimate user knows or has access to.
Skrill takes the security of their users' data very seriously and one can breathe easily knowing that Skrill is taking care of their money.
Advantages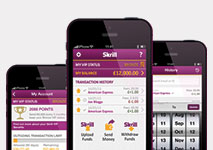 When it comes to online financial transfers Skrill is as good as they come. This company has been in business for almost 2 decades and does business with over 30 million active customers worldwide. Skrill currently supplies its users with a personal Internet bank account to which they can deposit and withdraw funds as they see fit. Skrill is available in over 200 countries and deals in over 40 currencies. The barrier to entry for this service is quite low, the only significant requirement is to have a valid email address. After completing the registration the user has to enter their bank information and they may begin to move money to and from their Skrill Wallet. Transactions between Skrill users happen instantly, so there is no down time. Withdrawing winnings from online casinos happens immediately and the users are not charged anything for the transaction. This is a perk that not all financial transaction companies can provide.
Skrill has a VIP Program for loyal and dedicated users. It is not subscription based, rather users who transact certain sums of money per yearly quarter get to enjoy benefits like lower withdraw fees and a cap on sending fees, a multi currency account, an account manager and priority bank uploads, as well as preferential Skrill Wallet FX rates. The more money that passes through the user's account, the better perks they receive.
Skrill has become a staple in the online betting scene for managing transactions. There is scarcely a bookmaker, casino or poker room that does not accept Skrill as a transaction method. In fact where other similar online financial service companies try to disassociate themselves from online gambling, Skrill fully embraces it. They have even put a page dedicated to online gambling on their website.
Additionally Skrill issues pre-paid Master Card in Single Euro Payments Area (SEPA) countries which can be used at any ATM.
Using Skrill can land players some lovely bonuses such as a straight-up money bonus, a percentage bonus based on the deposited sum or free attempts at playing some games.
Disadvantages
Skrill has no inherent deal-breaker disadvantages. Perhaps the inability to change the account's main currency can put someone off, but this is rather subjective and it will not affect a large portion of the clientèle.
Conclusion
Skrill is a company that offers solid services and is the recipient of multiple awards for its sound business practices. Skrill has a very reputable track record and is a common name in the online gambling scene. Though their services are not completely free like some other companies, the prices they charge will not break the bank and in return you get a truly secure and easy to use payment system. That paired with the VIP Program, which does not ultimately cost you anything, and the bonuses you receive just from working with Skrill and it forms into a lovely and enticing package. Those who choose to do business with Skrill will not be disappointed.