Boku is a service that enables users to pay for goods and services online only using their cellphones. Originally called Vidicom Ltd. and founded in 2003 in the UK, Vidicom sought funding from venture capitalists to fund its application "Mobillcash". In 2009, it incorporated Boku Inc. and reestablished itself as Boku.
The service was launched in 2009 after they had secured $13 million from investors and acquired Mobillcash and Paymo. Boku adheres to Payforit rules and regulations and makes it its business to set a billing engine and to process payments from customers to merchants. How the Method Works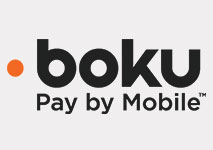 Boku allows you to make payments via your cellphone, without the need for bank accounts, credit cards or any other type of payment information. The paid amount is then charged to your carrier who then posts it on your phone bill at the end of that month's pay cycle. This payment method is referred to as carrier billing and it enables consumers without a bank account or those not willing to deal with that sort of process to make purchases. Boku has gone to great lengths to promote its business making partnerships with large consumer tech corporations like Facebook, Google, Spotify and Microsoft.
Having a cellphone and a phone plan is all that is needed for a consumer to use Boku. It does not matter which carrier you are subscribed to, Boku has relations with every major carrier in the UK and 250 foreign carriers in 68 countries across the globe.
Depositing to Online Casinos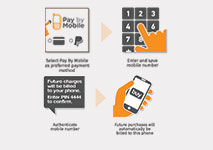 When you are ready to make a deposit, go to cashier page and select the 'Pay by mobile' option. You will be transferred to Boku's website, where you will have to submit your phone number and confirm the sum you wish to deposit. You will be sent a text message to which you will have to reply with "Y" to confirm the transaction. This message costs you nothing. Once the deposit clears through, which should take no more than a minute, Boku will send you a receipt and you can start playing immediately.
Withdrawing from Online Casinos
Withdrawing your winnings via Boku may present some problems. The system is designed to process payments only one way. You do not get an eWallet as you would with some other services. To withdraw your winnings, you would have to request a bank transfer or have the casino send you a check. Alternatively you can use a third-party banking service to withdraw your money there.
Fees and Limits
While free, Boku limits you as to the amount you can actually spend daily. The daily limit is set at £30 per phone number. Even when making payments to different casinos or stores, Boku will recognize your number and block the transfer. It should be noted that you can only make payments in sums dividable by 10 such as £10, £20, £30, unlike other services which let you deposit sums like £173.68. Additionally your carrier may impose spending restrictions for such services.
Boku is a very budget friendly service. It has practically no fees or hidden costs. You only pay the amount you spent online. Even the confirmation text message is free.
Advantages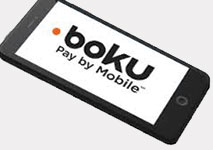 Boku is an excellent payment solution when it comes to efficiency and discretion. You do not have to register to use the service and only have to give your phone number. Lots of casinos support this payment method and will happily take your money. Depositing is incredibly easy and accessible and everyone can do it. You need not concern yourself with bank accounts, credit cards, bank statements, checks and other inconveniences.
Disadvantages
As convenient as it is, Boku is not perfect, unfortunately. For starters, the spending limit is way too low for anyone who does not play just for fun. Any serious gambler would not take this payment method over a more liberal one. Besides, £30 is just too low when you consider that the buy-in for some tables starts in the hundreds. Furthermore, the inability to withdraw funds is a major detriment to people who are actually hoping to make a buck online.
Boku remembers your phone number so you would not need to enter it every time you wish to make a deposit or a purchase.
Security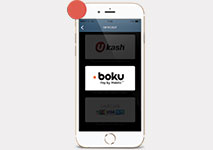 Users have nothing to fear when using Boku for online payments. It is arguably one of the safest (if not the safest) online payment solutions in existence. Absolutely no personal information is revealed to anyone, only your phone number. Even in the event that someone gets a hold of your phone number, they still cannot use that against you, since every transaction must be confirmed via text message from the specific phone number it was issued to. Furthermore, all information sent to Boku is encrypted and thus made unreadable to prying eyes.
Conclusion
Boku is a quick and convenient way to pay online. It takes less than a minute to process a payment and the user's anonymity is guaranteed. There is no registration process, nor is time needed to set up the service. It is so simple anyone can make use of it. But in spite of these perks, Boku is not a perfect payment system. The transaction limit is ridiculously low, so much so that even budget-oriented gamblers would lift an eyebrow in surprise. This service seems to be designed for Internet micro-transactions on smartphone apps stores or low-cost subscriptions, not for high-profile gambling. There are other services out there that would much better satisfy gamblers' needs for quick deposits and a higher spending limit.