Paysafecard Gambling
Paysafecard is the most preferred pre-paid card option by thousands of online casino players today. It originated in Vienna, Austria, and it made its debut in 2000. Since then, Paysafecard has become one of Europe's most popular payment methods as millions of consumers are now relying on it when shopping and gambling online.
There are nearly 280,000 retailers located all over Europe that sell the Paysafecard, as well as more than 600,000 sales outlets worldwide that offer the prepaid tickets. The card is available in values ranging from €10 to €100. You can find this card being sold at petrol stations, party stores, tobacco shops as well as online. Once you buy a Paysafecard, you will be given a PIN (Personal Identification Number) code so that you can make your deposits at online casinos accepting this method of payment.
Below you can find listed the top rated online casinos that accept deposits with Paysafecard.
Pros of Using Paysafecard at Online Casinos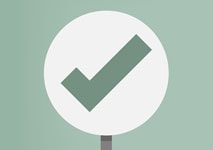 It is very convenient to simply stop at a convenience store, newsstand, or a supermarket to buy a Paysafecard. You can then go home, log into a gambling site that accepts the Paysafecard payment method and transfer the money over to your online account. It is a quick, secure and highly convenient way to fund online casino accounts. Along with the prepaid cards by Paysafe, you can also purchase a virtual prepaid voucher from the official website of the service. It is used the same way – by submitting the PIN of the card when making an online purchase or casino deposit.
Paysafecard is extremely safe to use, as no personal details are required when purchasing or using the pre-paid card. It is also one of the fastest ways to fund an online gambling account – you only need to enter the 16-digit PIN of the card and click "pay" at the Banking page of the online casino. The amount of money you choose to deposit will be instantly transferred into your casino account without any additional fees. Paysafecard supports multiple currencies including EUR, GBP, USD, CAD, AUD, CHF, SKK, CZK, SEK, RON, DKK, PLN, NOK, and ZAR.
It is also available in various countries around the world such as Ireland and the United Kingdom, Germany, Italy, Spain, Portugal, Sweden, Norway, Finland, Greece, Switzerland, Netherlands, Denmark, Romania, Bulgaria, the Czech Republic, Hungary, Slovenia, Slovakia, Australia, New Zealand, Canada, the United States of America, Argentina, Mexico, Brazil, Uruguay, Saudi Arabia, the UAE, and Egypt.
Customers have the option to use the Paysafecard PIN at once or for multiple deposits. They can easily check the balance of the pre-paid card by entering the PIN code on the official website of the service. Along with the paper cards, which are called tickets, the site offers you another service called My Paysafecard – you can register an account, purchase PINs and store them online as in a classic e-wallet. Then, you can use your balance for making deposits into online casinos by using the My Paysafecard username and password. This account is free to create and use, with several notable exceptions that would be discussed in the following sections of this article.
Another option is the plastic Paysafecard Mastercard, which is available to all My Paysafecard account holders in many European countries and the United Kingdom. Once you register your account, you will be able to order this rechargeable pre-paid card for free, activate it online and use it wherever Mastercard is accepted. You can pay at 35 million acceptance points, including online stores and casinos, as well as various offline shops. You can also withdraw funds at various ATMs that work with Mastercard.
One of the greatest advantages of using Paysafecard for depositing at gambling sites is the lack of fees and additional costs. Customers only pay the value of the pre-paid card – €10, €25, €50, and €100, without having to pay any issuing or processing fees. They can use up to 10 cards for one transaction, which would be convenient even for high rollers who prefer deposing larger sums into their gaming accounts.
Cons of Using Paysafecard at Online Casinos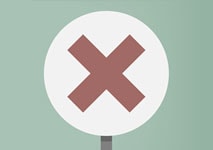 Paysafecard is much like cash and when you use a cash card like this you will not have the benefit of being given any withdrawal options. Due to the pre-paid nature of this card, you can only load funds into gambling sites, whereas withdrawals are not possible. This means that you will have to check what withdrawal methods are available at the online casino so you can cash out your winnings to your bank account or any other payment service account.
Most often, a check would be sent to you but this may take up to a month to reach you and may not be available in some countries. Some online casinos also pay out winnings to bank accounts and web wallets, which is considerably faster and generally, you would receive your money within a couple of days. Along with the obvious cons of using pre-paid cards at online casinos, customers should be aware that Paysafecard, in particular, cannot be used at gambling sites in certain countries.
Due to legal regulations, casino players in the United States and Turkey are not allowed to make deposits through Paysafecard. In these two countries, the service does not process transactions related to poker, casino games, sports betting or any other form of gambling. Any Paysafecard's PINs that are issued in the US and Turkey cannot be used for such purposes, as well.
Major disadvantage of this banking method is that payments cannot be canceled. Once you submit the 16-digit PIN code, the transaction cannot be reversed. This is why it is recommended that you carefully review the payment page before confirming the transfer.
Paysafecard Used by Casino Players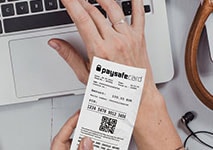 Most casino players would find Paysafecard extremely convenient and easy to use. It is available in various denominations, which means that customers can deposit anything from €10 to €100 with a single PIN code. However, PINs from up to 10 tickets can be used, which means that the maximum deposit should reach €1,000 per transfer. Still, the limits are much lower and depend on the currency of the Paysafecard you are using. For instance, the maximum amount per payment for UK-based casino players is ₤200, while for those who use Paysafecard in US dollars, it is $300. For those who are based within the Eurozone, the maximum amount per transfer is €100.
These limits would be ideal for any casual casino player who tend to make small deposits at gambling sites. For them, a maximum deposit of €100 would be more than enough to enjoy real-money slots, card or table games. It is also important to check the minimum and maximum deposit limits at each particular online casino you choose to register an account with.
Many casino players, on the other hand, might find the €100 cap quite low. Medium and high-rollers, in particular, may benefit from creating a My Paysafecard account, which would allow them to make larger deposits into online casinos and, therefore, play with higher stakes. The maximum amount per payment using this account is €1,000 and there are no daily limits. So, high-rollers can make several deposits of €1,000 until they reach the daily deposit limit of the gambling site they play at.
Another limit they will need to take into consideration is the maximum balance of the May Paysafecard account, which is €5,000. There are also maximum limits per payout transaction when using this account – €2,500 per transfer and an annual limit of €15,000.
Paysafecard Taxes and Processing Times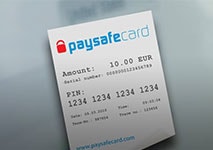 Using Paysafecard is basically free – there are no charges and additional costs when purchasing a ticket or making a deposit into online casinos. Some gambling sites, however, may impose small deposit fees per every transaction. In addition, some fees may apply in certain cases. First of all, Paysafecards do not expire but they come with a monthly administration fee of €3.00 ($2.00) which is applicable only after 12 months of inactivity. The fee is deducted from the Paysafecard balance on the 13th month after the purchase.
There is also a refund fee of €7.50, as well as an exchange rate fee of 2% of the transaction amount. When the Euro is not involved in a cross-currency transaction, the exchange rate fee is 4.04%. All applicable fees are displayed on the Paysafecard website, so customers can easily check them before authorizing a transaction.
The processing time for deposits via Paysafecard is mere minutes, which means you can instantly play your favorite casino games for real money. For most players, this is an essential aspect of online casinos' cashier systems and compared to deposits via bank transfer, for instance, topping up through a pre-paid Paysafecard is much more convenient and time efficient.
Withdrawals via Paysafecard, on the other hand, are not available and players should consider some alternative options for cashing out.
Conclusion
Due to their wide availability and ease of use, Paysafecards have turned into one of the most preferred payment methods online in the past few years. They can be purchased from local stores or online and are accepted by most of the leading casino websites. Many online casino players also benefit from the fixed amount of these cards – you can easily manage your bankroll and avoid overspending, which is a common risk when gambling online.
One of the greatest advantages of using Paysafecard as a deposit method, however, is the increased security provided by these vouchers. When purchasing them, you are not required to submit any personal or banking data. There are no credit checks and when you use the card, you only enter the PIN without sharing your name, address or telephone number. Still, there is one huge setback when it comes to using Paysafecard at online casinos and it is the fact that you cannot withdraw your winnings to the pre-paid card.