Video Poker Rules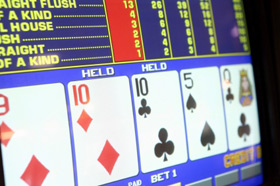 Video Poker Rules

Video poker, one of the most popular casino games, is a fairly simple but very enjoyable game to play. You can find video poker pretty much everywhere - casinos, bars, even restaurants in certain areas - and of course, the Internet. Almost every online casino has video poker, so it is very easy to find. If you're just getting started with video poker, you should be pleasantly surprised at the intuitive nature of the game, and also at the generous payouts.

The game itself is very simple. You bet 1-5 coins depending on your preferences, the game deals 5 cards, and you choose the cards you wish to keep. The cards you have discarded will be replaced with fresh cards, just like in a game of 5-card draw. Once you have your final hand, you will be paid if, and only if, you have a winning hand. A winning hand is usually a pair of jacks or better, but certain variations such as tens or better have lower minimum winning combinations.

On the other hand, some other variations have higher minimum payouts, so you really need to pay attention to the specific game you are playing before you spend too much time and/or money on it.
Video poker, though similar to normal poker, has some major differences that you need to understand before you start playing.

The first and most important rule to remember is that, unlike normal poker, you can never win with a less-than-decent hand. Most variations of video poker use a "Jacks or Better" system, meaning that anything under a pair of jacks is worthless. So, if you are dealt anything with a lower value than a pair of jacks, you don't win anything. Obviously this eliminates the strategy of bluffing, and really sets video poker apart from standard poker.

The different hands are ranked in the same way as normal poker, meaning a royal flush is the top hand, followed by a straight flush, four of a kind, full house, etc. Instead of just beating out the dealer and/or other players to get the pot like you would do in a real poker game, you win a predetermined amount of money for each specific hand. For instance, if you bet 5 coins (the maximum bet in most variations) and end up with a royal flush, you will get about 4,000 coins (it varies slightly between different game types). If you bet 5 coins and get a full house, you will get anywhere from 6-9 coins, depending on the game.

There are many different variations of video poker, each with slightly different rules. For instance, some versions, like jacks or better, have no wild cards. On the other hand, many versions have 1 or even multiple wild cards. When you play a variation that does have wild cards, the rules differ slightly. Most of the time you will receive different payouts for "natural" hands than you will for hands that use wild cards. For instance, if you are playing deuces wild and you are dealt a 2-3-7-2-7, you wouldn't receive the full points you would get if you had a "natural" full house (like 3-3-7-7-7). Usually the difference between payouts is pretty slim, and some variations payout exactly the same, but it is still something to take into consideration when building a strategy for yourself.

Another key rule in video poker variations with wild cards is the minimum payout level. While the standard lowest possible (paying) hand is a pair of jacks, the lowest is usually a 2-pair, or sometimes a pair of kings or aces when you play a game with wild cards. This rule is very important because it completely changes the way you need to play in order to win consistently. It doesn't necessarily make it harder, as you win more often, but it definitely changes the game.

Hopefully this article is enough to get you started with video poker. If not, take a look at some of the other articles on this site. Read up, learn the game, and more importantly, enjoy yourself! Good luck, and have fun!
Related Articles