Video Poker Myths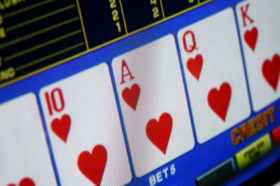 Did some player simply stole your royal flush or took away your winning points on the same machine where you had been playing for hours? Well, even if you feel victimized by such incidence, it is not that you have been cheated by players or casinos. These incidences are coincidental only.
Manipulating Video Poker Machines
To say this in plain words, it is purely a myth to believe that video poker machines can be manipulated or predetermined. The microchip available in the electronic video poker machines have been programmed to provide random numbers or cards. It is not possible for any person to determine the number to be selected by the machine. In just a split second, the microchip selects the number or a card. If this number or card is equivalent to the winning number or card, you win the game. With the Nevada regulation under constant surveillance, cheating players cannot be done easily. So, don't lose your sleep over this issue.
Looking for High Denomination Machines
Many players frantically look for machines that have a high denomination, as they feel that these machines would give them better payout percentage. Perhaps, this is true in many cases. But, the reason is not the denominations of the machines which yield high payout percentage. Rather, it is the pay table which determines the payout percentage to be given to the players. If you still don't believe this incredible information, why not check out what experts say. Even, surveys suggest that two machines - one with low denomination and another with a high value - having same pay tables give similar payback percentage to the players.
Looking for Quarter Video Poker Machines
If you think that playing with quarter video poker machines would be cost effective, think twice. If you just play without any strategy, you would perhaps think that these machines are cheaper than dollar machines. However, an experienced player would always like to play maximum bet for each hand. This means that you would be shelling out $1.25 per hand. Normally, a player would play roughly 600 hands per hour. You can well imagine the amount of money you would be actually shelling out per hour -- $750 per hour. A dollar machine would be far cheaper in the long run if you look at from a bird's view.
Looking Machines Providing Frequent Royal Flush
Some players have researched that that there are machines that offer frequent royal flush. They try various casinos and innumerable machines to spot these "good" video poker machines. Basically, this job is indeed futile as machines are controlled, regulated, and constantly monitored by Regulatory bodies round-the-clock. Statistics show that all machines offer one royal flush once in every 40,000 hands. There are others who even suggest that video poker machines that have just provided a royal flush would be "cold" for sometime. In other words, this machine would not produce any more royal flushes till sometime in future. However, this theory is also baseless and simply a myth. The reason is also quite simple. Computerized software present in the machines has no bearing with the number or card that came up at any point of time. As a result, any card can be produced successively if it coincides with the value produced by the random number generator (RNG). The RNG shuffles deck of each hand virtually disregarding what the pay out had been on previous deals.
Looking for Coins Rather Than Bills
Some players look for coins and insert them on video poker in order to win a Jackpot. They feel bills or currency notes would render them losers. However, there is hardly any truth behind this theory. The idea of winning a video poker game is that the machines with better pay tables would offer better payout percentage.
Betting Less to Minimize Bad Deals
It is indeed true that you can win if you play maximum bet per hand. However, some bettors feel that the less the bet the less are the chances to get bad deals. They also feel that the amount of bet can have some influence on the game. In reality, the bettors are wrong and there is no truth in what they believe. Myths relating to betting have all gone haywire when RNG was discovered and proved by experts.
Playing Faster to Increase the Winning Fling
Have you ever come across maniacs who play video poker non-stop and hurriedly? If you are little cautious about this, you would soon realize how many newbie players try playing faster to win games. But, how far are they successful in their endeavour? Surely, not as per their expectations. Playing faster has nothing to do with the winning spree which any player can expect from a video poker game. It's a total fallacy to believe that you would win more than if you play 500 hands in one hour rather than 5 hands per hour. The truth is that the fraction of hands you would win in reality would be the same no matter how many hands you played per hour.
Looking for an Isolated Machine to Win a Jackpot
Many players who have played popular tourneys believe that machines are connected and that winning a game is based on some other percentage rather than the payout percentage of the machine. This theory is true - but only for progressive jackpot tourneys. A machine next to you cannot really affect the payout percentage if you are not playing a progressive jackpot game. Just remember, there is nothing supernatural or ulterior motive of the casino managers that can kill your chances of winning a game. Constant watch is being kept on casino organizers and players so that no tampering is ever done on the computerized machine. You need to however, be focussed, and logical while playing the games. Be sure that there is no system or mathematical calculations that can predict a hidden card. Video poker is fair game of statistics and anyone can win the games. It may be a normal person without any magical powers or magicians and fortune tellers as well. Why not try a few games yourself and see how far these statements are true and how far they are simply a myth to forget.
Related Articles