Skrill (previously branded as Moneybookers) is one of the most recognizable e-wallets. It is well-known for being an exceptionally efficient, easy and secure payment gateway for transferring funds online. Its e-wallet service was launched in 2001 under the name Moneybookers but it was rebranded as Skrill in 2013. The same year the company acquired Paysafecard, which is another popular payment solution used by sports bettors worldwide.
Skrill provides sports bettors from more than 180 countries with real-time SSL-secured money transfers and processes their borderless transactions in about 40 different currencies. This e-wallet service is very fast and convenient, not to mention it has already made its way into the banking sections of a high number of online sportsbooks. It is regulated by the Financial Services Authority of the United Kingdom which greatly contributes to its trustworthiness and credibility as an online payment and banking method.
In this article, we shed more light on what Skrill's advantages and disadvantages are as well as on what processing timeframes, limits and fees sports bettors can anticipate when using this e-wallet. But first, let's kick off by explaining how you can deposit and withdraw with Skrill to and from your sports betting account.
Moneybookers Use and Limits at Online Sportsbooks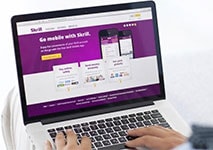 Skrill provides punters with an e-wallet service they need to register for. Setting up a Skrill account will require but a few minutes of your time – all you have to do is fill your personal details in the registration form and select your account's currency. You have a broad enough choice with 40 supported currencies, including USD, CAD, EUR, GBP, SEK, NOK, AUD, NZD, CHF, and DKK.
Punters are recommended to set up their Skrill account in a currency that coincides with the one they have selected for their sportsbook account to prevent currency conversion. Once you register for Skrill, you will not be able to change your e-wallet's currency unless you terminate your existing Skrill account. Account closure is undesirable, though, since this way one would lose all their existing transactions' history.
To make a deposit with Skrill, punters must fund their e-wallets' balance. You can do it via credit/debit cards, bank transfers, Bitcoin, myPaysafecard, the mobile billing service Boku, or via online banking processors like iDEAL and Trustly.
Skrill will then require you to undergo a brief verification to confirm your identity and lift the limit restrictions on the sports betting payments you conduct through your e-wallet. Some sports bettors may interpret this as a disadvantage but this account authentication is in their best interest.
To increase your accounts' transaction limits, you need to log into your Skrill account and upload a legible copy or a scan of your passport, driving license, ID or another document to confirm your identity and permanent address of residence.
To deposit, you need to sign into your sportsbook account, navigate to the cashier menu and select Skrill from the list of supported payment solutions. The cashier will then ask you to enter your preferred deposit amount along with your Skrill log-in credentials, i.e. email and Skrill password. You follow the instructions to confirm the deposit and the desired amount will be added to your Skrill balance in next to no time. Collecting your profits from successful bets is carried out in accordance with the same procedure. The withdrawal of these funds is also very simple as punters' profits can be transferred to their Skrill (Moneybookers) account and then can be eventually withdrawn when required.
There are huge swings in the deposit and withdrawal limits when using Skrill in different online sportsbooks. Each betting operator has their own policy but in most cases, deposits and withdrawals conducted through the Skrill platform start at $10. The maximum cap also differs between sports betting sites but as a general rule, both deposit and withdrawal limits are higher for this method. Some websites would allow for Skrill payments of up to $10,000 per transaction. Note there may be monthly limits on your withdrawals which also vary hugely depending on the sportsbook you have registered at.
Do have in mind that withdrawals with Skrill are not instant since your cash-out requests need to be verified by the sportsbook's financial department before the desired withdrawal amount is released from your account.
Pros of Skrill (Moneybookers) Sportsbooks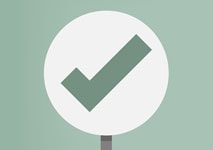 Skrill has won online punters over with its many advantages, starting with simplicity of use. There is no need to be a genius to initiate a deposit with this e-wallet. The only details punters must enter when depositing via Skrill are an email address and the e-wallet password, which makes Skrill a fantastic choice for more paranoid sports bettors who prefer to abstain from providing card or bank account information to sports betting operators.
To boot, Skrill is largely deemed a very cost-effective option since sportsbooks normally do not charge their punters extra for depositing or withdrawing with this payment solution. Furthermore, if you are itching to place a bet while away from home but find out the balance in your sportsbook account is insufficient, you can conveniently top it up as you go. Skrill offers two great applications punters can install and use on their hand-held devices, one for Android and one for iOS.
Skrill also allows one to keep a better track of their funds. Once you register for this e-wallet, you will be able to track all your transactions' history, which is not always the case when going through one's bank account statements. This is especially convenient for those who intend to use their Skrill e-wallets only for betting purposes to store their bankroll in.
The method is extremely popular with casino players and punters alike, so much so that it would be quite difficult to find an online sportsbook or a casino that does not accept it. Skrill e-wallets can be set up in 40 different currencies eliminating the risk of incurring additional expenses for conversion. Then again, Skrill offers some of the lowest withdrawal waiting times, especially when compared to other options like checks and bank transfers.
One of the most secure online payment options
It is widely accepted by many online sportsbooks
Supports 40 currencies
A very simple and easy to use service
Available for deposits as well as for withdrawals
Withdrawals via Skrill are generally quicker than those processed via some other payment platforms
Cons of Skrill (Moneybookers) Sportsbooks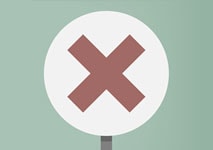 After having read the pros of this method, you are probably left with the false impression Skrill is lacking any drawbacks whatsoever. This is not exactly the case, though. As widely available as Skrill is, punters from some jurisdictions may not be able to use it, at least not for the purposes of online gambling. The Terms and Conditions page of the payment solution clearly states that customers who use Skrill to fund their "illegal gambling activities" will have their accounts terminated.
Customers from jurisdictions where online gambling has been prohibited by law are quite likely to have their Skrill payments to such websites blocked. For instance, many US-friendly betting sites do not accept this e-wallet and prefer to process their customers' payments via bank transfers, prepaid cards, and cryptocurrencies like Bitcoin and Ethereum. Skrill is not a viable banking alternative for punters based in Turkey, Israel, and China, either.
Another aspect that can be interpreted as a disadvantage has to do with welcome bonuses' redemption. Some betting operators would exempt new customers using Skrill as a deposit method from welcome bonus participation. In fact, the same applies to Skrill's biggest competitor, the e-wallet provided by Neteller.
Some reputable sportsbooks and casinos have adopted a very rigid stance when it comes to fraud and illegal activities prevention. Their customers must undergo very detailed payment and identity verification and this process is not as simple with Skrill as it is with more conventional methods like credit and debit cards. For this very reason, some betting operators choose to do away with welcome bonuses for first-time Skrill deposits altogether.
Finally, Skrill registration and verification may be a bit of a hassle for some punters. We broached the subject of verification earlier, explaining some copies of personal documents need to be uploaded, which by itself is inconvenient. Those who fail to verify their Skrill accounts will be subjected to deposit limit restrictions. Skrill claims on its website this verification can be performed in several minutes. Yet, there are cases of punters reporting greater delays on behalf of the company's financial department.
Not available for betting purposes in some markets like the USA, China, Israel, and Turkey
Skrill depositors may be exempt from welcome bonus redemption
Some punters consider registration and account verification a hassle
Moneybookers Fees and Withdrawal Timeframes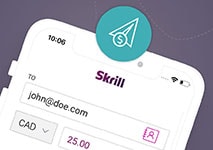 Withdrawal timeframes with Skrill do not coincide between sportsbooks, but the bottom line is this is one of the quickest ways to obtain your sports betting winnings. That being said, few, if any, sportsbooks would process Skrill withdrawals immediately after punters have requested to cash out.
Unlike deposits, withdrawals are subject to a verification on behalf of the bookies' financial department. The purpose is again to prevent errors and fraudulent activities. Therefore, the requested withdrawal amount will remain pending in your sportsbook's balance for a period ranging from 24 to 72 hours.
Some websites would allow you to reverse the payment and make more punts with your winnings. At some sportsbooks, the profits will reach your Skrill balance immediately after the funds clear from your betting balance. However, in many cases, Skrill punters will receive their wins within a day or two following the withdrawal request's approval. Still, Skrill is considered faster than some other methods which require between 3 to 10 working days for withdrawals to be processed in full.
Skrill can be used for deposits and withdrawals without you being charged extra by the online bookies. There are no account set-up costs or any monthly fees and even verification checks are done free of charge. However, additional costs are incurred for uploading money into your e-wallet. The exact amount depends on the method of transfer. Below, we list the fixed percentages that will be deducted from the amount you upload into your e-wallet:
Fast Bank Transfers – Free
Rapid Bank Transfer – 0.50%
Bitcoin – 1.00%
Klarna – 1.90%
Trustly – 1.95%
Neteller – 3.00%
Boku – 15.00%
Visa – 1.90%
American Express and Diners Club – 2.50%
Paysafecard – 7.50%
Withdrawing money from your e-wallet balance to your Visa card will cost you 7.50% of the transferred sum. There are flat fees for withdrawing to a bank account but these vary wildly depending on the country and the currency in use. Fees of 3.99% are applicable when currency conversion is performed.
Conclusion
From everything written so far it certainly is not difficult to spot the many advantages Skrill has to offer to online sports bettors. The positives of this payment gateway are far more than its negatives.
It has an extremely broad availability and can be used at numerous sportsbooks by bettors from more than 180 supported countries, with very few exceptions. E-wallets can be set up in 40 currencies and enable speedy, reliable, and easy deposits and withdrawals, rendering Skrill one of the best methods to manage your online sports betting funds with.