Why Play Video Poker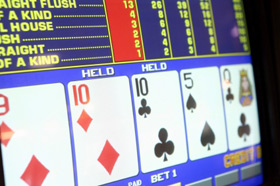 : Why Play Video Poker?

As a gambler, whether you're a novice or an expert, you are presented with many decisions to be made; where to play, when to play, and more importantly, what to play. There are tons of games out there, each with its own advantages and disadvantages. Ultimately it's up to you to choose your favorite game, but for now, you should start with something simple, fun, and easy to win -like video poker. There are literally thousands of reasons that you should play this great game, but some of the most noteworthy are listed in this article.

Great Payouts
Video poker is known for having fantastic payouts. This is because you don't actually have to "win" a hand to win money. Video poker machines payout according to the value of your hand, and most games use a "jacks or better" system, which means you will always win some money if you get a pair of jacks or better. Unlike normal poker, you're not actually playing against anyone else, so if you get a decent hand, you win no matter what.

Low House Advantages
Most casino games give the house an advantage of anything from 1% to 50% or more. Slots, for example, can be set to payout as little as 75% of what it gets in. Video poker, on the other hand, gives on a miniscule advantage/edge to the house, so you can play fairly.

Predictable Outcomes
Though video poker systems use a random number generator or RNG, they are still quite predictable in the long run. In fact, if you play with a perfect strategy, you can expect to get back 99-100% of what you put in. That doesn't mean that if you put in $100 you will get $100 back, but theoretically, over hundreds or even thousands of hands, you will get at least most of your money back. It may seem to you like that sounds like no fun - there's no chance of winning big, right? Wrong! You can still win very big with video poker. The point here is that, statistically, video poker is much easier to profit from than slots, roulette, or even real poker.

Satisfying, Enjoyable Game Play
Video poker has the unique ability to make you truly satisfied after gambling. Regardless of your winnings (or lack thereof), you will almost always feel good. This can be accredited to the entertainment value that video poker provides. Unlike slot machines or other video gambling games, video poker is actually fun, as you get to make conscious decisions and take risks, rather than simply pulling a lever or pushing a button.

Easy Strategies
If you like the game and start to play video poker a lot, you will need to adopt a strategy. There are many respectable strategies out there already, so you could simply copy a pre-existing one, or you could develop your own. It is recommended that you try a mixture of both - find a strategy online and memorize it, and then add your own ideas or rules as you go along. If you play a lot, you will notice a significant raise in overall earnings after you adopt a strict set of rules. Even if you play occasionally, it's still a good idea to do a bit of studying.
Variety
Every casino game, whether online or in an actual casino, offer some sort of variety, but few offer as much as video poker. There are literally 10's of different versions of the standard "jacks or better", and there are 100's of widely varied games in total. Though video poker on a whole is very entertaining and fun, no game is fun forever. That's why it's great that there are so many different versions of this wonderful casino game!

Easy To Find
These days, video poker is everywhere. Whether you're on your home computer playing online, at an Indian casino or at a bar, you're bound to find video poker. The accessibility of this game makes it easy to stay "fresh" on the game so that you don't lose your skills. Plus, it's pretty much impossible to find an online casino that doesn't offer video poker, so as long as you have a computer you always have a chance to play.
Related Articles