Video Poker Variations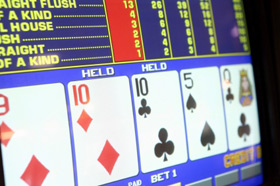 Online Video Poker Variation

Video poker, like many popular casino games, has many different variations. Each one is similar in nature, but has a few small differences. For instance, standard video poker (usually "Jacks or Better") has no wild cards, while "Deuces Wild" does. Once you have learned how to play one variation well, it shouldn't be hard to master a new one. Below you will find a description of some of the most popular online video poker variations. Note: all figures, payouts and percentages are calculated assuming 5-coin bets and ideal payout tables.

Jacks or Better
Jacks or Better has quickly become one of the most popular variations of video poker out there - it's also the simplest. Like the name suggests, this variation pays out whenever you get a pair of jacks or better. The odds of getting a paying hand in this game are about 1 to 4, so you can expect to win quite often. The payout percentages for this game, when played with a proper strategy, are quite generous. If you know what you're doing and commit to follow a specific game plan, you can expect a return of 100% or more with this game over the long run.

Deuces Wild
As you can probably guess, this variant of the ever-popular game of video poker values all 2's as "wild cards". For those who don't know, a wild card (a 2 of any suit in this case) can be used as any card. So, if you have an ace, 5, and a 2, you now have a pair of aces. The only difference between wild cards in video poker and wild cards in regular poker is that there are smaller payouts for "unnatural" hands. For example, a royal flush obtained without wild cards pays 4000 coins, while a royal flush with wild cards pays only 125. Full-pay deuces wild, played with a good strategy, should bring a return of 100.76%.

Double Bonus
Double Bonus is a very popular game - almost as popular as Jacks or Better. Double Bonus offers higher payouts for four-of-a-kind hands, and an especially generous payout for a hand of 4 aces (800 coins for a 5-coin bet). The payout for four 2's, 3's, or 4's is 400, and 250 for four 5's-kings. Full-pay double bonus, played with proper strategy and 5-coin bets, will show a return of 100.17%.

Aces and Eights
Aces and Eights is similar to Jacks or Better, but with higher payouts for four aces or eights. The payout for that hand is generally 400, while the normal payout for four of a kind is only 125. Full-pay Aces and Eights, played with 5-coin bets and perfect strategy, pays out 99.78%. Because of the low payout percentage, this game is not quite as popular with hardcore gamers. However, it's a very enjoyable game and a good way to take a break from the normal variations.

Jokers Wild
Jokers Wild is one of the very few video poker variations that use a 53-card deck. The added card is, obviously, the joker. Because of the added card and the fact that it is wild, the minimum payout is different than usual. Typically, the minimum paying hand is a pair of kings, 2-pair, or a pair of aces, depending on the specific casino and their preferences. Jokers Wild machines add an increased payout for "5 of a kind" hands. The payout varies from game to game, but it is usually 500 or 1000 coins. Full-pay "Kings or Better" Jokers Wild, played with 5-coin bets and a perfect strategy, brings in a return of 100.64%.

Tens or Better
While this may sound like a better choice than the more popular Jacks or Better, Tens or Better is actually a game used commonly to mislead uninformed gamers. While the minimum paying hand is lower than usual, the payouts for a full house or flush are much lower, so the overall winnings are usually much lower. This game can be a good choice if you're just planning to play for a few minutes, but if you are serious about video poker, you should choose a different variation. Tens or Better, played with perfect strategy and 5-coin bets, should bring a return of 99.13%.
Related Articles