The international regulations in regard to online gambling are subject to considerable complexity due to the fact every country has its own stance on the legality of interactive gaming. The Kingdom of Netherlands is not an exception, either, as the local government's stance on online gaming is rather complicated and difficult to understand.
The Kingdom of Netherlands is a constitutional monarchy which has territories in both Western Europe and the Caribbean region. These territories include Curacao, Aruba, Sint Maarten, and the Netherlands, with the latter having the greatest say (of about 98%) in administering the affairs and legislation of the monarchy.
Best Online Casinos for Dutch Players
Below, Dutch players can find 30 of the most reputable online casinos that accept customers from their jurisdiction. All 30 gambling operators are well-known in this business for their trustworthiness, security, broad choice of gaming options, and time-efficient transactions. You can rest assured all 30 operators are legitimate and accredited.
In some aspects, Dutch laws appear to be rather liberal, but this is hardly the case as far as interactive gaming for real money is concerned. As a matter of fact, the Dutch government has never been too keen when it comes to allowing offshore gambling providers to offer their services to players residing within the boundaries of the country.
Legal Landscape on Landbased Gambling in the Netherlands
The gambling industry in the country is, in fact, subject to state monopolization on behalf of the local Holland Casino Group. The latter operates since the 1970s when the first Dutch landbased casino in the country, the Zandvoort, opened doors. At the present moment, the Group has a permission to operate a total of 14 landbased casinos within the borders of the country.
Each of the 14 casinos is regulated and controlled by the Dutch government. Some of the branches of Holland Casino Group include gambling venues in Rotterdam, Groningen, Utrecht, Eindhoven, Breda, and Amsterdam, with the latter operating the biggest branch of the Group. The regulatory body that oversees the operations of these landbased casinos is called the Kansspelautoriteit or KSA.
All profits from the venues that are operated by the Holland Casino Group are collected by the Dutch Treasury.
The Netherlands' Stance on Online Gambling
The gambling industry in the country is, in fact, subject to state monopolization on behalf of the local Holland Casino Group. The latter operates since the 1970s when the first Dutch landbased casino in the country, the Zandvoort, opened doors. At the present moment, the Group has a permission to operate a total of 14 landbased casinos within the borders of the country.
Each of the 14 casinos is regulated and controlled by the Dutch government. Some of the branches of Holland Casino Group include gambling venues in Rotterdam, Groningen, Utrecht, Eindhoven, Breda, and Amsterdam, with the latter operating the biggest branch of the Group. The regulatory body that oversees the operations of these landbased casinos is called the Kansspelautoriteit or KSA. All profits from the venues that are operated by the Holland Casino Group are collected by the Dutch Treasury.
The Netherlands' Stance on Online Gambling
Online gambling on the territory of the Netherlands is considered legal as long as the casinos' websites are hosted within the country. At the present moment, the local government has not granted licenses to any foreign gambling operators, allowing them to legally accept players from the country.
In fact, a good amount of efforts on behalf of Dutch authorities has been dedicated to preventing players from placing real-money bets at offshore gambling websites. In the past, the government has even attempted to block Dutch players from participating in remote gambling activities by drawing up a blacklist of interactive gaming websites to be blocked.
The Dutch authorities also attempted to corner local banking institutions into refusing to process payments to and from the blacklisted websites but these attempts proved to be futile. Legislators soon found out the internet is next to impossible to police and hundreds of interactive gambling websites continued to accept the registrations of Dutch players. What is more, some online gaming operators even support Dutch and have added it to their lists of available languages.
For the most part, the online gambling in the Netherlands remains a sector that is still not sufficiently developed. Discussions have started to introduce amendments to the current legislation in order to allow foreign online gambling operators to apply for local licenses, allowing them to offer their services and products to Dutch subjects.
After nearly two years of discussing the matter, the country's Lower House approved the so-called Netherlands Online Gambling Bill in the summer of 2016. The approval came after representatives of the European Union put some pressure on Dutch authorities and reproved them for stalling the industry regulation and making the business conditions unclear for market entrants.
This was not surprising, especially if one considers the fact the country's regulatory body, the Kansspelautoritet, reported that as of 2015, over 100 European online casino operators have expressed their interest in obtaining local licenses to legally operate within the country.
The delays of the proposed legislation have been reportedly caused by disagreements in regard to the taxation that was to be levied on online gambling operators. This led to the suggested tax rates being increased from the 20% that were originally proposed to 29%, which would apply to both brick-and-mortar and online gambling providers. Presently, the government of the Netherlands is still working on the new remote gambling legislature's draft. The proposed licensing system will be implemented as soon as the amendments to the legislation are officially enforced.
In October 2017, the Vice President of the Dutch regulatory body Kansspelautoriteit announced that the new gambling legislation is expected to come into effect at the beginning of 2019. The new law will open the country's market by allowing foreign gambling operators to apply for local licenses and legally offer their services to Dutch players.
It is not yet clear precisely what the new set of legislative rules will be. A policy program released by the Dutch government this past October indicated that one of the likely requirements is for offshore gambling operators to be physically present on the territory of the country, either by locating their servers in the Netherlands or by opening local offices.
Even if the draft legislation is indeed approved, the chances of this leading to any active licenses actually being issued are minuscule due to the taxation burden online gambling operators will be forced to comply with.
Gambling Regulatory Bodies Associated with the Netherlands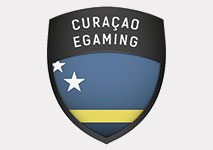 As was mentioned previously, there are several constituent countries which are part of the Kingdom of the Netherlands and one of them is Curacao, which is a small island located in the Southern Caribbean Sea. This is the place the Curacao e-Gaming Licensing Authority operates from. This regulatory body was established over two decades ago, in 1996. This authority issues licenses which are applicable to sportsbooks and games of chance and skill.
In order to obtain one such license, the companies are required to have their physical operating servers located outside the territory of the island of Curacao. At the same time, the online operators' database on player information and financial transactions needs to be kept on computers that are physically situated in the Curacao e-zone.
Apart from issuing and managing the licenses, the Curacao e-Gaming Licensing Authority also deals with a range of services including hosting and IT infrastructure. The aforementioned Curacao e-zone attracts international online gambling operators because of the favorable, low tax rates.
The great thing about gaining the stamp of approval of the Curacao eGaming Licensing Authority is that there is no need to apply for separate licenses for the different types of online gambling activities. On the contrary, one license covers all forms of interactive gambling.
Another regulatory authority that is associated with the Kingdom of the Netherlands is the Curacao Internet Gambling Association, abbreviated as CIGA. Also established in 1996, this is an accredited regulatory body whose purpose is to ensure online gambling operators that are licensed within this jurisdiction stick to its stringent guidelines, regarding fair treatment of players and comply with the licensing requirements outlined by the Curacao e-Gaming Licensing Authority.
The CIGA works closely with web-based operators which specialize in all types of interactive gambling that involves placing real-money wagers, including virtual casino games, sportsbooks, games of chance and skill, and lotteries. Some of the requirements of the CIGA are for its members, i.e. Curacao-licensed online casinos, to enforce strict rules to prevent underage gambling activities, audit all customers' financial transactions, prevent unfair advertisement practices, and accept financial responsibility by ensuring they have enough resources to pay out winning wagers.
That being said, it is also important to mention that players, who are permanently domiciled in the Netherlands are usually not accepted with real-money accounts at online casinos operating under licenses from Curacao.
Popular Deposit Methods for Dutch Players
The online gambling sector may be subjected to a monopoly in the Netherlands but many casino fans from the country are still welcome at various offshore gambling websites. Depositing players from the country have several convenient options where purchasing online casino chips is concerned.
The majority of players from this jurisdiction prefer to use debit or credit cards for the purpose of boosting their online casino balance. Others are more comfortable with using prepaid solutions like Paysafecard because the latter helps them hold their gambling expenditures in check. Digital wallets like Skrill and Neteller provide Dutch players with anonymity and are also very convenient to use. Many opt for loading funds into their casino accounts through intermediary payment processors like iDeal, which, in fact, is exclusively available to customers from the Netherlands.
All 30 gambling operators we have reviewed below support multiple banking solutions suitable for Dutch customers to use no matter what their preferred currency might be, but of course, their local EUR is usually accepted. SSL encryptions and firewalls are in placed to protect the money transfers to and from players' accounts.
Visa and MasterCard
MasterCard and Visa are two of the most commonly available card brands at Dutch-friendly online casinos. Both options pose as convenient and safe way to load money into your online casino account but more importantly, deposits processed via the two brands render players eligible for reload bonus deal at many interactive casinos accepting registrations from this jurisdiction.
Boosting your balance with Visa or MasterCard will take only a few minutes of your time. You need to provide your card's information, including its CVV, its number, and the expiry date. Then you approve the transaction and your payment goes through in a matter of seconds.
One of the few disadvantages of using MasterCard as a deposit method results from the fact you may not be able to cash out your winnings with it. If you find yourself in one such situation and are a resident of the Netherlands, you will have to consider finding an alternative withdrawal method. You can request a standard bank transfer or opt for using an e-wallet like Skrill or Neteller.
Paysafecard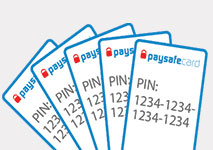 Many players from the Netherlands prefer to use the prepaid method Paysafecard since it allows them to gamble for real-money safely and anonymously. Paysafecard is essentially a voucher and is available in several set amounts – €10, €25, €50, and €100. You can purchase a Paysafecard voucher of a denomination you are comfortable with at a landbased outlet or at the method's official website.
Each voucher has a 16-digit PIN code the player needs to provide when initiating a deposit. There is no need to enter any sensitive personal or financial information in the process. As a rule of thumb, the method is considered suitable for players from the low and medium betting spectrums since the amounts one can deposit are lower.
If you wish to make a larger money transfer, you can buy several vouchers (up to ten per payment) and combine their PIN codes. Provided that the overall value of the combined vouchers matches the amount you want to deposit, your payment will go through as a single deposit. Once a voucher has been entirely exhausted, you simply dispose of it.
Entropay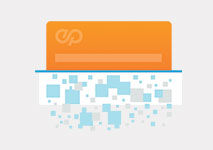 Entropay resembles Paysafecard in that it, too, is a prepaid deposit method and is widely available across Dutch-friendly interactive casinos. Entropay is a prepaid virtual Visa card that allows you to make secure and easy money transactions from the comfort of your surroundings. For the purpose, you first need to sign up with an Entropay account, create a virtual card, and top it up with your regular card, either a credit or a debit one. During the registration process, you need to choose an Entropay username and password – you use those when initiating your deposits, which also prevents you from disclosing any personal data.
Depositing with this method resembles paying with a standard debit card. Your virtual Visa card has its own number, CVV, and expiry date. You will even see your name printed on the card's front side. And the best thing of all is that the majority of Dutch-friendly casinos will not charge you with extra fees for your Entropay transactions.
iDEAL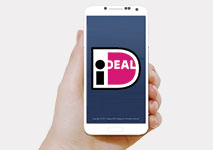 Some players are more comfortable with depositing via third-party online banking processors like iDEAL. In fact, this method was initially available to Dutch residents only but nowadays customers from several other European countries can also use it for the purposes of online gambling. This payment processor allows players to make their online payments directly through the online banking services of their own bank, which is to say one is required to hold an account with one of the financial institutions participating in the iDEAL system.
Depositing with iDEAL adds an extra level of security to your online casino payments since all sensitive information you share in the process remains secure between you and your bank. This is so because iDEAL operates as a mediator between the player and their bank. It only provides the protocol needed to make the online money transfer possible so users are not required to register for the service.
Skrill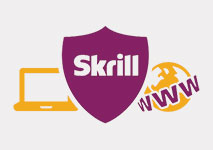 Players from the Netherlands have the option to deposit and withdraw via the popular digital wallet Skrill, which is supported by a massive number of online casinos accepting registrations from their jurisdiction. With over 500 casinos supporting it and over 36 million customers on the global scale, Skrill has established itself as a leader in the online gambling world.
To use it, players must register a Skrill account and top it up with their card or via online banking. You can also use another e-wallet for this purpose. Payments conducted via Skrill offer a high level of security because players only need to enter their e-wallet log-in credentials when initiating a deposit. What is more, the method can also be used for cashing out your winnings. The e-wallet supports a huge number of currencies, EUR included, which prevents you from being charged with additional fees.
Neteller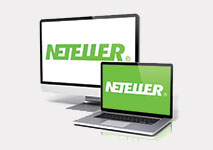 Neteller is considered the biggest competitor of Skrill since it, too, is a digital wallet that enjoys huge popularity among online gamblers. It enables customers to transfer money online in a secure and convenient manner. Registering a Neteller account allows players to upload, deposit and withdraw funds without having to worry about their sensitive information being compromised.
When initiating a deposit with Neteller, one only needs to enter their e-wallet account details, specify the amount, and confirm the payment. The transfer takes place in real time. There is no need to provide any card or banking details to the online casino you are gambling at. You can top up your Neteller account via a variety of methods, including cards, online banking by iDEAL, bank transfers, other e-wallets, or vouchers by Paysafecard.
Popular Games
Many players from the Netherlands have decided to switch from landbased to online gambling because interactive casinos offer them a wider range of possibilities in terms of games. When it comes to video slots, in particular, players have a wealth of choices, readily available at their fingertips. To boot, there are numerous variations of video poker and classic table games like baccarat, roulette, poker, and blackjack Dutch players can engage in, much to their hearts' content. Playing live-streamed games against seasoned dealers is often a possibility as well.
Dutch-friendly casinos are powered by some of the best software developers in the world such as Playtech, NetEnt, and Microgaming. This guarantees players from the country will enjoy a fulfilling and exciting gaming experience as well as lots of great features, authentic graphics, and a user-friendly interface. In the majority of cases, you can choose between download, flash, and mobile play since the websites of most Dutch-friendly gambling operators are compatible with smartphones and tablets, running on iOS, Windows Phone OS, and Android.
Video Slots
Online casinos that embrace players from the Land of Windmills are usually home to a staggering diversity of classic and video slots. If you are adamant about playing simplified 3-reel slots, you will find plenty of options to choose from online. Microgaming alone has developed a broad selection of classic slots with a toned-down design and graphics that are played across 3 reels and a single payline, with some of the most notable titles being Break da Bank, Double Whammy, and Cash Splash.
Dutch players who are keen on more advanced stuff cannot complain of lacking options, either. Online casinos accepting registrations from the country usually offer hundreds of modern slot titles that boast impressive 3D graphics and animations, realistic audio effects, and plenty of cool features like special wild and scattered symbols, bonus games with extra prizes, and free spins. Each slot has a distinctive theme and feel. The branded games like Bridesmaids, Jurassic Park, Gladiator, and The Invisible Man are especially popular among reel mavens.
Slot fans from the Netherlands can also collect a live-changing amount in jackpot prize money. There is hardly an interactive casino out there that does not offer progressive jackpot slots where each stake made on one and the same game contributes to the accumulation of the jackpot pools. Some of the biggest prizes can be won at games like Microgaming's Mega Moolah, Playtech's Jackpot Giant, and NetEnt's Mega Fortune.
Video Poker
If you are one of those players who insist on spending their money on games whose outcome is based on skill instead of luck, you will be thrilled with the vast selection of video poker variants you will come across at Netherlands-friendly casinos. Video poker is a huge hit among gambling enthusiasts as it borrows most of its rules from the popular five-card draw form of poker. This type of game can offer players positive expectation provided that they find a full-pay video poker variation and master optimal playing strategy.
Players from the Netherlands are provided with a broad choice of online video poker variations, including the ever-popular Deuces Wild, Tens or Better, Jacks or Better, All American, and Double Bonus Poker. The majority of variations are equipped with the Gamble functionality more daring players can use to double or quadruple their profits on winning hands. If you have pluck and big enough bankroll, you can commit with more money on one of the multiple-hand variations of the game.
Table Games
Online casinos are home to comprehensive collections of classic casino staples so it matters not whether you prefer to play baccarat, casino poker, blackjack, craps or roulette, chances are you will find a card or table game that corresponds to your preferences. Online blackjack variations typically utilize between one and six decks that are reshuffled following each hand. The splitting, doubling down and dealer standing rules differ from one variation of another, with some of the most popular online blackjack games being Atlantic City Blackjack, European Blackjack, Vegas Strip Blackjack, Double Exposure, and Blackjack Surrender.
Baccarat, one of the most sophisticated card games out there, has made its way to the catalogues of most online casinos, accepting players from the Netherlands. There is usually the option to choose from several variations with different table limits each to accommodate the needs of all customers. Fans of rolling the dice get the opportunity to play games like craps and Sic Bo.
Roulette enthusiasts will not be let down, either, since Dutch-friendly online casinos would normally feature all the popular variants like French, European, and American Roulette along with some more unusual options like Pinball, Multi-Wheel, and Mini Roulette.
Live Dealer Games
Some players would argue that nothing compares to the thrill of gambling at a brick-and-mortar casino. Well, online gambling operators do not fall flat in this respect, either, since most of them have separate sections, designated specifically for live games. These are traditional card and table games hosted by experienced dealers in the flesh and broadcast directly to players' desktop and mobile screens in excellent quality.
These games bring gambling enthusiasts close to the real-life casino action and can be played for real money only. They add a social element to one's online gaming thanks to their multi-player set-up, not to mention there is usually a live-chat functionality allowing you to interact with the dealers and fellow gamblers.
FAQ
Are there taxes on Dutch players' winnings?

Players from the Netherlands can feel safe in the knowledge their online casino winnings are not subjected to taxation if there are gambling at locally licensed and regulated websites. However, if you are betting at an unregulated online casino, you might end up being taxed 29% on your profits if they exceed the amount of €449. This applies to lottery prizes and games of chance. Meanwhile, online gambling operators with a local license face 20% tax rates on their gross revenue generated on the Dutch market.

Are Dutch players safe when gambling at offshore websites?

The answer to this question is affirmative – Dutch players who register at regulated offshore casinos like the ones we have suggested below can feel safe knowing their financial and personal details are 100% protected. Licensed gambling operators adopt all the precautions necessary to ensure the safety of their customers' banking transactions. As we explained earlier, the deposits and withdrawals are conducted using the best encryption protocols that are utilized by the largest commercial banks in the world. The operators also use special firewalls to fend off unauthorized access to their servers. Fair play is guaranteed through the use of Random Number Generators (RNGs) that ensure arbitrary and unbiased results. The said RNGs are audited and certified by independent testing agencies like eCOGRA, iTech Labs, and TST to make sure everything is working properly.

What currencies are available to Dutch players?

Players from the Netherlands can deposit and withdraw in a huge variety of currencies including their local EUR. In fact, this option is recommended since this way one will not have to pay extra costs for currency conversion. Make sure you choose the EUR as your preferred currency while registering at your chosen Dutch-friendly casino. In some cases, the gambling operators may not allow you to change your currency once you have signed up with an account.