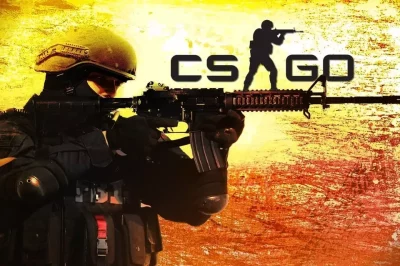 Some leading community members have claimed that online gambling platforms that are being promoted on the American video live-streaming service Twitch have been failing to ensure basic measures to protect players from potential harm, such as verifying customers' age or carrying out mandatory background checks.
According to some analysts, the current situation pretty much reminds the mid-2010s when sneaky esports betting websites were mostly focused on acquiring as many paying customers as they could. In a recent post, called "Is CS:GO gambling scene becoming too big again?", Reddit users have been discussing whether the developer of Counter-Strike: Global Offensive – Valve Corporation – would intervene to attack online gambling platforms once again.
Many Reddit users believe that the excessive promotion of gambling websites on Twitch has resulted in an "unhealthy" growth in the number of online bettors. Some have even suggested that Valve Corporation would have to intervene in an make an attempt to shutter online gambling platforms or, even further, "destroy" the sector. However, things are not as easy as they seem.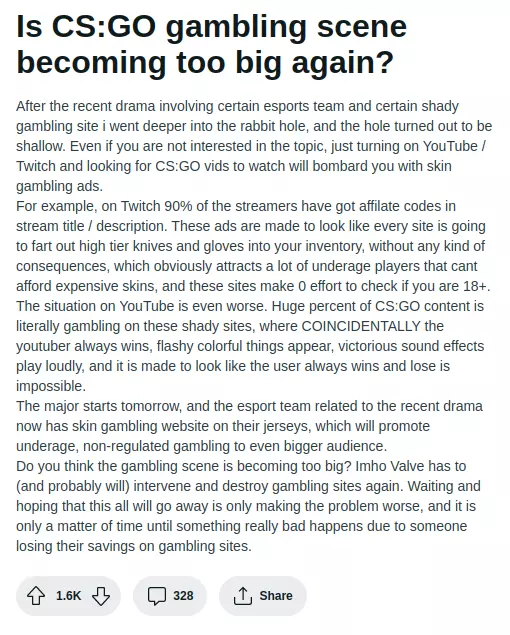 Currently, a large number of companies that offer online gambling services operate legally and are regulated by competent authorities. Many of them, including bet365, Betway, Pinnacle and Rivalry, provide their consumers with the opportunity to place bets not only on Counter-Strike" Global Offensive but also on dozens of other video games.
Some Reddit users have been mostly referring to the skin betting occurrence at CS:GO, for which Valve Corporation was strongly criticized and even faced a class-action lawsuit filed by parents whose children spent large amounts of money on in-game items for the video game developed by the company.
Gambling on Esports Getting More Popular on Various Platforms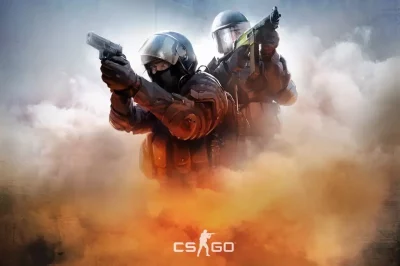 It is an interesting fact that some prominent organizations, such as Esports Integrity Commission (ESIC), believe that underage individuals do not have to necessarily find sports particularly appealing. According to ESIC, betting on video games is mostly reserved for people who have already turned the legal age of 18 or 21 in most jurisdictions, rather than for minors.
As CasinoGamesPro previously reported, the community's criticism towards content creators has increased lately, especially after some of them have started publishing more gambling content. Some of them have even acknowledged that they have put their own personal gain from partnerships with gambling companies as a priority rather than their followers' well-being.
For example, popular Twitch streamer xQc has faced strong criticism for being a passionate supporter of gambling on the American video live-streaming platform. Even though there was a wave of disapproval for his regular gambling streams on the platform, Félix Lengyel, as the real name of the Canadian Twitch streamer is, showed he simply did not care and even made a confession he was a gambling addict himself. The increased criticism forced the platform to unveil some restrictions regarding gambling streams but the truth is that betting on esports has become a growing vertical within the growing sports betting ecosystem that needs to be better regulated.
Reddit users have also noted that the CS:GO gambling scene is constantly expanding, and unfortunately, this is not always done in a manner that is in the game's fans and customers' best interest, considering the fact there is simply too much gambling content promoted to them on various streams.