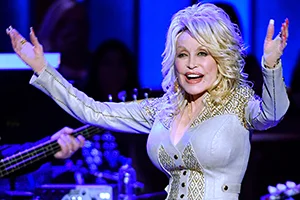 With awards season already in full swing, the Rock and Roll Hall of Fame recently unveiled the list of accomplished musicians nominated for induction in 2022. This year's Class comprises as many as 17 acclaimed stars from the music universe, including first-timers like country legend Dolly Parton, rapper Eminem, and quirky indie rocker Beck.
The groovy hip-hop formation A Tribe Called Quest also appears on the ballot this year, making for a rather versatile range of potential inductees in 2022. Some musicians have received nominations in previous years but failed to make it to the Rock Hall.
Among those are Pat Benatar, Kate Bush, pop duo Eurythmics, and the heavy metal gods from Judas Priest. Rage Against the Machine are also in for another try after unsuccessful nominations in 2018 and 2019.
Given this crowded and diverse field, it is anything but shocking betting lines for the event are already running at some US-facing sportsbooks. America's treasure Dolly Parton is the overwhelming favorite at the moment but will she succeed in gaining entry on her first try?
Her fans will find out in May when the names of this year's official inductees will be unveiled. Without further ado, let's have a look at the nomination requirements and the favorites for induction into the Rock and Roll Hall of Fame.
Nomination and Induction Requirements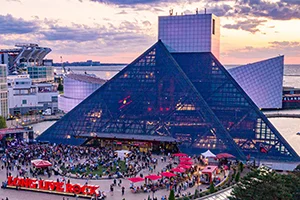 Located in Cleveland, the Rock and Roll Hall of Fame is a museum that showcases the evolution of contemporary music and celebrates acclaimed musicians for their contributions. The Hall is home to priceless items of memorabilia like John Lennon's guitar and Michael Jackson's prop jacket from a popular music video. The museum houses exhibitions year-round and serves as the home turf of the Hall of Fame induction ceremony.
Categories and Eligibility Criteria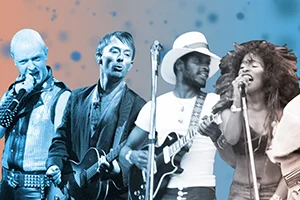 As for the induction eligibility criteria, musicians with a major impact on the industry can receive nominations on condition 25 years have passed since the release of their first recording. When the Hall of Fame was founded in 1983, there were only four induction categories, namely for lifetime contribution, performers, non-performers like composers and music journalists, and early influences. The sidemen (i.e. supporting-musicians) category was added at a later stage in 2000.
Performers comprise the most abundant group, which sees new inductees annually. The process starts with the foundation's committee members choosing the potential inductees, with 2022 boasting the highest number of candidates so far. This year's nominating committee consisted of 29 members, including popular inductees Linda Perry, Questlove from the Roots, and Foo Fighters' frontman Dave Grohl.
2021 Hall of Fame Nominating Committee Members and Membership Years
Sandy Alouete, 5 years
Nathan Brackett, 21 years
Anthony DeCurtis, 30 years
David Dorn, 6 years
David Fricke, 22 years
Cliff Burnstein, 10 years
James Bernard, 23 years
Reginald Dennis, 15 years
Holly George-Warren, 9 years
Bill Flanagan, 23 years
Elysa Gardner, 15 years
Karen Glauber, 3 years
Meg Griffin, 9 years
Dave Grohl, 5 years
Greg Harris, 8 years
Mike Kaufman, 9 years
Lenny Kaye, 35 years
Rick Krim, 12 years
Jon Landau, 34 years
Alan Light, 15 years
Ron Light, 15 years
Amy Linden, 8 years
Amanda Petrusich, 4 years
Tom Morello, 8 years
Paul Shaffer, 23 years
Seymour Stein, 36 years
John Sykes, 25 years
Steven Van Zandt, 19 years
Ahmir Thompson, aka Questlove from The Roots, 8 years
The selections are then sent to an international body comprising over a thousand music experts who assess the candidates in their turn and sift out the nominees for the respective year. The musicians who earn the highest number of votes are then rewarded with inductions. The number of inductees is year-specific. For example, 2019 saw only seven new inductees, while 2020 had sixteen inductees. As of last year, the Rock and Roll Hall of Fame is home to 351 inductees.
Music Fans Also Have a Say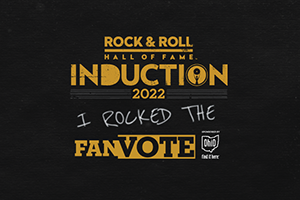 Fans can also participate in the voting process via online polls where they can select up to five nominees (one ballot) per day. The five candidates with the highest number of fan votes end up on a special fan ballot that is later tallied with the experts' ballots. Respectively, the fan vote leaderboard has an impact on the betting lines offered by bookies.
Fan voting started in early February shortly after the names of the official candidates for induction were released. Within several hours of voting, rock singer Pat Benatar emerged as a leader with votes in her favor surpassing 10,000. The other top-five contenders for induction included Dolly Parton, Duran Duran, Carly Simon, and the Eurythmics duo. Heavy metal legends Judas Priest came sixth during the early stages of fan voting.
Music mavens have until April 29 to cast their ballots. They can share their votes on social media platforms to spread the word and encourage more people to participate. Needless to say, the early standings changed as more fans submitted their online ballots.
Duran Duran are now in the lead with 493,595 votes, followed by rapper Eminem who has received 471,289 votes. Pat Benatar comes third (290,259) while Parton (230,664) and the Eurythmics duo (201,125) rank at fourth and fifth place. Judas Priest are yet to break into the Top Five – the band must overcome a difference of 28,881 votes to take over the fifth spot from Eurythmics.
Official Fan Vote Leaderboard at the Time of Publication (2,896,670 Votes in Total)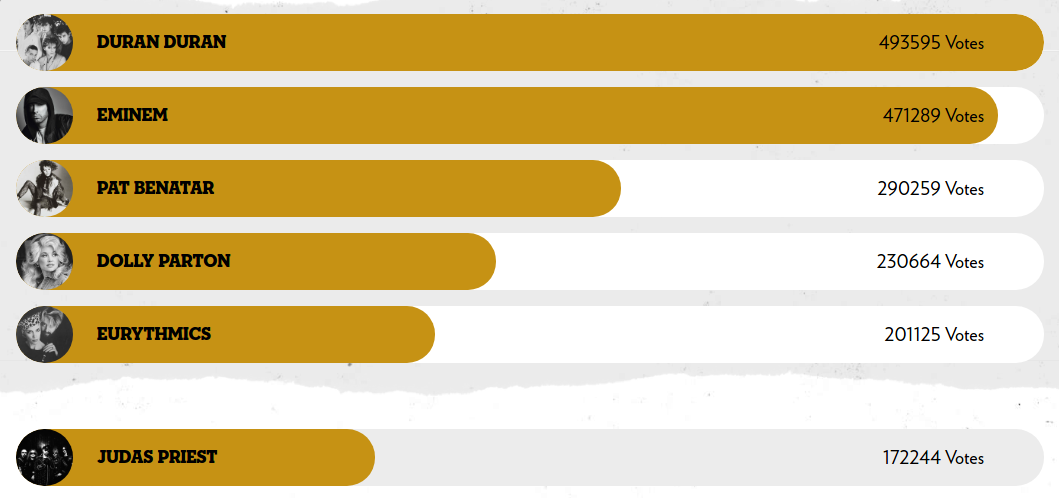 *Results are subject to change as fan voting will continue until late April
2022 Induction Betting Favorites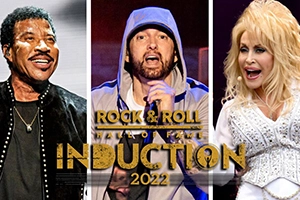 The 2022 induction ballot recognizes a motley crew of talented performers whose profound impact on the music industry is undeniable. In the spirit of inclusiveness, this year's nominees are again representative of different music genres, including country, heavy metal, pop, rock, and hip-hop.
Fans have been an integral part of the voting process since 2012, but industry experts play an essential role in the selection. Because of this, forecasts on who will get inducted ultimately come down to guessing, although it is possible to narrow down the list by looking at sportsbooks and prediction markets.
Several of the leading candidates have received nominations in previous years but did not get in because they failed to gain enough votes from the industry experts. Pundits suggest that almost 70% of the rejected nominees eventually gain entry in later years.
The nominations for the Rock & Roll Hall of Fame are in! Eminem, Dolly Parton, Lionel Richie, Duran Duran and Rage Against the Machine are all up for induction. https://t.co/ge1DLUTSzN

— Rolling Stone (@RollingStone) February 2, 2022
Looking at the lines, we see bookmakers like BetUS show the greatest confidence in country icon Dolly Parton, although she has started to fall behind in terms of fan votes. A legend in her own right, Parton stands decent chances of getting in, leading the lines with odds of -130. Alternative rocker Beck and Eminem are also solid contenders for induction according to the oddsmakers' estimates, followed by Duran Duran and Pat Benatar.
Dolly Parton Is Currently Your Best Bet
Genre: Country, bluegrass, pop
Selected Discography: Jolene (1974), Coat of Many Colors (1971), Here You Come Again (1977), 9 to 5 and Other Odd Jobs (1980), White Limozeen (1989), Little Sparrow (2001)
Key Awards: Grammy for Best Bluegrass Album (2000), Grammy for Best Female Country Vocal Performance (2002), Grammy for Lifetime Achievement (2011)
Previous Nominations: None
Eligible for Induction Since: 1988
Dolly Parton has established herself as a trailblazer in the country genre with her distinctive voice, trademark style, and songwriting capabilities. With a career that spans over six decades, Parton wrote and recorded her first single Puppy Love at the tender age of eleven. She found greater success in the early 1970s when she released some of her most momentous hits like Jolene, I Will Always Love You, and Love Is Like a Butterfly.
Parton showed no signs of slowing down in the following decades, ultimately achieving the status of a living legend. Her incredible body of work aside, Parton has won the public over with her philanthropic contributions, grace, and quick wit. With over fifty albums, thousands of songs, and dozens of prestigious awards up her sleeve, the singer is undoubtedly a treasure of the American music industry.
Why #DollyParton Damn Sure Belongs in the Rock & Roll Hall of Fame, Y'all https://t.co/SrOpsGLW7m via @RollingStone

— Broadcast Music Inc. (@bmi) February 7, 2022
Some would argue against her induction in the Rock and Roll Hall of Fame, because she is first and foremost a country and bluegrass singer. Nonetheless, Parton's contribution is undeniable not to mention she is hardly the only artist outside the rock genre to receive a nomination. Looking at the betting lines, Parton stands a decent chance of gaining an entry. The singer jokingly declared she would record a rock album if she gets in so we keep our fingers crossed for her induction.
Beck with Solid Lines for Induction
Genre: Alternative, indie rock
Selected Discography: Mellow Gold (1994), Odelay (1996), Midnite Vultures (1999), Modern Guilt (2008), Morning Phase (2014)
Key Awards: International Male Solo Artist at the 1997, 1999, and 2000 Brit Awards, Best Male Rock Alternative Vocal Performance at the 1995 Grammy Awards, Best Rock Album and Album of the Year at the 2015 Grammy Awards
Previous Nominations: None
Eligible for Induction Since: 2018
Few artists these days can compete with Beck in terms of creativity and originality. His impressive catalog comprises 14 studio albums, 4 extended plays, and over 50 singles, many of which have achieved international recognition. Perhaps more importantly, Beck's body of work encompasses a bewildering array of styles, including alternative, hip-hop, pop, funk, and even folk.
The musician manages to expertly fuse these genres together to create a unique sound few others can match. Beck first achieved commercial success with his 1994 release Mellow Gold and followed this up with over a dozen critically acclaimed albums like Midnight Vultures, Modern Guilt, and the Grammy-winning Morning Phase.
Given all this, his nomination for induction hardly comes as a surprise. What is more shocking, though, is that he has not made the cut yet as he has been eligible since 2018. It looks like he stands a good chance of getting in this year, with bookies estimating the likelihood of this happening at around 44%, with lines starting at +130.
Eminem Is Also in Contention
Genre: Hip-Hop
Selected Discography: The Slim Shady LP (1999), The Marshall Mathers LP (2000), The Eminem Show (2002), Encore (2004), Relapse (2009), Recovery (2010), The Marshall Mathers LP 2 (2015)
Key Awards: Academy Award for Best Original Song in 2003, Brit Award for International Album in 2003, Grammy Awards for Best Rap Album in 2000, 2001, 2003, 2010, 2011, and 2015
Previous Nominations: None
Eligible for Induction Since: 2021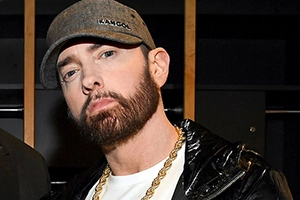 Marshall Bruce Mathers III, better known under the artistic moniker Eminem, had seen a decent amount of hardships in his early days until he exploded on the rap scene with his Slim Shady LP in the late 1990s. Under the guidance of his mentor and hip-hop guru Dr. Dre, Eminem went on to become the best-selling rapper in the genre's history.
With record sales in excess of 220 million, over a dozen Grammy Awards, and an Oscar for Best Original Song, Eminem is nothing short of a worthy nominee for induction in the Hall of Fame. Sure, we can hardly classify Slim Shady as a rock and roll musician, although he has dabbled into the genre in the past.
His widely acclaimed single Sing for the Moment borrows samples from Aerosmith's Dream On and boasts a Platinum certification by the Recording Industry Association of America (RIAA). Eminem's iconic performance of Stan with inductee Elton John at the 2001 Grammy Awards is another highlight of his vastly successful career.
Considering all these accomplishments, it is only natural the rapper made the ballot in his first year of eligibility (his debut album Infinite was released in 1996). Oddsmakers believe Slim Shady's chances of making the cut this year coincide with those of the alternative-rock troubadour Beck at +130. The rapper, however, holds the edge in the fan ballot with over 470,000 fan votes compared to Beck's 54,997.
The Betting Lines Are Drifting for Duran Duran
Genre: New wave, pop, rock, synth pop
Selected Discography: Duran Duran (1981), Rio (1982), Seven and the Ragged Tiger (1983), Notorious (1986), The Wedding Album (1993), Astronaut (2004)
Key Awards: Brit Award for Outstanding Contribution to Music (2004), Grammy Awards for Best Music Video Long Form and Best Music Video Short Form
Previous Nominations: None
Band Members: Simon Le Bon, Andy Taylor, Roger Taylor, John Taylor, Nick Rhodes, Warren Cuccurullo
Eligible for Induction Since: 2006
Duran Duran's dichotomous sound is a unique combination of contagious synth pop, rock, and layered arrangements that really makes them stand out from the crowd. When the band started out in the late 1970s, few would have thought Duran Duran would enjoy much longevity. Over forty years later, the quirky boys from Birmingham have more than 100 million sold records up their sleeve, along with two Grammys and the same number of Brit Awards.
With a distinctive sound that borrows elements from the likes of David Bowie, Yellow Magic Orchestra, and Japan, Duran Duran have earned a well-deserved spot in the rock pantheon of greatness. In the early 1990s when rock trends shifted to a heavier guitar distortion, Duran Duran escaped oblivion with The Wedding Album, which contained emblematic singles like Come Undone and Ordinary World.
We are all extremely grateful to all of you for making this happen." 2/ – Simon, on Duran Duran being included in the 2022 Rock & Roll Hall of Fame list of nominees @duranduran @rockhall #ROCKHALL2022 pic.twitter.com/MeufQkwzjT

— Duran Duran (@duranduran) February 2, 2022
The band continue to reinvent their music through collaborations with more contemporary artists like Janelle Monáe, Mark Ronson, and Justin Timberlake. Duran Duran were inducted into the Hollywood Walk of Fame in 1993 and by the looks of it, they stand decent chances of making the cut for the Rock Hall this year.
The Birmingham band is among the bookies' favorites to achieve induction during their first year of eligibility. While it is true they fall behind other first-timers like Beck and Dolly Parton, their probability of entering the Hall this year is not too shabby at 36% with odds of +175 at BetUS.
Pat Benatar Competes for Induction with Second Nomination
Genre: Rock, pop rock, hard rock
Selected Discography: In the Heat of the Night (1979), Crimes of Passion (1980), Precious Time (1981), Get Nervous (1982), Live from Earth (1983), Tropico (1984), Seven the Hard Way (1985), Wide Awake in Dreamland (1988)
Key Awards: Grammy Awards for Best Female Rock Vocal Performance in 1981, 1982, 1983, and 1984
Previous Nominations: 1 nomination in 2020
Eligible for Induction Since: 1999
Pat Benatar is among the luminaries of female rock music and rightfully so. Her career started in 1974 when she recorded and released her first single Day Gig. She rose to prominence several years later with the release of her debut album In the Heat of the Night where she collaborated with producer, songwriter, and future husband Neil Giraldo. Benatar and Giraldo married in 1982 and became one of the most powerful couples in contemporary music history.
Benatar's powerful mezzo-soprano range and signature vocals are what propelled her to the top of the charts where she stayed throughout the 1980s. Her innovative music videos and undeniable sex appeal drew further media attention to the singer. Benatar departed from rock music in the early 1990s and experimented with blues in True Love before returning to a more subtle rock sound in her later albums.
Known for her love for touring, Benatar continues to maintain a busy live schedule. She embarked on her most recent tour in 2021 alongside husband Neil Giraldo who is also her lead guitarist. The power couple shows no sign of slowing down or ending their long-lasting partnership any time soon.
Pat Benatar is not in the Rock & Roll Hall of Fame. That's ridiculous. Fix that FFS. Beck can wait. https://t.co/XQS6Nu8XEL

— Glen Mazzara (@glenmazzara) February 2, 2022
Benatar's outstanding career and profound impact on rock music first earned her an induction nomination in 2020. While many considered her one of the biggest snubs of the year, the Grammy winner remained unfazed about not getting in. She commented at the time that making it into the Rock Hall of Fame is not a key validation of her career achievements.
Nonetheless, it looks like Benatar is about to make it this year with her second nomination. According to oddsmakers, there is around 33% of Benatar getting in on her second try, with lines starting at +200.
Other Notable Nominees in the 2022 Induction Class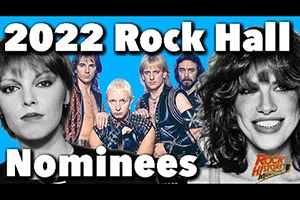 Parton, Benatar, Beck, Eminem, and Duran Duran are the most likely Hall of Fame inductees in 2022 but lines are available for all nominees regardless of their winning chances. Getting familiar with the whole field is worthwhile, especially if you plan on betting real money on the 2022 Hall of Fame market. There are several big names apart from the five leaders, including Judas Priest, Kate Bush, Carly Simon, A Tribe Called Quest, and Eurythmics.
Judas Priest became eligible for nomination in 2000, having released their first record Rocka Rolla in 1974. The Birmingham heavy metal legends were previously nominated for induction in 2018 and again in 2020 but to no avail. But as the saying goes, the third time's a charm and maybe the band will finally enter the Rock Hall this year. Lines for the English band are drifting, however, and currently stand at +750 for a 12% implied probability.
Kate Bush is yet another iconic performer from England that competes for an entry this year. The singer topped the British singles charts at the young age of 19 with her single Wuthering Heights. This alone was a great achievement at the time as it made Bush the first female singer to reach number one in the country with a self-written single. Eligible since 2003, Bush was previously considered in 2018 but failed to make the cut. This year her chances of getting inducted are estimated at 18%, with moneyline odds of +450.
A Tribe Called Quest are first-timers on the nominees list despite gaining eligibility in 2015. Some people would argue against their induction because the band belongs to the hip-hop genre. While this is true, A Tribe Called Quest's impact is hard to deny. Their eclectic sound has inspired a whole generation of hip-hop artists, including big names like Pharrell Williams, Kanye West, Outcast, and Talib Kweli.
Eurythmics boast a long and fruitful career that spans over four decades. Lennox and Stewart were up for induction in 2018 but ended up getting snubbed despite their undeniable impact on pop music. The duo is at it again in 2022 and has already made it to the top 5 of the official fan vote leaderboard. Punters willing to back Annie and Dave with a bet can do so at odds of +550.
Carly Simon rose to prominence in the early 1970s when she released a string of chart-topping singles like You Belong to Me, You're So Vain, Anticipation, and Nobody Does It Better. Her distinctive voice has captivated and inspired a whole generation of singer-songwriters, including namesake Carly Rae Jepsen, pop star Taylor Swift, and Tori Amos. As the lines stand right now, Simon has a 25% probability of joining fellow legends in the Rock and Roll Hall of Fame.
Betting Lines for 2022 Rock and Roll Hall of Fame Inductees
Dolly Parton
-130
Duran Duran
+175
Beck
+130
Eminem
+130
Pat Benatar
+200
Carly Simon
+300
Rage Against the Machine
+350
A Tribe Called Quest
+400
Lionel Richie
+400
New York Dolls
+450
Kate Bush
+450
Dionne Warwick
+550
Devo
+600
Eurythmics
+550
Fela Kuti
+700
Judas Priest
+750
MC5 +800
*Betting lines are courtesy of BetUS and may fluctuate over time.