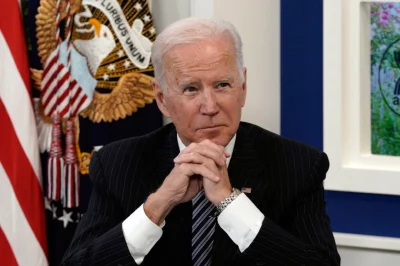 After decades of presidential ambitions, Joe Biden finally captured the White House in 2020 and became the oldest US president to take the oath of office at age 78. A little over a year has passed since his inauguration, but voters and political experts alike are already questioning whether he will serve his first term in full.
There is no denying Biden has suffered a difficult first year in office. He took the lead during a period of instability in the country and had to deal with a number of domestic and international challenges, from a raging coronavirus pandemic to rising inflation and a controversial withdrawal from Afghanistan.
His advanced age, verbal stumbles, and poor decisions at times have fueled speculation whether he might suffer the same fate as his predecessor Trump, who managed to get himself impeached not once but twice. Combined with his flagging popularity as of late, these factors have given rise to rumors he could depart from the Oval Office before his first term.
Biden's potential impeachment has been making the rounds over the course of the past few months. Most online bookies have also taken notice of this fact. They have taken down the betting markets for Trump's impeachment and replaced them with Biden specials. Political mavens and punters can now have a flutter on the incumbent president's chances of serving his full term in full or leaving office before it ends.
Opinions Were More Favorable in Wake of 2020 Election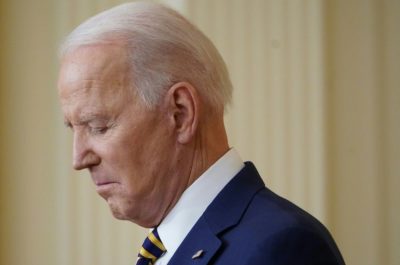 After thirty-six years as a Delaware Senator and eight more as a vice president during the Obama administration, Joe Biden fulfilled his lifelong ambition of becoming head of state by defeating then-incumbent Donald Trump in the 2020 presidential election.
Biden was declared the winner after several days of excruciating vote counting, with 81.2 million popular votes against Trump's 74.2 million. The former Vice President also prevailed in the Electoral College, taking 306 electoral votes compared to his rival's 232 votes. Trump refused to acknowledge his defeat and attributed it to nationwide voter fraud despite lacking any evidence to back up his claims.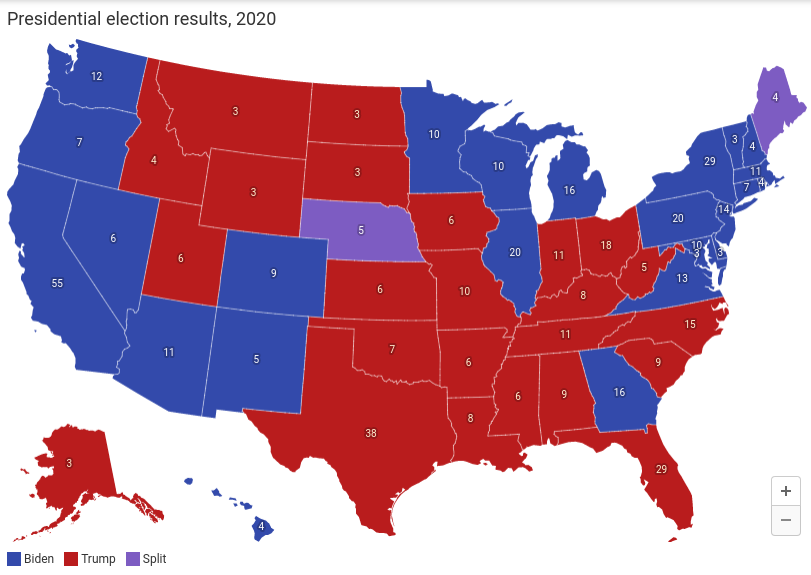 Shortly before Joe Biden and his running partner Kamala Harris took their oaths as the 46th President and 49th Vice President of the US, Trump's supporters attempted to upend his defeat. A crowd of angry supporters stormed the Capitol Building and disrupted the count of electoral votes that would officialize the win of Biden. Their attempts proved futile and Biden subsequently took the oath on January 20.
This was Biden's third attempt at capturing the presidential position. He previously went through two failed campaigns, in 1988 and again in 2008, when he eventually became Barack Obama's vice president. So what helped him succeed in 2020? Americans had a much more favorable opinion of Biden at the time of the last presidential election, which makes sense considering the antics of his main contender, then-incumbent Donald Trump.
After four years of division under the Trump administration, Biden won Americans over with his promise to unify the nation, "restore" its soul, and use his vast political experience to its advantage. This becomes apparent when you look at some of the polls carried out shortly after his victory. One such poll was conducted by the research company Statista among 1,494 participants.
As of December 2020, around 28% of the adult Americans expressed enthusiasm about Biden's presidency, while 22% were pleased but not enthusiastic. Those upset with the prospect of his presidency stood at 27%, with 13% being dissatisfied but not upset. The remaining 10% had no position on the subject.
These tendencies continued during the first months after his inauguration as polling data from the analytics agency Gallup suggests. Looking at the figures below, you will inevitably notice the sharp decline in approval rates, which dropped from 57% in early 2021 to 43% toward the year's end. The tides turned after Biden's first half-year in office when his popularity among Americans started to slowly but steadily decline.
Joe Biden's Approval Ratings throughout 2021
Month
Approval Percentage
Disapproval Percentage
Undecided
January
57.00%
37.00%
6.00%
February
56.00%
40.00%
5.00%
March
54.00%
42.00%
6.00%
April
57.00%
40.00%
3.00%
May
54.00%
40.00%
6.00%
June
56.00%
42.00%
2.00%
July
50.00%
45.00%
5.00%
August
49.00%
48.00%
3.00%
September
43.00%
53.00%
4.00%
October
42.00%
52.00%
6.00%
November
42.00%
55.00%
3.00%
December
43.00%
51.00%
6.00%
Source: Gallup News
Biden's Approval Rating Dropped Further in Early 2022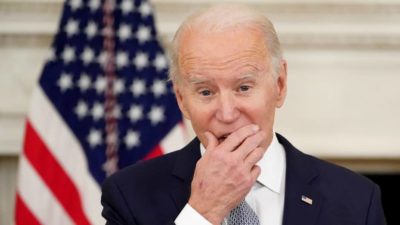 After spending decades cultivating a good reputation among the public, President Biden had to witness it crumble during the very first year of his presidency. His approval rating has seen a dramatic decline after he first entered the Oval Office. The incumbent president entered his second year in office with the second-lowest approval rating in post-World War II history.
According to Gallup, President Biden's popularity averages 48.9%. His results come second only to those of his 2020 contender Donald Trump whose approval rating during his first year stood at 38.4%. Similarly to other heads of state, the incumbent leader started his presidency relatively strong as you can see from the table above.
Shortly after his inauguration, the current president's popularity measured at a rather solid 57%, which some political experts attributed to the support from independents. The high rates started to steadily plummet in the summer of last year after the country witnessed a rapid increase in coronavirus cases as a result of the then-new delta variant. The controversial withdrawal of the US troops from Afghanistan did little to improve President Biden's situation.
Reuters/Ipsos polling results from mid-February 2022 show his popularity has declined further, reaching the lowest rates of his entire presidency so far. The data was extracted from the responses of 1,005 adult participants with a Democrat-Republican ratio of 429 to 365. It shows over half of Americans (51%) disapproved of his performance against 44% who approved it. The remaining 5% were unsure about how he did.
President Biden's Approval Rating as of February 2022
Breakdown
Approval Percentage
Disapproval Percentage
Overall Rating
51.00%
44.00%
Democrats
82.00%
17.00%
Republicans
16.00%
83.00%
Male
47.00%
49.00%
Female
42.00%
53.00%
Caucasian
38.00%
58.00%
Non-Caucasion
56.00%
37.00%
Urban
57.00%
37.00%
Rural
31.00%
64.00%
College Graduates
43.00%
53.00%
No College Graduation
46.00%
47.00%
Aged 18 to 39
45.00%
49.00%
Aged 40 or Older
44.00%
52.00%
Source: Reuters/Ipsos polling results from February 14 and February 15, 2022 (4% pts credibility interval)
Looking at the figures above, you will undoubtedly notice there is a striking polarization in approval opinions based on party affiliation. Biden's approval percentages among GOP supporters are dreadful at 16%. His popularity among Democrats remains higher at 82%, which makes for a 66-point gap between the rival parties.
This signifies a great divide between Democrats and Republicans that can be rivaled only by the polarization levels during the former president's final year in the White House. Some political experts have noted that said polarization could be a byproduct of how Americans have started to assess their leaders in recent years rather than of how said leaders have performed.
There is a tendency among partisans to evaluate presidents and presidential candidates based on their party affiliation rather than their performance or policies. Thus, partisans who support the GOP are less likely to approve of a Democratic leader and vice versa, regardless of the political decisions he or she makes.
President Biden's American Rescue Plan, which not a SINGLE Republican voted for, has led to:

Record annual job growth
Historic GDP growth
Record drop in unemployment

Now, Democrats are working to make sure that every American feels the full benefits of this economic recovery.

— The Democrats (@TheDemocrats) February 22, 2022
However, support levels for Biden appear to have dropped, albeit by a significantly lower percentage, among people belonging to his own party. The incumbent president has undoubtedly done some things right during his first year in office like bringing down child poverty and unemployment rates.
In fact, the country witnessed its largest ever single-year reduction in unemployment under President Biden. However, increasing inflation, the Afghanistan withdrawal, and the fear of another surge in coronavirus cases have partially offset the impact of these achievements. Things could get even grimmer for President Biden after the 2022 midterms. Biden's influence and capability to get things done could be further impeded if the Democratic Party loses more congressional seats.
Biden's Popularity Compared to That of Former US Leaders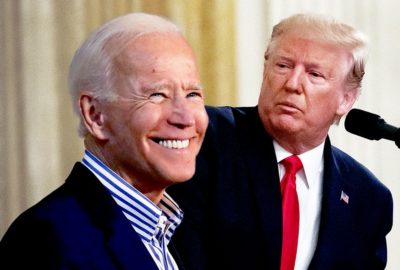 To give you some context, we shall examine how former US leaders have performed approval-wise during their first year in office. As poor as Biden's popularity is (48.9% on average), he is not the post-WWII president with the lowest approval rating. Gallup data shows this title belongs to former President Donald Trump, whose first-year rating averaged 38.4%.
Various factors could have contributed to this low average. To begin with, Trump was consistently breaking the norms of presidential behavior. Additionally, he failed to fulfill some of the promises he made during his presidential campaign like repealing Obama's Affordable Care Act. His plans to erect a wall on the southern border also did not come to fruition, not to mention his squabbling with a soldier's widow made a poor impression on the general public.
To top all this off, the government started several inquiries into Russia's interference with the 2016 election that allegedly aimed to boost Trump's odds of winning against Hillary Clinton. Nonetheless, the former president managed to achieve some of his goals like passing a major tax reduction, but this did little to improve his second-year approval rating.
President Clinton's approval percentage was not much different than Biden's during his first twelve months in the White House, averaging 49.3%. Things improved for Clinton in the following years and he subsequently left the Oval Office with one of the highest job approval ratings for a departing president in history (65%).
Looking at the Gallup figures, we notice all other leaders have scored significantly higher averages in terms of performance. The ratings of Obama and Reagan revolved around 57% during their first twelve months, while Carter and Nixon's averages were in the low 60s.
Nixon lost much of the public's approval and support later on due to his involvement in the now-infamous Watergate scandal that led to his resignation in 1974. Eisenhower and Kennedy boast the highest first-year approval ratings among post-war presidents, with averages of 68.8% and 76.4%.
First-Year Approval Ratings of Post-WWII US Presidents
President
Party Affiliation
First Year in Office
Average Approval Rating
Donald Trump
Republican
2017 – 2018
38.40%
Joe Biden
Democrat
2021 – 2022
48.90%
Bill Clinton
Democrat
1993 – 1994
49.30%
Ronald Reagan
Republican
1981 – 1982
57.10%
Barack Obama
Democrat
2009 – 2010
57.20%
Richard Nixon
Republican
1969 – 1970
61.40%
Jimmy Carter
Democrat
1977 – 1978
61.90%
George Bush Senior
Republican
1989 – 1990
65.90%
George Bush Junior
Republican
2001 – 2002
67.90%
Dwight Eisenhower
Republican
1953 – 1954
68.80%
J.F. Kennedy
Democrat
1961 – 1962
76.40%
Source: Gallup News
Reasons for President Biden's Unpopularity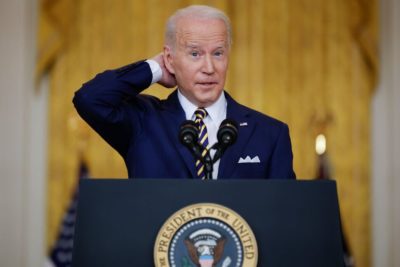 Looking at Mister Biden's flagging ratings in recent months makes one wonder why the public evaluates his performance so poorly when Americans elected him to the White House only a year ago. He entered the Oval Office fairly popular only to see a reversal of opinion after six or seven months in office. The potential causes for this shift include his handling of the coronavirus pandemic, the rising inflation levels, and some of his decisions regarding foreign affairs.
The opinion polling company YouGov set off to explore the reasons for Biden's sliding ratings in a survey for Yahoo News. One of the questions in the poll from early February 2022 was whether Americans approved or disapproved of the way their incumbent leader had handled various issues.
His decisions on the local economy seem to be the biggest issue, with 52% of Americans disapproving of them, followed by his dealing with the Congress (51%), the handling of the pandemic (50%) and his foreign policies (48%).
Public Opinions on Joe Biden's Approach to Dealing with Foreign and Domestic Issues
Issue
Disapproval Rates
Approval Rates
US Economy
52.00%
38.00%
Dealing with US Congress
51.00%
34.00%
Pandemic Policies
50.00%
43.00%
Foreign Affairs
48.00%
38.00%
Education
46.00%
38.00%
Racial Issues
46.00%
41.00%
Climate Change
45.00%
39.00%
Source: YouGov/Yahoo News poll from Feb. 3 to Feb. 7, 2022, representative sample of 1,628 people, 2% pts credibility interval
Biden's Handling of the Coronavirus Pandemic
In 2021, President Biden unveiled his intentions to have 70% of the country's adult population vaccinated with at least one shot by Independence Day, but failed to meet his deadline. The return to normalcy was among the pivots of his campaign. He ensured his compatriots he would do a better job at handling the pandemic than his opponent who notoriously ignored its severity.
President Biden promises a "truly special" 4th of July if Americans follow health guidelines:

"We [will] not only mark our independence as a nation but we begin to mark our independence from this virus." pic.twitter.com/y9eEmaHVBf

— The Recount (@therecount) March 12, 2021
The country has suffered the highest coronavirus death rates worldwide, with over 940,000 victims of the pandemic as of December 2021. As many as 100,000 of them passed away in the winter months of last year alone. Approximately 64% of the US population is now fully vaccinated, while 76% have received one or more shots.
Despite the high vaccination levels, the new omicron variant continues to ravage the country, although hospitalization rates have seen a decline in February. Nonetheless, many Americans feel disappointed that they did not fully regain their "independence from the virus" as their President said.
The Chaotic Exit of the US from Afghanistan
Shortly after President Biden failed to meet his vaccination deadline, he suffered yet another wave of criticism, this time due to the US withdrawal from Afghanistan. The exit was widely criticized for its chaotic nature. While the country's withdrawal from Afghan territory marked the end of a twenty-year-long military conflict, some labeled it a big mistake.
The Biden Administration's disastrous withdrawal from Afghanistan dishonors the memory of those heroic Americans who gave the last full measure of devotion and all who bravely served there defending freedom these past 20 years. God Bless Our Troops & Our Allies in this Dark Hour

— Mike Pence (@Mike_Pence) August 15, 2021
The Afghan government crumbled and all key political figures, including President Ashraf Ghani, left the country. It did not take long for the Taliban to take over Afghanistan and its capital Kabul.
After the US fully withdrew its armed forces, over a thousand American nationals and locals with foreign visas were stuck in the country as the US government did not give them an authorization to depart. Their subsequent evacuation was anything but orderly.
President Biden's reputation took another hit when several senior military officials denied they had advised him to remove the US troops as he originally claimed. As it turned out, they had counseled him to retain some military presence on Afghan territory.
The Surging Inflation Rates
The coronavirus pandemic continues to adversely affect the US economy, although some countries have it much worse. While unemployment rates indeed saw a historic decline during the first twelve months of Biden's administration, many Americans still frown at the local economy's state. Wages also grew but the rising prices ate this increase up.
Last October, the country witnessed its highest annual spike in consumer prices since the early 1990s as inflation grew by 6.2%. The consumer price index continued to rise in the following months. It climbed to 7.5% for the period between January 2021 and January 2022, the highest yearly increase since 1982.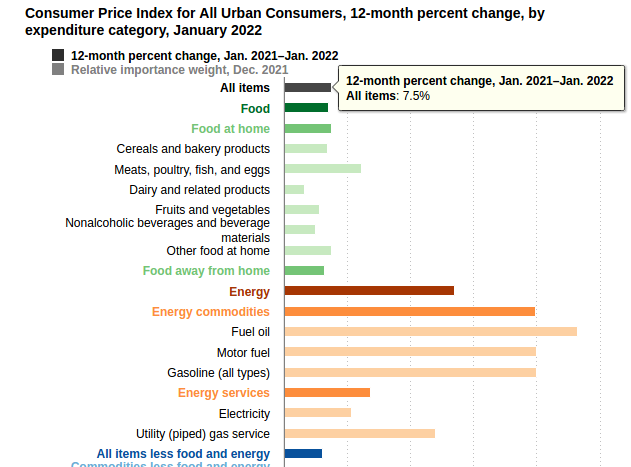 Looking at these figures, it becomes obvious that rising inflation would not be a fleeting phenomenon as the Biden administration assured. Some economists suggest the grim view on inflation rates is due to the rising gas prices.
Most Americans must fill their tanks regularly, which enables them to easily keep track of the price changes per gallon. Prices are often openly displayed in massive font on LED boards at gas stations, making it all the easier to draw comparisons.
Only Three Presidents Have Faced Impeachment in US History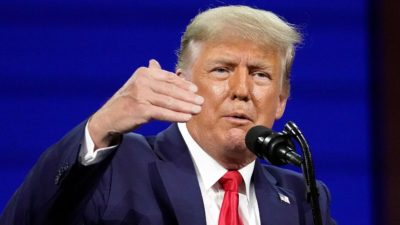 Some of President Biden's poor decisions during his first year, combined with his plummeting job approval ratings, have caused many to question whether he would get impeached before his term's end. If he does, this would hardly be a precedent in the country's history. Three US presidents have faced impeachment so far, one of them twice.
The impeachment process starts with the House Representatives bringing charges against a governmental official, in this case the head of state. Lower house members then vote on impeachment and send their decision to the upper house, i.e. the Senate, in case of a majority vote.
Senators assess the evidence and in their turn vote on whether to convict or absolve the impeached official. The president is removed from his position provided two-thirds of the Senators vote in favor of conviction.
The heads of state who have been subject to impeachment proceedings so far are Bill Clinton, Andrew Johnson, and Donald Trump. The latter went down in the annals of history as the only US leader who faced impeachment proceedings twice within four years.
Former President Trump's historic second impeachment trial begins Tuesday in the Senate. Here's a look at how the trial, stemming from the siege of the Capitol by a violent mob of his supporters, is to proceed. https://t.co/JfQ4e3eDrK

— The Associated Press (@AP) February 9, 2021
Nixon would have suffered the same fate in 1974 after the release of the "smoking gun" tape. It confirmed his involvement in the Watergate affair as well as his attempts to cover it up and obstruct federal investigations. The scandal destroyed his political career completely, but he managed to avoid impeachment proceedings through resignation.
Andrew Johnson
Date: February 1868 – May 1868
Reason(s) for impeachment: Abuse of presidential power
Result of impeachment proceedings: Acquitted
Senate votes ratio: 35 votes in favor, 19 against
Votes Required for Impeachment: 36 votes in favor
Bill Clinton
Date: December 1998 – February 1999
Reason(s) for impeachment: Obstruction of justice, perjury, abuse of power
Result of impeachment proceedings: Acquitted
Senate votes ratio: 50 in favor, 50 against for obstruction; 45 in favor, 55 against for perjury
Votes Required for Impeachment: 67 votes in favor
Donald Trump – 1st Impeachment Proceedings
Date: December 2019 – February 2020
Reason(s) for impeachment: Obstruction of Congress, abuse of power
Result of impeachment proceedings: Acquitted
Senate votes ratio: 47 in favor, 53 against for obstruction; 48 in favor, 52 against for abuse of power
Votes Required for Impeachment: 67 votes in favor
Donald Trump – 2nd Impeachment Proceedings
Date: February 2021
Reason(s) for impeachment: Insurrection incitement
Result of impeachment proceedings: Acquitted
Senate votes ratio: 57 in favor, 43 against
Votes required for impeachment: 67 votes in favor
Impeachment, Retirement, or Reelection for Biden?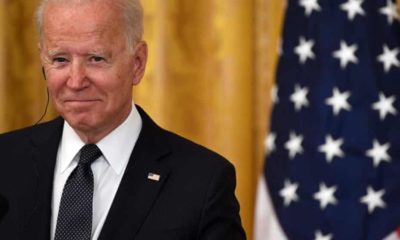 There is no denying the current US leader has endured a tough first year in the White House, which has led many to question whether he will remain there by the 2024 presidential election. His steadily plummeting approval ratings have further fueled the debates about his longevity as a president.
Bookies are also riding the trend, offering odds on whether Biden will serve his first term in full or not. Both Coral and Ladbrokes price his chances at -400, which corresponds to an implied probability of 80%. Another Biden special punters will find online is whether the incumbent would leave office via resignation, impeachment, or the 25th Amendment.
Both sportsbooks estimate the combined chances of this happening at approximately 27%, with lines of +275. Judging by the prognosis of oddsmakers, the situation of President Biden is not as grim as it seems at first glance. Some experts argue his low job approval ratings could start climbing up if he manages to prevent the Russia-Ukraine conflict from blowing into a full-fledged war.
Joe Biden's Betting Specials
Bookmaker
Biden to Serve His Full First Term
Biden to Leave Office via Impeachment, Resignation, or 25th Amendment
Ladbrokes
-400
275
Coral
-400
275
President Biden may be long in the tooth, but he has shown no intentions of resigning from his position before his term ends. On the contrary, he said he intends to run for reelection on condition his health allows. Looking at the betting markets for the 2024 presidential election, his odds of earning a second term are not that shabby, either. Ladbrokes prices him at +450 (18.2%), although his nemesis Trump is a slight favorite at +350 (22.2%).
Impeachment seems the most likely scenario if the GOP takes the Senate and the House of Representatives in this year's midterms. A Republican majority in the Congress could spell bad news for President Biden as it could result in probes and further impeachment attempts by the rival party.
Last year, a group of Republican legislators filed articles of impeachment against the incumbent on account of the Afghanistan military withdrawal and his failure to secure the southern border. Should they succeed in their efforts, Kamala Harris would temporarily assume leadership under the 25th Amendment. It stipulates vice presidents automatically become heads of state in the event of the president's death, resignation, or removal via impeachment.