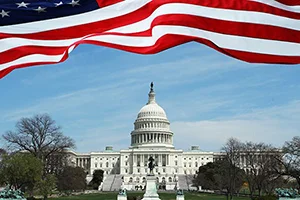 The world watched the last presidential election in the US with bated breath and rightfully so. The president-elect of the United States is powerful enough to exercise influence on both the local and international political scenes, but this last election was momentous for another reason. Americans chose their leader for the next four years amid a raging global pandemic which at the time had taken the lives of approximately 230,000 of their compatriots.
One of the two main contenders in the race, then-incumbent Donald Trump, fell sick himself and suffered a short hospitalization. Given all this, perhaps some will find it surprising the 2020 elections witnessed the highest voter turnout since the beginning of the last century. Many voted by mail which caused a delay in the results announcement, but it eventually became clear Obama's former Vice President, Joe Biden, had won.
Although Americans will vote for a leader again in November 2024, online sportsbooks are already laying the odds for the winner. Biden has confirmed his intentions to run for re-election, with the other potential candidates being former President Trump, Kamala Harris, and Ronald DeSantis, among others.
Election markets are also seeing plenty of alleged candidates from the world of entertainment like Oprah Winfrey, Joe Rogan, George Clooney, and Meghan Markle. The question is will Americans choose a celebrity as their next leader?
Celebrity Presence in Politics Is on the Rise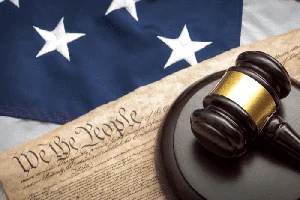 In recent years, we have seen an increased political involvement on behalf of public figures and celebrities. Popular actors, musicians, talk-show hosts, and professional athletes have all jumped on the bandwagon, trying to penetrate the world of politics. Public figures are running for office at all levels and some have quite decent chances of making it as polls suggest.
Americans are no strangers to having celebrity leaders, with Ronald Reagan being one notable example. After a successful acting career in Hollywood, Reagan ran for Governor of California in 1966 and won the race. In 1981, he became the 40th president of the United States, a position he retained until 1989. When he vacated the presidential seat, the former Hollywood star boasted an approval rating that rivaled that of Franklin Delano Roosevelt.
But Reagan is hardly the only US politician with a Hollywood background. Former bodybuilder and movie star Arnold Schwarzenegger served two terms as California Governor despite his lack of experience in this field. Television personality and businessman Donald Trump entered the Oval Office as the country's 45th President with no previous political experience.
Celebrity presence in politics has seen a significant increase since Trump's inauguration in 2017. Former decathlete and reality TV personality Caitlyn Jenner attempted to repeat Schwarzenegger's stunt in a 2021 recall election against incumbent Governor Gavin Newsom, but failed.
Terrible leadership…how sad! Gavin Newsom has wasted billions of our tax dollars with nothing to show. https://t.co/kWeMfW5LOi

— Caitlyn Jenner (@Caitlyn_Jenner) January 25, 2022
In 2021, actor Matthew McConaughey announced he was toying with the idea of running for the Texas gubernatorial position in November 2022. Looking at polls conducted by the University of Texas and the local daily Dallas Morning News, McConaughey had a real shot at becoming the Lone Star State's next governor.
The results indicated 44% of voters supported the famed actor as opposed to 35% who backed the Republican incumbent Gregory Abbott. McConaughey eventually gave up on the idea of running for office, however.
Following months of speculation, Matthew McConaughey has made it official: He will not be running for Texas governor. https://t.co/UZRRWqqy7C

— ABC News (@ABC) December 5, 2021
Other members of the Hollywood elite are less ambitious. Rather than announcing candidacies for key office positions, some celebrities prefer to exercise their influence through fundraising for education and political endorsements. The examples are numerous, from singer Taylor Swift openly encouraging her Instagram followers to back Joe Biden in the 2020 election to George Clooney and Dr. Dre announcing the launch their schools.
George Clooney and friends open school to train film crews https://t.co/oBBGOHC7DO pic.twitter.com/GhPYMJCJCp

— Reuters (@Reuters) June 21, 2021
Americans Embrace the Idea of Having a Celebrity President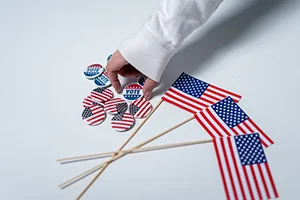 The popularity of public figures in the world of politics is no coincidence. Many American citizens embrace the idea of having a celebrity leader because they have grown to distrust career politicians and approach them with suspicion. Political science experts attribute this trend to the growing belief that inexperienced candidates are not as tainted as seasoned politicians.
Most public figures are Washington outsiders, to begin with, but they have one additional advantage up their sleeve – a great name recognition. These factors have led some Americans to believe celebrities can make decent enough politicians provided they have the proper attitude and adequate support aides.
A survey carried out by the consumer research platform Piplsay in 2021 perfectly illustrates these sentiments. It involved 30,138 participants from different states. When asked if they thought Hollywood stars would make decent politicians, 39% of the respondents said yes provided they had the inclination. Another 24% also responded affirmatively but listed having a good support team as a prerequisite.
Piplsay also asked Americans about their opinions on celebrities running for political positions. As many as 45% said celebrities were free to do as they please, compared to 19% who argued everyone could become a politician nowadays. Another 13% said Hollywood stars should stick to what they do best, that is acting, while 12% thought they could dabble into political activism at best.
The general public was unanimous on one subject, though. The majority of Americans (81%) think celebrities can impact the public sentiments with their political endorsements and opinions compared to 7% who believe the opposite is true.
Americans' Opinions on Celebrities in Politics
What Do You Think about Celebrities Running for Office?
They are free to do as they please
45%
Everyone can become a politician nowadays
19%
Celebrities must stick to what they do best
13%
Celebrities must only dabble in political activism
12%
Unsure
11%
Do You Consider Celebrities Can Be Good Politicians?
Yes, provided they have the inclination
39%
Yes, provided they have a good support team
24%
No, fame and name recognition alone are insufficient
13%
No, their lifestyle is way too different
12%
Unsure
12%
Do You Think Celebrities Can Impact Public Opinion with Political Endorsements?
Yes, they can
81%
They can to a great extent
33%
They can to some extent
48%
No, they cannot
7%
Unsure
12%
The data is extracted from a Piplsay survey
Morgan Freeman Was Americans' Top Choice of Celebrity President in 2020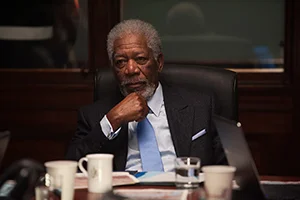 Donald Trump became the country's first purely celebrity head of state in 2017. His rise to power triggered a slew of debates on whether the country will see another public figure in the Oval Office after the 2020 presidential election. YouGov set off to find out which celebrity stood the highest chances of being elected for a joint project with the satirical television program The Daily Show.
The market research firm conducted a survey in 2020 that consisted of a series of heads-up matchups, each involving two randomized celebrities. The participants had to choose which celebrity they would prefer to make a president in each matchup.
Actors Morgan Freeman and Denzel Washington came on top of the matchups they were involved in with 81% and 76%, respectively. They were followed by Samuel Jackson and Tom Hanks, both of whom won around 73% of their matchups.
Former wrestler-turned-actor Dwayne Johnson ranked fifth with a matchup winning rate of 72%. Rapper Kanye West was the only celebrity with a formal candidacy in the 2020 presidential election. Nonetheless, West emerged a winner in 30% of his matchups only.
#KanyeWest appears to abandon #2020Election presidential bid but insists he'll be running in 2024 https://t.co/86QNRVmdvq

— ET Canada (@ETCanada) November 4, 2020
A breakdown by party affiliation showed that most Republican supporters named Morgan Freeman (86%) as their top choice for a celebrity president, followed by Judge Judy (81%). Interestingly enough, The Shawshank Redemption actor and the reality court-show star have supported presidential candidates from the Democratic Party during past campaigns.
Both are not particularly outspoken when it comes to politics, either. Samuel Jackson was the top choice of the Democrat voters who took part in the survey, while most independents gravitated toward Denzel Washington.
A breakdown of the results based on age indicated that younger voters aged 18 to 34 did not pick Morgan Freeman (84 years old) as often. A significantly younger actor, Titanic star Leonardo DiCaprio (47 years old), boasted the highest win rates in his matchups among this age group. Samuel Jackson, Matt Damon, and Chris Evans also ranked high among younger Americans who took part in the YouGov/The Daily Show survey.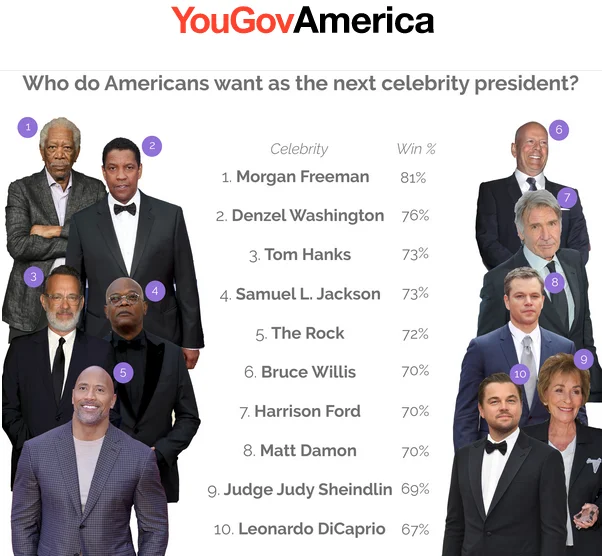 Top Potential Candidates among Politicians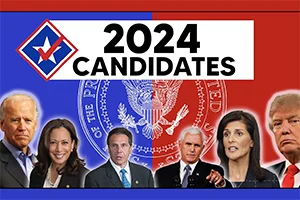 Americans will vote for their next president more than two years from now, but oddsmakers and the general public have already started to speculate on who will emerge winner in the 2024 race. Ex-President Donald Trump is the top contender for the post.
The former host of The Apprentice is followed by a slew of more experienced politicians, including the incumbent Biden, his Vice President Kamala Harris, Ronald DeSantis, and Nikki Haley. There has been much speculation about the potential candidacies of these politicians, although most of them have not officially unveiled their plans to run in 2024.
Joe Biden
Profile:
Age: 79 years old
Party Affiliation: Democrat
Current Occupation: 46th President of the US
Previous Positions/Occupation: Vice President under Barack Obama, Delaware Senator
Incumbent President Biden said in late December he intends to run for a second term in the 2024 election provided that his health allows. Many had questioned Biden's running for reelection because of his age. He is, in fact, the oldest politician in the country's history to assume the presidency (at age 78) and will be 81 years old two years from now.
Some say it is still early for Biden to broach the subject of a second term when the next presidential election cycle will commence in November 2022 with the midterms. Even in this case, potential candidates, especially incumbents, have waited longer to formally declare their intentions of a rerun.
Experts have suggested this early announcement aims to demonstrate to the general public and other politicians that the incumbent is still in the game, even if he has no plans to actually compete for a second term. If Biden openly admits he plans to call it a day after his first term, people might perceive him as weak.
Donald Trump
Profile:
Age: 75 years old
Party Affiliation: Republican
Current Occupation: Businessman, real-estate tycoon, media personality
Previous Positions/Occupation: 45th President of the US, former television presenter, and host of The Apprentice
Former President Trump is seemingly flirting with the idea of running for the presidency again after failing to secure the victory against opponent Biden in 2020. Mr. Trump has hinted about his intentions on multiple occasions in the past, but has not yet confirmed his potential candidacy formally.
Despite his withdrawal from the Oval Office, he has not entirely given up on politics if we judge by the campaign-style rallies he continues to organize across the US after his defeat in 2020. One of the most recent hints at running again came in January 2022.
The former US leader reignited the speculation during a casual game of golf captured on camera. When the person filming the video referred to him as the 45th president of the United States, Mr. Trump corrected him with the words "45th and 47th". Only the future can tell whether or not his remark was in earnest.
Kamala Harris
Profile:
Age: 57 years old
Party Affiliation: Democrat
Current Position: 49th Vice President of the US
Previous Positions/Occupation: Attorney General of California from 2011 to 2017, Senator of California from 2017 to 2021
Former California Senator and Attorney General Kamala Harris made history in January 2021 when she became the first female to be sworn as a US Vice President. Her supporters are also keeping their fingers crossed to see her become the first female leader in the country's history.
The US Constitution allows vice presidents to run for the head-of-state position and indeed eighteen have tried to win the presidency in the past. However, only a few have managed to pull off this stunt. Harris has not confirmed or expressed any intentions of running for the presidency but if she does, this would be her second attempt.
She gave it a try in the 2020 Democratic primary election but failed to secure a nomination. Incumbent Biden subsequently nominated her for a running mate and the pair eventually won the election.
Ronald DeSantis
Profile:
Age: 43 years old
Party Affiliation: Republican
Current Position: 46th Governor of Florida
Previous Positions/Occupation: US House Representative for the sixth congressional district of Florida
Ronald DeSantis is another potential candidate for the presidency the media has been buzzing about in recent months. Currently a Governor of Florida, DeSantis dismissed the rumors in September 2021, explaining he is preoccupied with his current gubernatorial position. DeSantis said at the time he planned to run for reelection in the 2022 midterms.
His promise to focus solely on his reelection campaign failed to quiet down speculation that he might eventually decide to submit a presidential candidacy. His non-interference approach to the Covid-19 pandemic and fundraising aptitude have earned him the praise of many political observers.
Whether DeSantis will mount a presidential bid remains an open question that only time can answer. Nonetheless, his winning chances in case he decides to run are not too shabby. A Reuters/Ipsos survey indicated the public generally sees him in a favorable light. DeSantis also prevailed over Trump in a straw poll conducted in 2021 at the Denver Western Conservative Summit, albeit by a small margin.
Western Conservative Summit 2021 non-partisan approval voting poll results:

1. Ron DeSantis – 74.12%
2. Donald Trump – 71.43%
3. Ted Cruz – 42.86%
4. Mike Pompeo – 39.35%
5. Tim Scott 35.58%

30 candidates polled. Democrats & Republicans.

Full results: https://t.co/2a7Z5gVVwU

— Centennial Institute (@CentennialCCU) June 20, 2021
Nikki Haley
Profile:
Age: 50 years old
Party Affiliation: Republican
Current Position: Member of the Clemson University Board of Trustees
Previous Positions/Occupation: US House Representative for South Carolina, 116th Governor of South Carolina, US Ambassador to the UN
Former UN Ambassador Nikki Haley is also a rumored candidate for the presidency in 2024. Earlier in 2021, Haley assured she had no intention of running if former President Trump decides to take his chances with reelection.
She changed her tune later in the year and said Trump's actions will not impact her decision in regard to launching a bid for the presidency. Haley has given herself until early 2023 to decide whether she will run or not. The former North Carolina Governor has expressed mixed sentiments about Trump since he departed from the Oval Office.
Trump on Nikki Haley: "Every time she criticizes me, she uncriticizes me about 15 minutes later" https://t.co/dvCppoITnn pic.twitter.com/JyBbo2vMTT

— The Hill (@thehill) September 2, 2021
Shortly after the insurgency at the Capitol, Haley criticized the former head of state about his behavior in the wake of his defeat in 2020. Haley then expressed doubt the former president would remain a major force in the GOP and argued he had lost his viability in politics.
Several months after these comments, Haley praised Trump for his approach to handling foreign adversaries and hinted his influence on local politics would endure despite his exit from the White House.
Oddsmakers Favor Trump, Biden Is a Close Second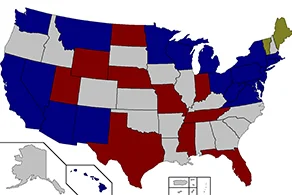 Oddsmakers have an opinion of their own and it sometimes does not align with what polling results might suggest. Looking at major sportsbooks like William Hill, Unibet, and Ladbrokes, we see Тrump is the clear favorite boasting the shortest odds. All three betting sites put the former head of state as the surest winner, with odds of +300 at William Hill and Unibet and +350 at Ladbrokes.
Some would argue Trump's chances are not as substantial as bookies make them out to be. Attempting to win back a previously lost presidential position might prove to be an exercise in futility from a historical perspective. US history has witnessed several former leaders failing to secure a comeback to the Oval Office after losing a reelection.
Grover Cleveland is a precedent, having served as the 22nd (1885-1889) and 24th (1893-1897) US president. The likelihood of Trump pulling this off is not as great from this standpoint, although nothing is impossible.
Will @JoeBiden run in 2024? Should he? What about #Trump? @RonBrownstein joins me @CNN tonight to discuss – tweet me your thoughts now and will read some on air next hour https://t.co/oaBv9PtMFm

— Michael Smerconish (@smerconish) December 23, 2021
Additionally, a survey carried out by SSRS at the beginning of this year indicated Trump's support levels among GOP members and their voters have seen a slight decrease. Those in favor of nominating the former president stood at 50% compared to 49% who wanted another Republican candidate.
Incumbent President Biden is the second-strongest contender for the presidential position with odds of +450 across most major sportsbooks. Given that incumbents generally hold an advantage against first-time candidates, this is not all that surprising.
Nonetheless, there is no telling whether the current leader will manage to pull off a second victory, considering his advancing age and the decline in support for him among Democrats. The above-mentioned survey established around 45% of the Democratic voters embraced the idea of Biden's renomination as opposed to 51% who wanted another candidate.
As for the remaining rumored contenders in the 2024 election, Ron DeSantis and Kamala Harris lead the race with odds of +650 at Unibet. William Hills' oddsmakers estimate Harris stands a slightly smaller chance of winning at +750.
Former UN Ambassador Nikki Haley and former Vice President Mike Pence are next at +1,400. Other prominent names rumored to seek a presidential bid include Peter Buttigieg, former First Lady Michelle Obama, and US Senator Elizabeth Warren.
Odds for the Top Politicians Rumored to Run in the 2024 Presidential Election
| Candidate | Unibet | William Hill | Ladbrokes |
| --- | --- | --- | --- |
| Donald Trump | +300 | +300 | +350 |
| Joe Biden | +450 | +450 | +450 |
| Ron DeSantis | +650 | +650 | +600 |
| Kamala Harris | +650 | +750 | +800 |
| Nikki Haley | +2000 | +1400 | +1600 |
| Mike Pence | +2500 | +1400 | +2000 |
| Peter Buttigieg | +2000 | +2000 | +2000 |
| Elizabeth Warren | +4000 | +3300 | +4000 |
Longer Odds for Oprah and the Rest of the Hollywood Gang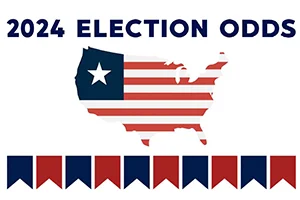 Celebrities face few if any obstacles if they wish to run for the presidential position. Under the US Constitution, a candidate must be a natural-born citizen of the country aged 35 or older. Another requirement is for the candidates to have resided in the US for at least fourteen years. There are no restrictions in terms of race or gender.
It is fair to say most public figures that have made it to the bookies' list of potential presidential candidates meet the above criteria. The top celebrity contenders odds-wise include Dwayne Johnson, George Clooney, Meghan Markle, and Oprah Winfrey. Whether these A-listers are competent enough for this job is open to debate, with some people arguing they lack the experience necessary to run a country.
Their supporters use Ronald Reagan's presidency as a counterargument. While Reagan was indeed a famed Hollywood actor, and a very talented one at that, we should not forget that he also had previous experience in politics as a Governor of California.
Now, most of the listed celebrities have not expressed any formal intentions to run for the presidency. The top celebrity contender is Dwayne Johnson at odds of +5000, who joked about the prospect of becoming a head of state in a Vanity Fair interview from 2021. The Jumanji star himself is not ruling out a presidential bid in the future, although he admits his knowledge of politics and policy-making is extremely limited.
Not sure our Founding Fathers ever envisioned a six-four, bald, tattooed, half-Black, half-Samoan, tequila drinking, pick up truck driving, fanny pack wearing guy joining their club – but if it ever happens it'd be my honor to serve the people 🙏🏾💪🏾🇺🇸 https://t.co/6Xd9ADzqX7

— Dwayne Johnson (@TheRock) April 9, 2021
Kanye West is another familiar name rumored to make an attempt at winning the position in 2024. The rapper and music producer failed miserably during the 2020 election, which is only understandable considering the contenders he was up against.
West, who officially changed his name to Ye, was among the last candidates to join the previous presidential race. Despite his efforts, he failed to reach the ballots in most states and had approximately 60,000 Americans vote for him.
Ye has roughly the same odds as other Hollywood A-listers like actor George Clooney, former actress and current Duchess of Sussex Meghan Markle, and talk-show host Oprah Winfrey.
None of them has even hinted at having a desire to compete in the 2024 elections. Clooney himself confirmed the opposite and said he had no intention to run in a BBC interview. Opinionated and blunt as usual, the Academy Award winner referred to the former president as "a knucklehead".
George Clooney Says He Won't Run for Office, Calls Trump a "Knucklehead" https://t.co/pRdDe2lkXq

— The Hollywood Reporter (@THR) October 11, 2021
The Duchess of Sussex has also not disclosed any intentions to run for office, although author Tom Bower suggests otherwise. Bower plans to release an unauthorized biography of Markle, where he speculates the Duchess might follow in the footsteps of other celebrity politicians like Reagan and Schwarzenegger. Markle herself remains quiet on the subject.
As for Oprah, she apparently prefers to stay in her lane as a host and philanthropist. Winfrey herself says she has no interest in running and politics is not something she has an inclination for. Commentator and podcaster Joe Rogan is also rumored as a potential candidate.
Rogan himself has not expressed a desire for the presidency, although he believes former First Lady Michelle Obama could defeat Trump should she decide to run in 2024. Unibet prices his chances at +10000, while Ladbrokes gives him longer odds of +20000.
Odds for Rumored Celebrity Contenders in the 2024 Presidential Election
| Celebrity | Unibet | William Hill | Ladbrokes |
| --- | --- | --- | --- |
| Dwayne Johnson | +6600 | +5000 | +5000 |
| Kanye West | +10000 | +15000 | +10000 |
| George Clooney | +10000 | N/A | +10000 |
| Maghan Markle | N/A | +25000 | +10000 |
| Oprah Winfrey | +10000 | N/A | +10000 |
| Joe Rogan | +10000 | N/A | +20000 |