Welcome to Macau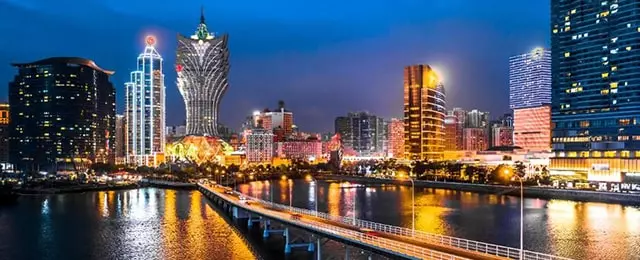 Macau (also spelt as Macao) is a Chinese peninsula, often referred to as "The Las Vegas of the East", which was a Portuguese territory till 1999. Macau is a quite unusual and exciting destination for gambling lovers looking for something which is more exotic than the popular destinations in the USA – Las Vegas and Atlantic City. If you ever have the opportunity to visit Macau, it will surely provide you with an experience very different from what you expect. The city surely offers plenty of things to do, even though it does not live up to the luxury of its glamorous neighbour Hong Kong.
Macau is known to have little violence and be safe which is very good news to all those people who plan on going on a vacation there. Just be aware of pickpocketing and take the same precautions you usually would in any other city, especially when it is dark. 
Thanks to Macau's fame as a gambling paradise, it has increased significantly in popularity over recent years. The tourist industry suddenly exploded due to the glamorous cameo it made in a James Bond movie. Attracting more and more tourists every year, Macau has overtaken Sin City's leading position when it comes to gambling revenue. Its gaming industry is known to be the largest in the world and nearly seven times larger than that of the Entertainment Capital – Las Vegas. Macau is indeed the epicentre of gambling and luxury. 
If you are a gambling lover and you usually like to spend time at a casino, such as the ones in top destinations like Atlantic City or Las Vegas, then you may not know what exactly to expect from a casino in Macau. Without a shadow of a doubt, there are many significant differences between the quite familiar western casinos and those in Macau. On one hand, you will see that the games offered in Macau are very different from the ones we know from western casinos. You will find that there are some options which are more limited even though we are used to them. For instance, bingo terminals are harder to find in Macau although we can often find them at casinos in the west. However, on the other hand, there are also things which we are familiar with. For instance, there are quite well-known hotel names such as the Sands, the Venetian and the Wynn. In fact, these casinos, in particular, are among the latest huge operations that give you the chance to enjoy a broad range of games from traditional slot machines to roulette, blackjack, baccarat and poker.
In this guide to enjoying your stay in Macau, you will know what to expect before you start your vacation and you will get some tips and ideas about how to get the most out of it.
More About Macau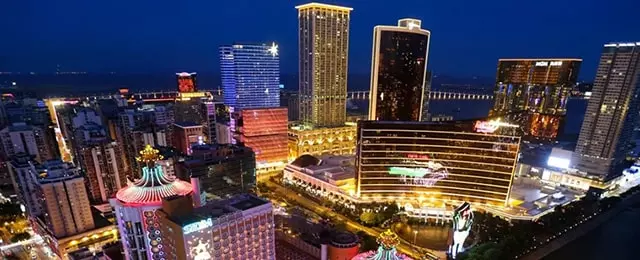 Without a shadow of a doubt, Macau will provide you with a unique experience thanks to its mix of cultures. The buildings and food surely differ from what you may expect. Many might think it is similar to Hong Kong since both destinations are close to each other, but it is not like that at all. Actually, you will see two different sides of Macau. Above all, years ago Macau used to be just a calm little village with a number of beaches.
Of course, some of that atmosphere still remains, but alongside that is the other face of Macau – the hustle and bustle of new establishments spurred by the huge interest in gambling. However, Macau is not only about gambling. It is a popular destination for shoppers, too. Macau is an affordable destination as long as you can keep your passions under control. 
Where to Stay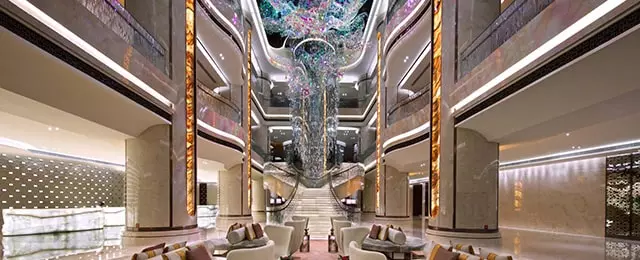 Many people underestimate it but accommodation is of great importance in order to enjoy your gambling experience in Macau. Make sure to choose a place that is just a walking distance from all the popular casinos and destinations. Otherwise, you will have to worry about transport when you are there to have fun, right? There are gorgeous suites at the mega resorts, such as Venetian and Sands Macau. Even though they are not the cheapest, they do offer exceptional, out-of-this-world luxury. Besides, people who stay there have access to wonderful entertainment and facilities but what is even more – they are only steps away from the gambling floor. 
It is a good fortune that most of the casinos in Macau have accommodations. In case you would like to mix the gambling experience with the Portuguese heritage of Macau, then it is a good idea to stay in downtown. If you are there just for the gambling, then the Cotai Strip is the right place for you to sleep as it is Macau's answer to the popular Vegas Strip. Macau is sure to have the best and most luxurious hotels in the world so be prepared to stay in style.
Where to Gamble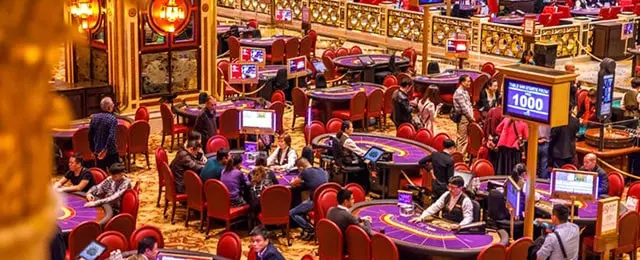 Where should you gamble? This is probably the most important question that you have to ask when you arrive in the gambling paradise that is called Macau. Of course, you are given a number of choices, so it all depends on the experience that you are expecting to have.
The very first casino in the typical Vegas-style to be opened in Macau was The Wynn Macau. Even though it is worth seeing, it is not the most impressive as it features about 200 gaming tables and the stakes are some of the highest. 
If you are in search of something more spectacular, then the Venetian is your must stop. If you have ever been to the mega resort of the same name in Las Vegas or if you have at least heard of it, the Venetian is beyond luxurious. Its gaming floor is known to be the largest around the world, with over 6000 slot machines and hundreds of gaming tables to choose from. Even though the minimum stakes are high, one of the most played games is Sic Bo, which is also known as Tai Sai and it is an unequal game of chance of Chinese origin. If you happen to visit Macau on a workday, the Venetian is still one of the best places to go since it never sleeps. There is action going on every day of the week!
If you prefer European-style gambling, Macau has something for you, too. The City of Dreams is a huge resort that hosts the Asian Championship Poker tournament annually. Besides, if you would love to meet some of the most famous poker stars, this is the place where you can find them. Even out of tournament season, many professional and semi-professional players go there. What is even more, if you are into poker, you can get a decent competition at the poker table.
If you are looking for bigger bets and a more sophisticated crowd, then the Wynn is your place. It is known for pulling in the big rollers. 
What About the Shows?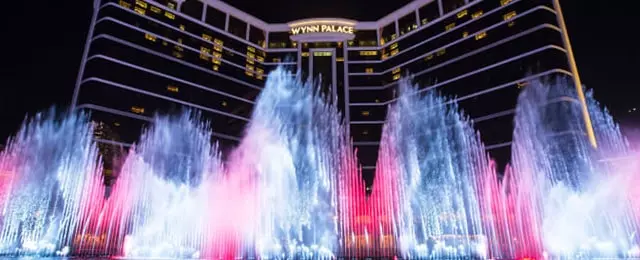 Although Macau has been slow in a way to develop the entertainment more and casinos are mainly focused on gambling, there are still good shows. One of the best ones is the House of Dancing Water over at the City of Dreams casino. It is a truly spectacular show, combining part Chinese folktale, part singing in the rain, part Evil Knievel stunt show and part synchronised swimming competition. Featuring Kung Fu, Western and Chinese classical music, circus acrobatics, water stunts and theatre, this show will surely leave you breathless. 
The Venetian hosts UFC and boxing events, as well as many concerts. In short, no one can ever get bored in Macau, there is always something to do.
Portuguese Nightlife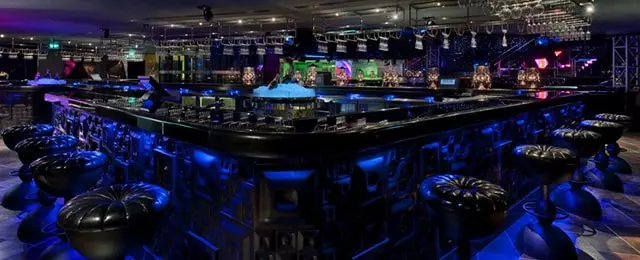 When in Macau, visitors are welcome to explore colonial buildings, along with many Macanese and Portuguese restaurants and bars which offer a rich selection of wines and beers from Portugal at affordable prices.
Guidelines for Gambling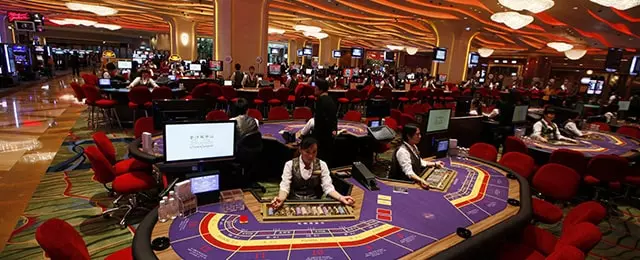 If you are making your first steps in gambling in Macau, there are several rules you need to know before you jump in at the deep end. Here are some of the guidelines you need to keep in mind. 
Gambling Age: The legal gambling age for Macau residents who wants to gamble is 21 or over. However, foreigners are legally permitted to gamble in casinos if they are aged 18. As identification, the guests need to show a Hong Kong ID card or passport.
Legal items: When entering a casino, you will be asked to check in your camera, laptop and luggage at the cloakroom.
Legal tender: Even though the Macau Pataca is the local currency, usually the Hong Kong Dollar is accepted in the casinos in Macau.
Dress Code: The dress code may vary since some local establishments are more conservative and stricter than others. Generally, guests should avoid wearing shorts, sleeveless tops and flip flops. This applies to both women and men. However, if you are planning on heading into a high roller room, there is even a stricter dress code to follow.
Smoking: Here, the rules are hazier. Even though most casinos are non-smoking, often guests ignore the signs and light up anyway. Staff rarely stop people smoking.
Alcohol: We all know that Las Vegas has a reputation of being Sin City, but in Macau, it is not quite like that. If you look visibly drunk, the security staff will show you to the door.
Shuttle buses: You will need to have proof if you would like to use the shuffle buses to get to different resorts and hotels since casinos have become stricter in who they let. You will be required to show a casino receipt or evidence of the hotel or room you are staying in.
Bonus Tips for Going Out in Macau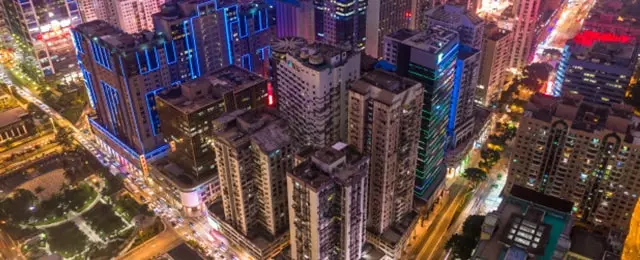 Most nightclubs in Macau do not come alive till after midnight. So before going to a club, you may want to go to a pub or bar first.
Use small bills and exact change to avoid counterfeit money scams.
Taxis and buses are probably the most principal ways of getting from A to B. Make sure to use only licensed taxis with turned on metre. Before you pay, do not forget to get your luggage.
Casino Games in Macau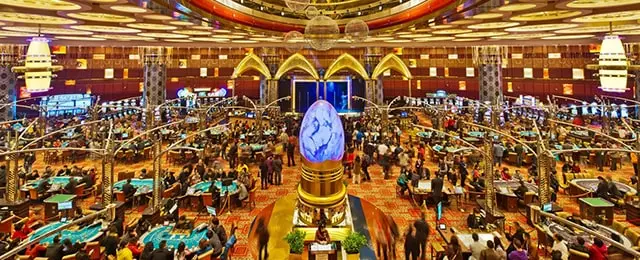 Most of the classic games you are familiar with are also available in Macau, such as Roulette, Blackjack, Baccarat and Slot machines. It is a known fact that Baccarat is the most popular casino game in Macau. There are even gaming houses that feature nothing else but baccarat tables. There are millions of Chinese who come to Macau to seek their fortune. Even though there is a gamut of shows, nightlife, and entertainment options, Macau still remains a true gambler's dream. 
Macau has thousands of slot machines. If you would like to mix gambling and shopping, the Cotai Strip is just the perfect place to go. Popular casinos such as the Venetian and Galaxy Macau feature plenty of slots and many shopping opportunities. 
Here is a piece of additional information you would want to familiarise yourself with before heading into the casino.
Blackjack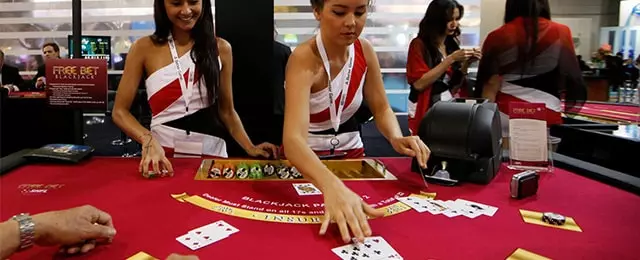 Undoubtedly, the blackjack games are some of the most popular not only in Macau but in the whole world. If you are into it and use perfect basic strategy, at most casinos, you will face a house edge of only 0.16%.
Baccarat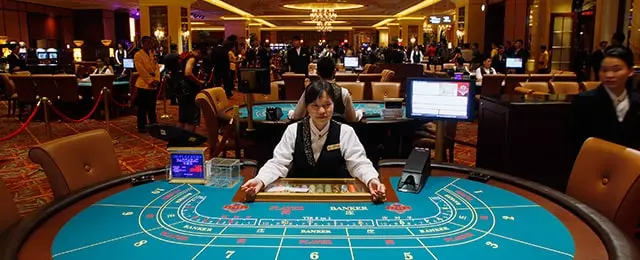 Baccarat is another popular game in Macau casinos. Fortunately, it is played by the very same rules you can see in other casinos around the world. More than half of the games in the casinos are dedicated to baccarat, thanks to which nearly 90% of the casino's revenue is from baccarat. To get an idea of how popular baccarat is in Macau, you can compare the popularity of slot machines in the United States to the popularity of baccarat in Macau.
Caribbean Stud Poker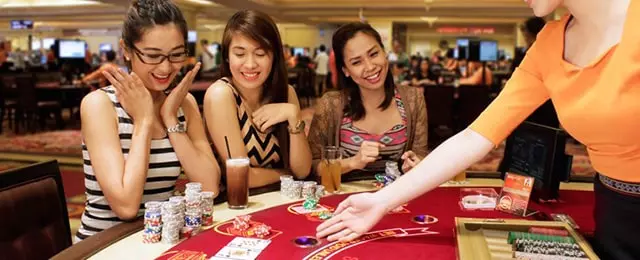 Caribbean Stud Poker is very popular in Macau, perhaps even more than it is in Las Vegas. Of course, it is not going to replace baccarat but it is widely played. Rules vary little from the ones in the US, even though some of the payouts are different. Before you start playing, make sure to check out the pay tables. 
Big Six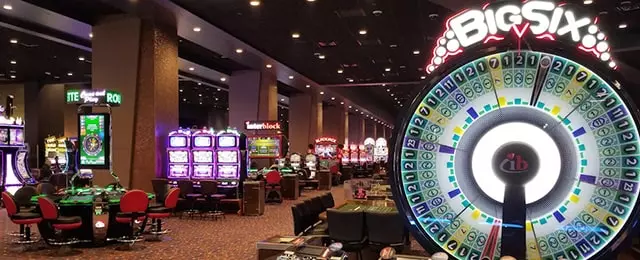 Big Six is quite unusual in the American country but many people play it in Macau. However, it looks a bit different there. 
In Macau, the wheel is labelled with coloured numbers, while in the USA, they use denominations of currency. There are seven colours with the following payouts.
Orange – even odds
Purple – 3 to 1
Green – 5 to 1 
Blue – 10 to 1 
Yellow – 20 to 1 
Either of the Logos – 45 to 1 
Surprisingly, the house edge on Big Six is incredibly high. On the blue bets, there is a house edge of 15.38%. Orange, green and purple have a house edge of 7.69%. Yellow has a house edge of 19.23%. Every logo has an 11.54% house edge – you should choose on which logo you are betting. 
Other games you can find in Macau (for some of which you need to familiarise yourself with before you head into a casino) include Casino War, Craps, Fortune Three Card Poker, Mah Jong Pai Gow, Roulette, Slot machines, Video Poker, Sic Bo, Keno, Pai Gow and Fan Tan. 
Gambling in Macau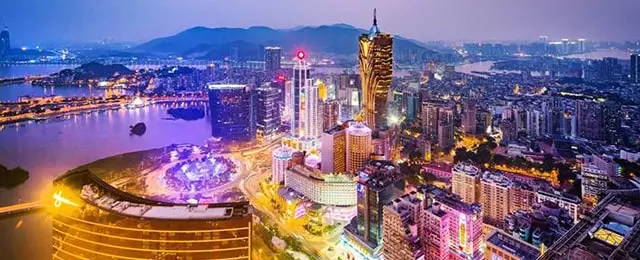 The Portuguese government legalised gambling in the 1850s. Ever since Macau has become widely known as "Las Vegas of the East" or "Gambling capital of the world". 
It is not surprising the fact that nearly 50% of the economy is made up of gambling tourism. In the beginning, only Chinese games were played but it was till Western-style casino games were introduced in the 20th century. In general, gambling in Macau can be categorised as it follows: lotteries, sports betting, greyhound racing and casino games. 
At the present time, Macau is the only place in China where gambling is legal.
Lisboa Casino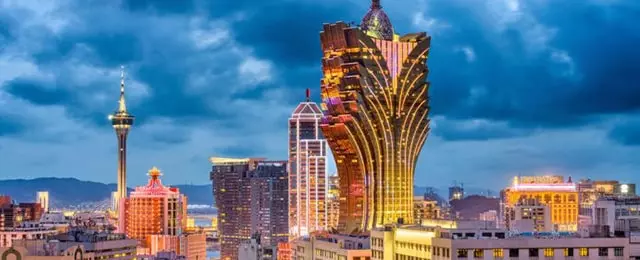 Lisboa Hotels Complex is a perfect combination of luxurious comfort and old-school casino atmosphere. With a history dating back to 1970, the original Hotel Lisboa and Casino was one of the first casinos in Macau. Owned by the business magnate Stanley Ho, Casino Lisboa has been through some expansions over the years. The newer Grand Lisboa was introduced to the world and has already become the pearl of the island thanks to its gorgeous lotus-flower shaped design.
With hundreds of slot machines on which players can place bets as low as two cents, the casino also has American Roulette, Caribbean Stud Poker, Baccarat, and Blackjack. The casino is popular worldwide for running the biggest poker tournaments around Asia. If you are interested in Chinese pieces of art, you should definitely pay a visit to the Hotel Lisboa's lobby. There is an extensive private collection, owned by Stanley Ho himself.
Casa Real Casino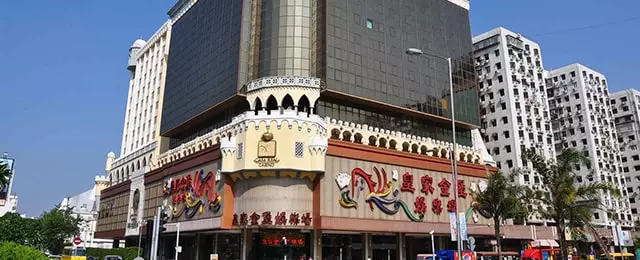 Casa Real Casino Macau was inspired by authentic Portuguese architecture and is favourably situated near the Macau Ferry Terminal and a number of major attractions, including the Sands, Macau Cultural Centre, Macau Fisherman's Wharf, and more. 
Guests are welcome to experience the thrills of fun and excitement across popular slot machines and table games thanks to the spacious casino, situated on the first floor but extending up onto the second one. Some of the available casino games are Baccarat, Blackjack, Sic Bo, Electronic Roulette and slot machines. For those who love playing Baccarat, the minimum and maximum bet levels give a number of options with tables going up to a minimum bet of 1,000 HKD. The good news is that slot machines can for denominations of 0.02. 
Apart from the casino, Casa Real Casino also features restaurants, bars, fitness centre, laundry facility and a swimming pool.
Grandview Hotel and Casino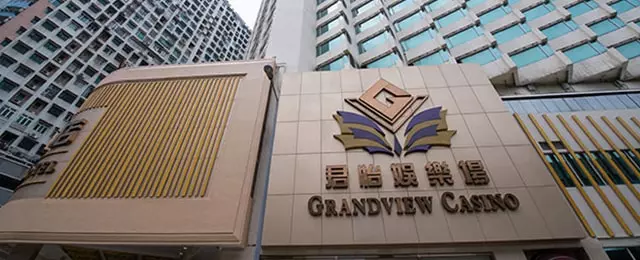 Grandview Hotel and Casino, also known as MJC, is just the ideal hotel and casino for all guests of MJC Racing complex. Even though the casino is not quite big, it still attracts many people, however, most of the guests come here for the quite popular horse racing. It also features a spa, nice rooms, ample dining, plus all the other standard facilities.
The Grandview Slot Machine Hall is located on the first floor of the building. Despite its relatively small size in terms of table numbers, it can still keep you entertained. There are also electronic tables, Blackjack, Baccarat, Sic Bo, etc. for those who prefer classic games. The Grandview Casino and Hotel is very close to the Macau Jockey Club Race Complex. The casino itself is very classically styled in gold and brown, with a mix of pillars, chandeliers and wall designs. There is a special kind of vibe every guest can feel!
Macau Palace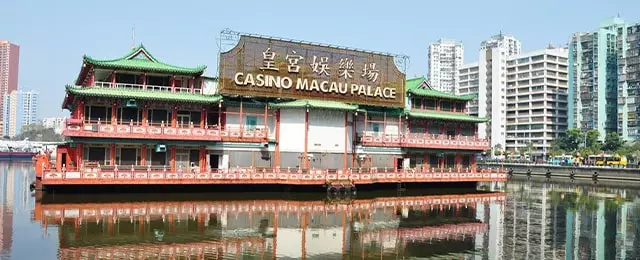 Macau Palace, also known as Floating casino, is located on a floating barge in the Outer Harbour, about 5-kilometre walk from the ferry terminal. It is known to be the smallest casino in Macau but it is very popular among the tourists because it played a significant role in the James Bond movie "The Man with the Golden Gun" (1974). It comprises tables for Baccarat, Blackjack, Dai-Siu and Sic Bo.
There is also a slot machine room for all those people who would like to try their luck. The casino also features a selection of private games rooms. This charming casino also has a quieter gambling area for all those players who would like to take a break from the hustle and bustle of Macau. 
Altira Macau and Mocha Slots Hall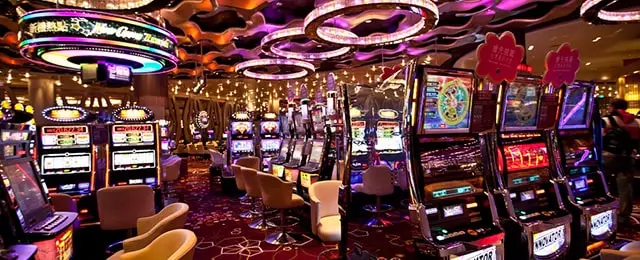 Altira Macau was formerly known as Crown Macau. It is a casino situated in Taipa, Macau and has been open since May 2007. The table games and Mocha Slots Hall, however, have been open since 2013.
What makes the facade of Altira Macau amazing is the waterfall running down the side of it. When you head into the casino you will feel the special vibe and luxury! The lobby comprises Baccarat tables, however, you will be surprised that they are not as busy as the ones in other casinos in Macau. It is mainly because of the location of Altira Macau – since it is in Taipa, it is quite separated from the hustle and bustle in Cotai Strip and Macau proper. The games available at the casino are Blackjack, Baccarat, slot machines and Commission Free Baccarat.
The staff that works at the casino is extremely friendly and professional.
Jai Alai Casino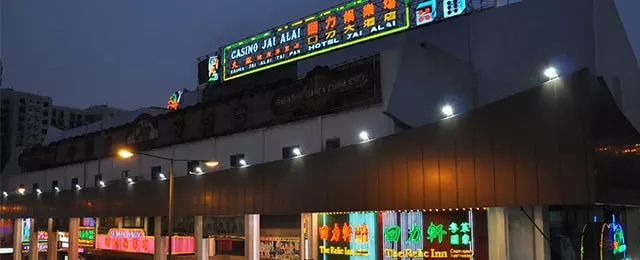 Jai Alai is one of the oldest casinos in Macau, built in the 1970s to stage Jai Alai matches, a type of Spanish handball sport. It is positioned behind Oceanus, only 5 minutes away from the Macau Ferry Terminal. The property was closed for renovations in 2012 and was given a new lease on life in 2016.
The casino offers Baccarat, Fan Tan, Blackjack, Sic Bo, Electronic Roulette and Three Card. Baccarat. Jai Alai is pretty notable and attracts many people.
Kam Pek Paradise Casino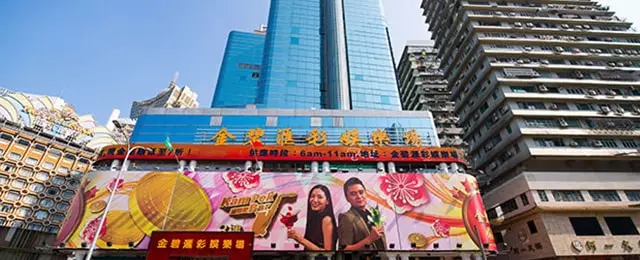 Kam Pek Paradise Casino is located in Macau and its main focus is to provide excitement and entertainment to its guest through a rich selection of games and live table games. The casino provides drinks, food and premium service so that the guests can make the best out of their stay. 
Live Sic Bo, Live Roulette and Live Baccarat are the games which will give you thrills of excitement. These live games are the perfect combination of modern technology and real-life dealers. This allows guests to play and place bets at various tables, order drinks, play against other players, switch games, play with a live dealer – all at the same time in front of the betting terminals, exclusively provided for the casino.
Kam Pek Paradise Casino aims to provide all guests with VIP entertainment to remember.
Mocha Kingsway Hotel and Casino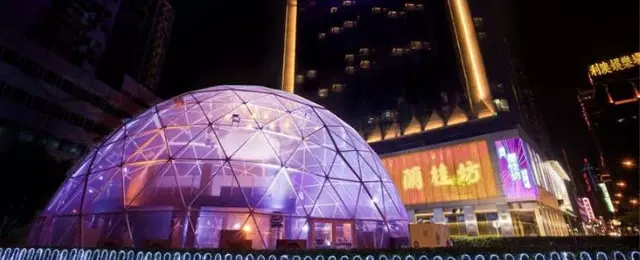 Located on the ground floor of the Kingsway Casino, Mocha Kingsway began operations in 2004. The venue offers a broad range of electronic table games and video slots, with over 200 gaming machines.
The casino offers some of the most popular games including American Roulette, Baccarat, Chinese Sic Bo, slots, electronic table games, and American Poker. Because the casino has awarded a great number of jackpot winners, including several multi-million dollar jackpot players, it is frequented by many professional slot players.
Jimei Casino at Grand Lapa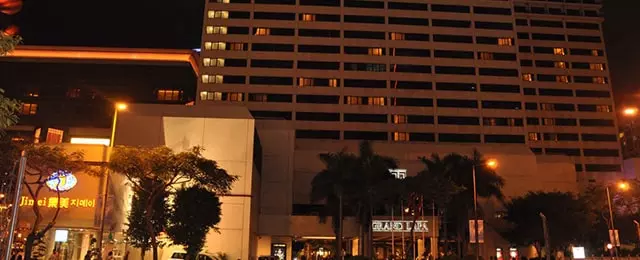 Jimei Casino at the Grand Lapa is situated in Macau, at the end of the Amizade Strip, right next to the Sands Macao. It is not a big casino as it features over 10 table games about 60 slots but it has higher stakes tables, too. There are also a hotel, dining establishments and a spa. 
Jimei Casino is truly one of the best of the non-western casino resorts in Macau. The property has elegant décor, great layout and the personnel is more than friendly and always ready to give a helping hand. The casino offers traditional games including Blackjack, Baccarat, Video Slots, Video Poker, Three Card Baccarat and Sic Bo. 
Even though the main casino floor features a limited range of slots, there is a VIP area with high stakes slots. 
Mocha Club at Hotel Royal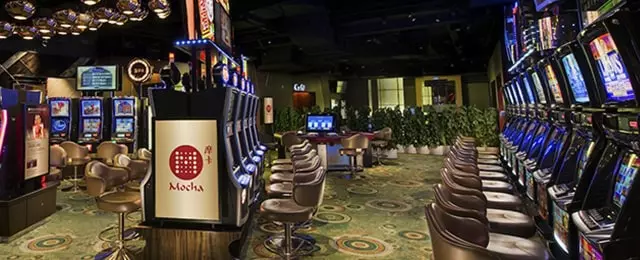 Mocha Clubs is the perfect place for people who would like to enjoy the thrill of electronic games but in a cafe-styled setting. The Mocha Slot gaming lounge was established in 2003 and is a pioneer in the electronic industry of Macau. It is home to multi-terminal games and slots which are based on different table games.
The venues are specially designed and decorated to provide visitors with a relaxing surrounding. There are different themes which provide guests with whole new experiences. With a rich selection of games and jackpots, this is the right place for you to try your luck. At Mocha Casino, guests are welcome to play the latest in video slots and a range of live electronic table games such as Sic Bo, Roulette and Baccarat. 
The New Century Hotel and Casino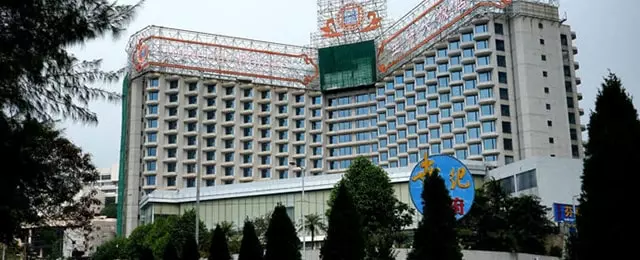 The New Century Hotel and Casino is the perfect spot for guests wanting to discover Macau. The place offers a wonderful stay in Macau not only for those travelling for leisure but for those on business trips, too. 
The Sands Macao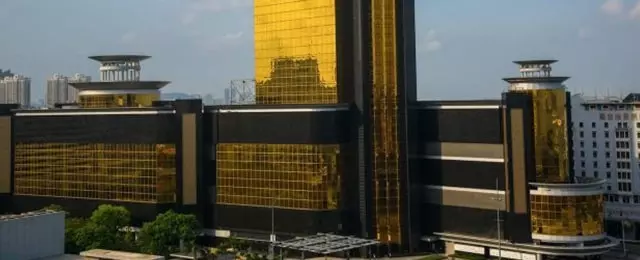 Situated in Sé, Macau, very close to the city centre, Sands Macao is one of the most visited casinos not only on the peninsula but in the world, too. It is very easily accessible thanks to the Macau and Taipa Ferry Terminals. What is even more, Sands Macao is only minutes away from historical landmarks and places of interest. The casino provides its guest with unparalleled leisure and entertainment experience, unlike any other casino.
Owned by the Las Vegas Sands Corporation, The Sands Macao will offer you amazing gaming atmosphere with a selection of free drinks, buffet and a lot of entertainment in a Vegas-style. The Sands Macao attracts both professional and beginners who come to enjoy the wide range of table and slot machines as well as their gorgeous VIP rooms. Due to its location near the Hong Kong ferry pier, the casino is very busy over weekends. 
Casino Golden Dragon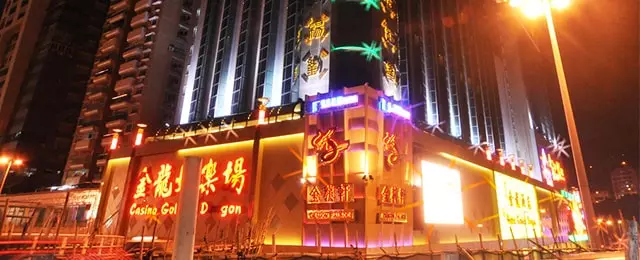 Casino Golden Dragon is placed just a block from Casino Real and Oceanus. It is very close to the Sands Macao if you decide to stay there. The casino attracts many table games players because of the selection of table games (mostly for Baccarat). However, there is something for all those slot lovers, too – there is a small but entertaining range of slot machines. There is also a hotel as well as nice restaurants.
The casino Golden Dragon is divided into a total of three floors with a spacious gaming area. The variety of games include Blackjack, Mahjong, Pai Gow, Baccarat and more. To enjoy your stay to the fullest, there is a food court inside the casino, providing international and local cuisines. The staff is professional and will gladly satisfy guests' needs. 
MGM Macau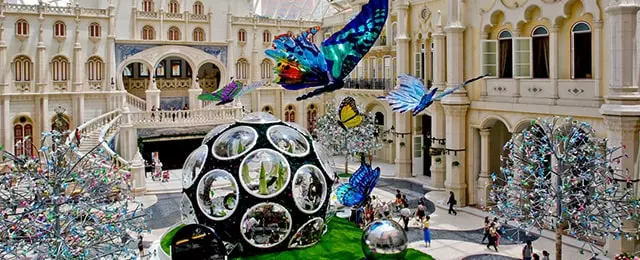 MGM Macau was formerly known as MGM Grand Casino. It is a casino resort to be found in Sé, Macau in a prime location. The 35-story building impresses with its design in opulent gold, blue and bronze. 
MGM Macau features hundreds of rooms and suites, fitness centre, spa, convention and meeting rooms, restaurants offering local and international meals, an outdoor infinity swimming pool, and a retail centre. The casino comprises a variety of slots and electronic gaming machines, including Blackjack, Craps, Roulette, Baccarat, Three Card Poker, Video Poker, Casino War, Sic Bo, Caribbean Stud Poker and Commission Free Baccarat. In short, MGM Macau has everything you are looking for.
The gaming floor of MGM Macau is very spacious but what is more important is that it is very well designed. The gaming tables are placed right rather than being crowded into pits. Electronic table games and slot machines are well-positioned. 
Wynn Macau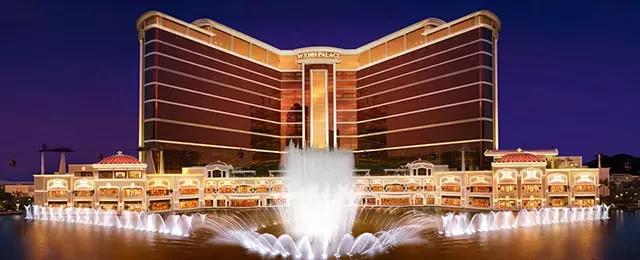 The very first Las Vegas-style casino resort to open in Asia was Wynn Macau. Opened in 2006, Wynn Macau offers deluxe rooms and suites, retail space, restaurants and the jewel in its crown – a spacious gaming room featuring a rich selection of table games and slot machines. The owners of the building decided to build another sister hotel. Encore at Wynn Macau opened in 2010 and also offers a big number of luxury suites and villas. 
The building has two towers with more than 1,000 rooms – Wynn Macau opened in 2006, while the second tower, Encore – four years later. Guests can enjoy not only the shopping and dining options but an intimate gaming facility, too.
Wynn Macau boasts a high reputation for offering true gaming excitement and fun. It features a spacious gaming floor, offering a variety of games. From the high slots machines to every possible variation of Pai Gow and Baccarat, as well as the traditional games such as Blackjack, Craps, Roulette, Baccarat, Three Card Poker, Video Poker, Caribbean Stud Poker and Sic Bo, Wynn Macau has something for everybody. 
The Venetian Macao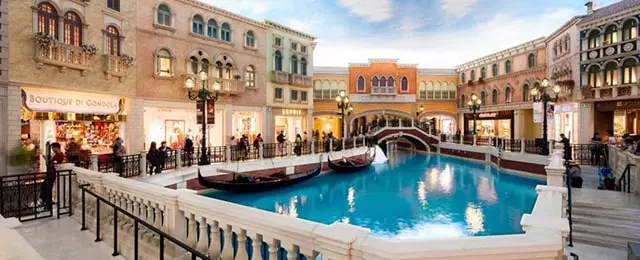 The Venetian Macao is a gorgeous hotel and casino resort with 39 stories. An interesting fact to mention is that the property is the largest single structure hotel building on the Asian continent, the largest casino in the world and the seventh-largest building in the world in terms of floor area.
The casino features thousands of slot machines and hundreds of gambling tables to offer its guest an experience to remember. The Paiza Club is the most exclusive area and it is divided into separate gaming rooms named after popular cities including Kuala Lumpur, Singapore, Hong Kong, Guangzhou and Yunnan. The Cotai Arena is located in The Venetian Macao and it hosts sporting events including boxing, tennis and basketball. Its seating capacity is 15,000. The arena is used for concerts and different international awards shows as well.
Some of the games available at the casino are Roulette, Baccarat, Sic Bo, Mini-Baccarat, Blackjack, Craps, Three Card Poker, Money Wheel, Fan Tan, Sands Stud Poker and more.
Babylon Casino at Fisherman's Wharf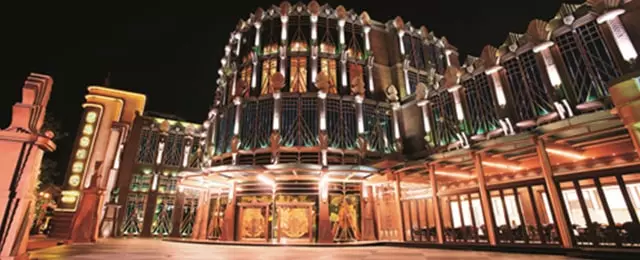 The Babylon Casino impresses with its amazing style and architecture. Its gothic-looking design and coloured windows turn this building into a highlight in Macau which is thought to be one of the modern wonders in the world. It was the first exquisite casino in Macau (established in 2006). The casino can be found on Fisherman's Wharf, next to the Rocks Hotel.
Games at Babylon Casino include Baccarat, Blackjack, Sic Bo, Caribbean Stud Poker and Luck Wheel. The five-table MBP Poker Room is located on the second floor of the building where you can enjoy an exciting game of poker. There are VIP resting rooms located on the first floor, Platinium Club, the Babylon Club and the Baccarat Roof Garden. VIP players are given the opportunity to host a private table.
Casino Crystal Palace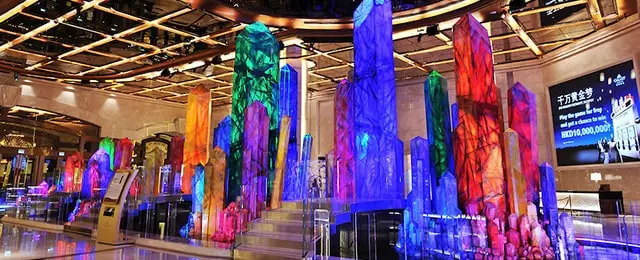 Crystal Palace Casino is a two-story casino, attached to Hotel Lisboa, popular for its impressive architectural design. The hotel blends both Chinese and Portuguese décor, with gorgeous chandeliers and mosaics. If you would like to gamble at Crystal Palace Casino, however, Hotel Lisboa is where you need to book a room.
The suites and rooms are specially designed to ensure you enjoy your stay there. The casino is relatively small in terms of size and is one of the total four casinos which are part of the Hotel Lisboa. Here, you can enjoy your favourite games, including Blackjack, Sic Bo and Baccarat. The casino is one of the most frequented venues in Macau and the personnel that works there is very friendly and always willing to give you a helping hand.
Diamond Casino at Holiday Inn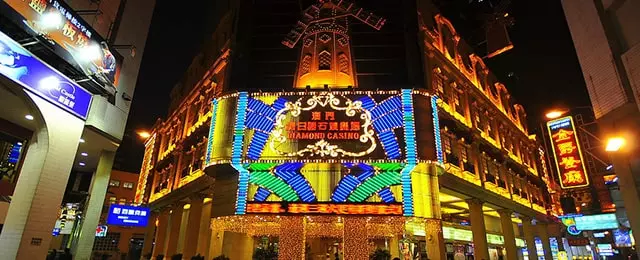 On the first four floors of the quite popular Macau, Holiday Inn in peninsula's downtown business district is where Diamond Casino takes place. It is closely located to Star World resorts, Hotel Lisboa and Grand Lisboa. The casino is definitely worth the visit as it features a selection of gaming tables, video slots, video poker and a bank of spinning reel slots. The personnel is more than friendly and the guests are sure to have a wonderful time around the clock. 
Apart from the casino, there are also restaurants serving local and international meals, and a bar. Guests are welcome to the upper floors of the building where they will find VIP tables with some of the most popular games such as Pai Gow, Blackjack, Sic Bo and Baccarat. 
Emperors Palace Casino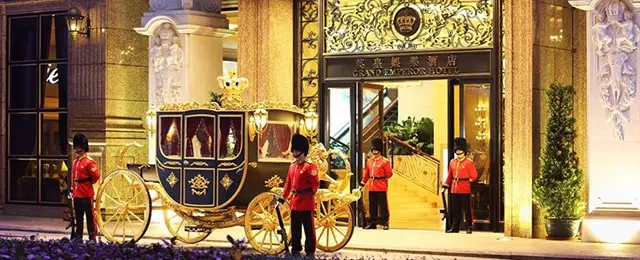 At Emperors Palace guests are welcome to experience true excitement, entertainment and luxury. Located right next to OR Tambo International airport, the property is the place to try your luck. There is a range of entertainment and gambling options. 
A total of five gaming areas offer a comfortable level of play for all guests. Feel free to find the area which suits your taste for excitement and risk. Besides, hosts are always at your disposal to satisfy your needs. 
For all slots lovers, the first floor of the property features hundreds of gaming machines. You will be able to feel true excitement thanks to modern electronics and interactive gaming experience. The second, third and fourth floors are reserved for a range of various gaming options such as Sic Bo, Blackjack, Baccarat, Pai Gow and more. There are two distinct VIP experiences on the fifth and sixth floor – VIP Royal and VIP Club, where you can enjoy more privacy, high-stake table games and personal attention.
The Fortuna Hotel and Casino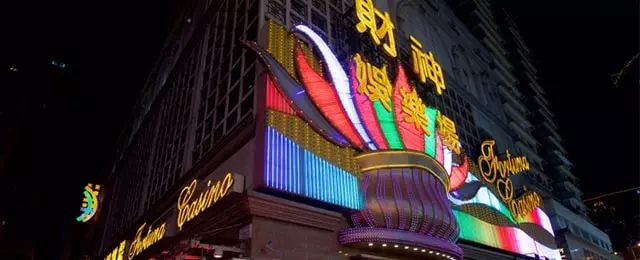 The Fortuna Hotel and Casino, located only 15 minutes away from the airport, is one of the not so impressive in size casinos in Macau. The building is right next to Hotel President Casinos and Kam Pek. There are two casino areas in the hotel – the first one is located on the Lobby ground and the other one is on the sixth floor. There are dozens of gaming tables and a buffet to enjoy. Classic games such as Blackjack, Baccarat and Big Small are at your disposal. 
The casino in the Hotel Lobby and basement offers Big Small table games, Baccarat table games and Blackjack table games. Guests are welcome to enjoy those exciting games every day around the clock.
The other casino, that on the sixth floor, will win your heart thanks to its luxurious design. There are 16 tables for Baccarat games which you can enjoy 24 hours a day. 
Star World Casino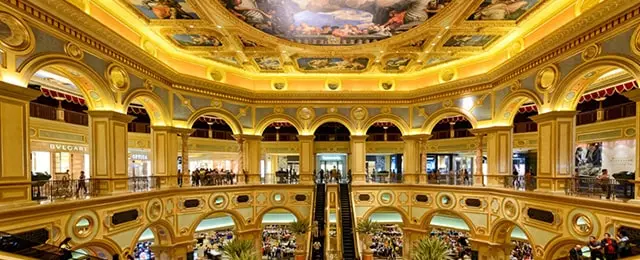 Located in the heart of Macau, Star World is one of the most visited casinos on the peninsula. It is a 39-story hotel which is sure to stay true to its name by delivering services that embody the exotic spirit of Asia and incorporating these with exceptional amenities which appeal to foreign guests, too. 
Thanks to Star World's Mass Gaming area guest are offered hundreds of gaming options including slot machines and tables. Among the numerous games available at the casino are Blackjack, Sic Bo and Baccarat. It is not surprising that there are many other different clubs in the casino, including the Poker King Club which is thought to be the one which stands out from the crowd.
It offers many cash games with different limits in order to satisfy all kinds of players. The Poker King Club is the only poker room in Macau which has rewards points to the most loyal players, which they are free to use in order to redeem gifts or other services such as hotel room bookings, ferry tickets or even beverage and food vouchers.
Rio Casino and Hotel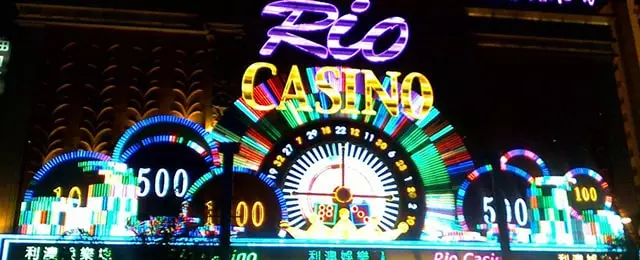 Rio Casino and Hotel is one of the most notable names in Macau where every single detail is being designed with guests' fun, satisfaction and enjoyment in mind. From stylish accommodation to exciting gaming action, Rio Casino will win your heart. 
It is not always about Baccarat only. At Rio Casino, you will also find Sic Bo, Caribbean Stud Poker, Roulette, Blackjack and a variety of different games of chance.
Galaxy Entertainment Group owns and operates the casino. It was opened in 2006 which is the exact same year they opened another esteemed casino – the President Casino. 
Rio Casino has the power to meet most players needs thanks to its over hundreds of table games. If you are into slot machines, then Rio Casino is your place to try your luck.
Waldo Hotel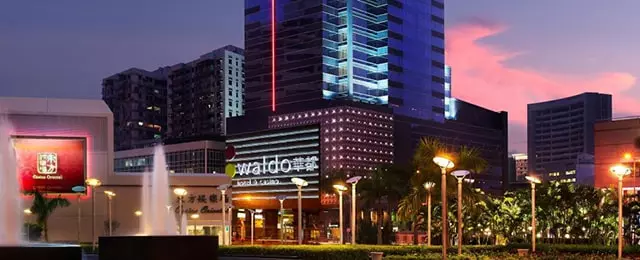 The first boutique hotel in Macau and Galaxy's first venture into the market was Waldo. It provides its guests with a variety of options to find zest during their stay. Global Cuisine and Prince Chinese Restaurant are the places where you can enjoy international cuisine that will make you want to unbutton your pants. The food is delicious and will dazzle your senses. Besides, the personnel will be glad to make your stay an unforgettable one.
For visitors, the Waldo Hotel is a great choice for rejuvenation and rest. It offers proximity to attractions and great restaurants, making it easy to enjoy the very best of Macau. For all gambling lovers, there is a spacious gaming area, extended over the lobby, mezzanine and three floors of the hotel (1st, 3rd and 5th ). The casino is very elegant and decorated stylishly. It offers players the amazing chance to enjoy a game of Baccarat, Sic Bo, Chinese Domino, Pai Gow and Blackjack. In addition to these traditional games, there are also many slot machines with Sabong being one of the most popular. 
Pharaoh's Palace Casino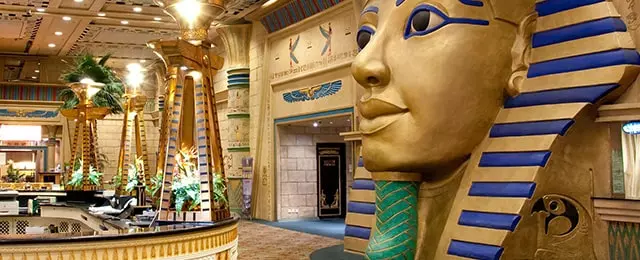 The Pharaoh's Palace Casino is the first themed casino in Macau, attracting a wide range of people from all around the world. Besides, it offers a rich selection of games given its small size. It occupies three floors in the popular Landmark hotel. Undoubtedly, the casino impresses with its design, resembling the inside of an Egyptian pyramid with the highlight being the large statue of Pharaoh King and Queen facing the entrance. Wonderful murals of Egyptians, hieroglyphics and sacred animals breathe new life in the place, making it look intentionally old. 
The casino gives you the chance to play and have fun while enjoying the breath-taking paintings, images and ancient figures. It offers players an assortment of games and slots ranging from Stud Poker to Blackjack. Guests can also play Baccarat, Commission Free Baccarat, Roulette, Sic Bo and Caribbean Stud Poker. 
Pharaoh's Palace is a charming casino that is just ideal for low limit gamers. There is a range of games while the Blackjack rules are some of the best in Macau. 
Ponte 16 Resort Macau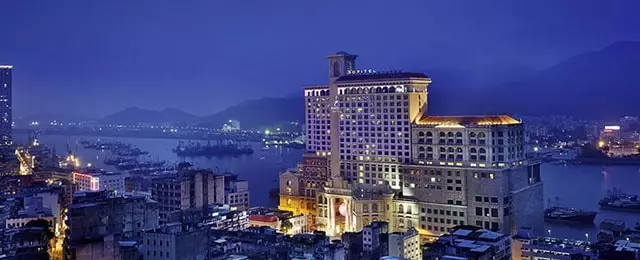 Ponte 16 Resort Macau is a resort that comprises a hotel and casino, situated in the culturally rich Inner Harbor of Macau. Its design was inspired by Macau's one of a kind East-West cultural pluralism in a combination with Portuguese design, accentuated with traditional Chinese elements. 
What is interesting about Ponte 16 is the fact that it is the only resort, located on Inner Harbour that is part of "The Historic Centre of Macao" (designated UNESCO World Heritage site). The resort is very closely situated to many of Macau's architectural monuments such as St Paul and St Joseph's Seminary and Church as well as A-Ma temple.
The casino is just the perfect place to have fun thanks to the great assortment of games. There are over 100 gaming tables, 2 VIP halls and more than 300 slot machines. Players can enjoy a game of Mini Baccarat, Sic Bo, American Roulette, Three Card Baccarat, Face Up Black Jack, Face Down Mid Baccarat, Pai Ko and Fan Tan. Ponte 16 surely aims to provide its guests with a satisfying and enjoyable gaming environment. 
The Parisian Macao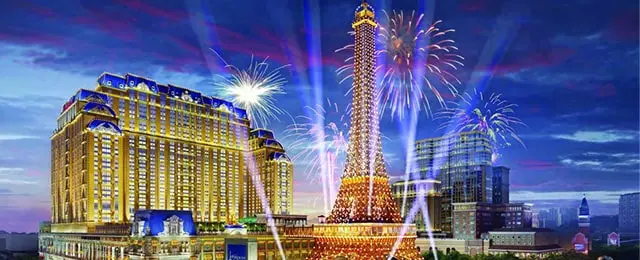 The Parisian Macao is one of the most luxurious hotels in Cotai, Macau, China. The property is owned by Las Vegas Sands and officially opened in 2016. There are more than 3,000 rooms and suites and a spacious gaming floor with hundreds of table games and up to 2,500 slot machines. The highlight, however, is probably the half-size replica of the Eiffel Tower. Inside the property, there is an atrium and a huge fountain, making us feel like we are in romantic France.
With games like Baccarat and Roulette, guests can make the best out of their stay at the Parisian Macao. The casino is specially designed to host up to 500 tables. If you are into more classic Las Vegas-style experience, games such as Blackjack and Craps are at your disposal. For those who prefer electronic table games and want to try their luck will find thousands of video poker, slots and other gaming machines featuring the traditional favourites along with more modern ones.
No matter what your gaming preferences are, the Parisian Macao has it all. 
Sands Cotai Central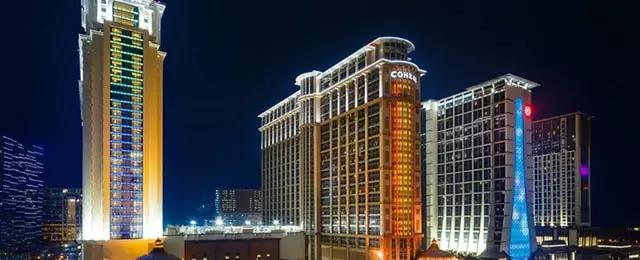 Sands Cotai Central is a popular casino resort to be found in Macau, China. The property shares four separate hotels (Conrad Macao, Holiday Inn Macao, Sheraton Grand Macao Hotel and The St Regis Macao) and more than one casino with an impressively huge gaming area. 
As you might expect, the property is located in the centre of Cotai. Very close to it the Venetian Macao & Four Seasons and City of Dreams are located. For easy access to these properties, there is a pedestrian bridge. 
Sands Cotai Central casino floors are truly impressive. Thanks to the several gaming floors, guests can take advantage of the hundreds of gaming tables and about 2500 slot machines and electronic table games. Some of the most popular and played games are Baccarat, Craps, Roulette, Sic Bo, Blackjack, Dragon Elements Roulette and a lot more.
City of Dreams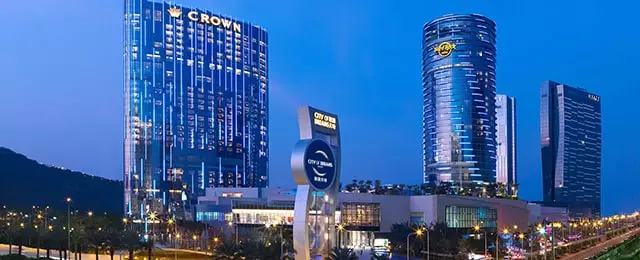 Located right across from the Venetian Macao Casino in Macau's Cotai Strip, the City of Dreams is one of the most preferred gaming destinations in Macau. The complex has five towers – the Grand Hyatt Macau (2 towers), Morpheus, The Countdown Hotel (formerly known as Hard Rock Hotel), Nüwa (formerly known as Crown Towers).
With a total of three casinos and with a rich assortment of more than 400 gaming tables and over 1,500 machines, players can truly enjoy their time at City of Dreams. Some of the games being played are Blackjack, Baccarat, Craps, Caribbean, Roulette, Three Card Poker, Three Card Baccarat, Fan Tan, Casino War, Celestial Dragon, Fortune Trio, Fa Fa Fa, Celestial Phoenix and more. From traditional Asian top favourite games to the latest ones, the casino has it all. There is a broad variety of themes to choose from so that you can enjoy the game as much as possible.
The City of Dreams Casino can offer a game for everybody. 
Studio City Casino Macau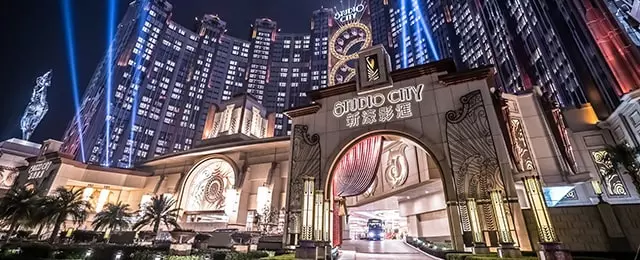 Studio City Casino is a cinema-themed resort which comprises two-tower hotel, many dining options from all around the world, massive retail space, first-class entertainment venues and gorgeous gaming areas.
At Studio City Casino, gambling lovers can play all of their favourite games and try their luck at high jackpot slots. The gaming floor is styled in red and old which makes the place very elegant. There are also private gaming salons. 
The venue features many live gaming tables and electronic table games. Some of the games available at Studio City Casino are Baccarat, Craps, Video Poker, Blackjack, Tai Sai, Sic Bo, Caribbean Stud Poker, Fortune Three Card Poker and more.
Galaxy Macau Casino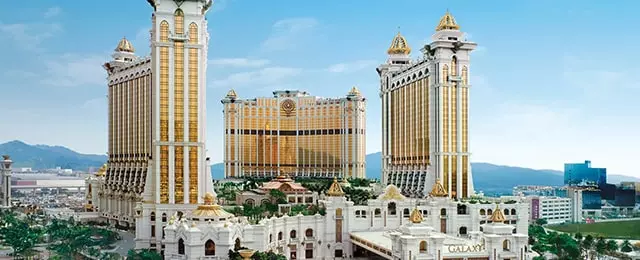 Galaxy Macau Casino is an amazing resort to be found on the Cotai Strip, Macau. It features a total of five gaming areas, more than 600 table games, about 1,500 gaming machines as well as over 1,200 slots and gorgeous hotels. The casino is very close to the Venetian Macau which is the largest casino on Cotai Strip.
At Galaxy Casino Macau, players will find different Western and Asian favourites from Sic Bo to Crap, Roulette, Baccarat, and a lot more, including Video Poker, Craps, Blackjack, Caribbean Stud Poker, Electronic tables, Slot machines and more. 
The Pavilion Vip is a game space which has premium slots and tables. It is positioned on the first floor of the Galaxy Hotel and the main floor of Galaxy Macau. Because its main aim is to satisfy the needs of every guest, there are two smoking and one non-smoking areas within the casino. 
Casino Oceanus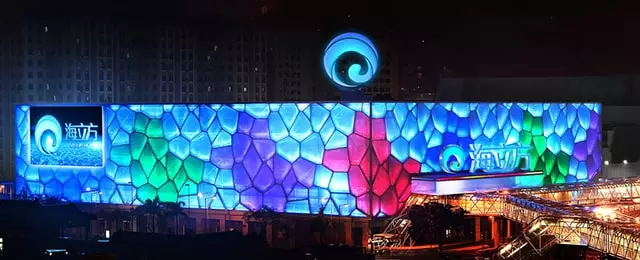 The official name of this casino is Casino Oceanus at Jai Alai Macau. We can say it is a rare bird since there is no hotel part attached to it, it is only a casino which means that the main focus is gaming. If you are a gambling lover, Casino Oceanus is an amazing place to visit as it features a great game assortment.
Not only is there a wide variety of games but they are so many slots and table games that you are never waiting for the other players to finish their game. The casino is relatively big with a gaming floor on three stories. The available casino games include Baccarat, Blackjack, Roulette, Blackjack, Video Poker, Sic Bo, Caribbean Stud Poker, Casino War, Three Card Baccarat, Electronic Tables, Pai Gow Poker, Pai Gow Tile, Fish Prawn Crab, Fan Tan, Mahjong and more. 
L'Arc Macau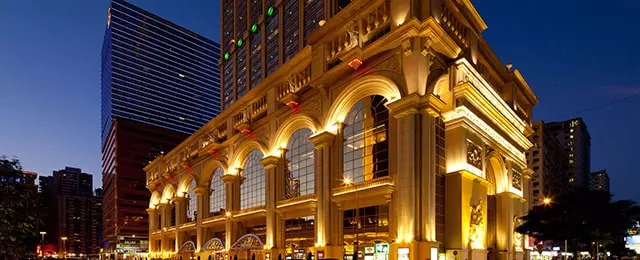 L'Arc Macau is a stylish 5-star hotel and casino to be found only 5 minutes away from the Macau-Hong Kong Ferry terminal. It is one of the jewels in Macau's crown, attracting a great number of gambling lovers from around the globe. L'Arc Macau's architecture is Portuguese-influenced. 
The casino is located on two floors but most of the action takes place on the first one where a High Limit baccarat section can be found. The second floor is reserved for Baccarat tables with VIP areas. Players will love to find out that the casino is open around the clock, every day. Popular games at L'Arc include Baccarat, Blackjack, Craps, Slots and Sic Bo. Occasionally, 10x odds are allowed on the craps table. 
Broadway Casino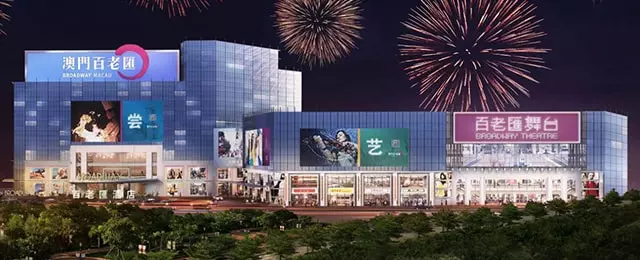 Broadway Casino is found in Cotai, Macau and it is the only riverside casino there, providing 180° panoramic views for its guests. Thanks to the gorgeous open-air terrace, guests are welcome to enjoy delicious dining options and a gaming area. The team members are very friendly and always ready to meet your needs. 
If you happen to be in Macau for several days and you are looking for a nice place to eat, Food Street offers something quite different to the rest of the casinos. It is a short street, lined with many food stalls and charming restaurants. 
The exact number of tables and slot machines is still unknown, however, players can enjoy a game of Blackjack, Baccarat, Sic Bo, Slot machines, Commission Free Baccarat and Roulette.
Legend Palace Hotel Casino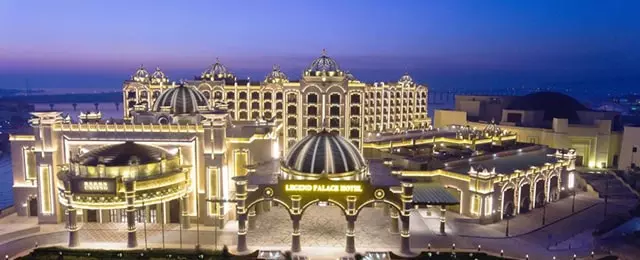 Legend Palace Hotel Casino is a themed hotel and casino to be found in Macau Fisherman's Wharf, very close to the Outer Harbour Ferry Terminal. Visitors are stunned by the breath-taking views of the sea.
The property features rooms, suites, restaurants, retail outlets, health club, leisure facilities, fitness centre, and of course, a casino. Tourists and visitors are welcome to try delicious food at a number of restaurants which serve Chinese, Western, Cantonese and many international cuisines. 
The casino offers an assortment of gaming machines and live table games for Big Six, Blackjack, Three Card Baccarat and a lot more. 
For every game lover, no matter whether a professional or an amateur, there are many electronic machines which include electronic roulette terminals and entertaining video slots. Players are given the chance to trigger large payouts as the slot machines offer progressive jackpots.
Macau Million Dragon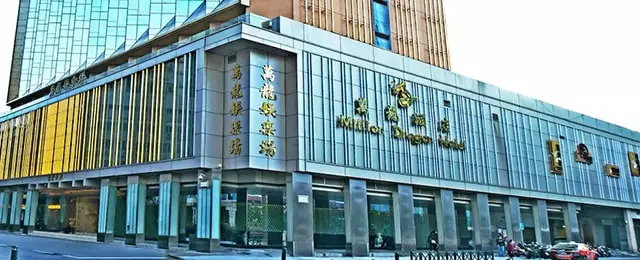 Macau Million Dragon was formerly known as Lan Kwai Fong Casino. The property is positioned in downtown Macau, just a 15-minute walk from quite popular places such as Macau Ferry Terminal and Macau Fisherman's Wharf. Some of the highlights of Macau Million Dragon are its restaurants, spa, bars and a casino. 
The casino at Macau Million Dragon has more than 80 gaming tables and about 70 slot machines. Here, you are given the opportunity to try your luck at some of the most traditional casino games such as Baccarat, Roulette and Slot Machines. On the 18th floor of the building, guests can visit the Sky Casino where they can enjoy another 8 tables and VIP Rooms. This casino is very closely located to another popular place, the Waldo Casino. 
Surprising or not, Macau is the one and only place in China where par-mutuel gambling and casino are actually legal. In fact, it is the place where you can find the most incredible mega resorts in the world. Those casinos impress with gorgeous architecture and a big number of them also offer more than exciting nightlife, fine dining and truly luxurious accommodations. Some of the aforementioned casinos are part of superb hotels, while others are all-inclusive resorts alone. 
Even though the online gambling industry is getting more and more popular, many people still prefer going to a brick and mortar casino to playing online. Gambling cities, such as Las Vegas and Macau, generate billions of dollars from accommodations, sportsbooks and casinos, of course. As long as there are people who enjoy playing at casinos, gambling cities such as Macau and Las Vegas will never disappear from the map. 
If you ever have the chance to visit Macau, it is worth checking out not only the mega casino resorts but the historical churches, cathedrals and fortresses as well. Thanks to Asian locals and European settlers, Macau offers a one of a kind blend of cultures that you will not find anywhere else around the globe. 
Would you add Macau's world-class casinos to your bucket list?