Europe attracts a large number of immigrants and tourists because of its diverse culture, historical architecture and monuments, ancient ruins, amazing wines and tasty delicacies, sunny beaches, prestigious colleges and universities, and a lot more. Actually, six European countries are among the most visited places with Paris being one of the most popular destinations in the world. When it comes to gambling, Europe is definitely a paradise for all gambling lovers. Europeans simply love to gamble!
Overview of the Casinos in Europe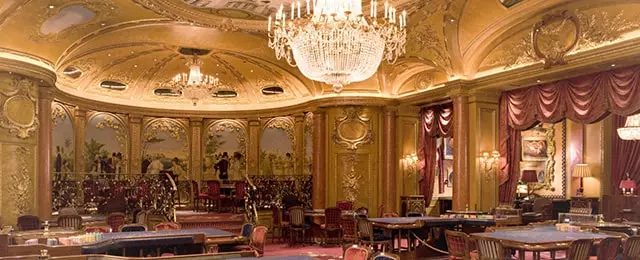 Surprising or not, Europe is home to the world's very first to sixth casinos. Casinò di Venezia (Il Ridotto) opened doors in 1638 in Venice, Italy and it is believed to be the very first gambling house matching the modern definition of a "casino". The other casinos are as it follows:
Spielbank Wiesbaden – 1810, Wiesbaden, Germany
Spielbank Baden-Baden – 1823, Baden-Baden, Germany
Crockfords (Crockford's St James's Club or Crockford's Club) – 1828, London, United Kingdom
Le Casino de Monte-Carlo – 1856, Monte-Carlo, Monaco
Casino Le Lyon Vert – 1882, La Tour-de-Salvagny, France 
With these casinos being the first in the world, Europe became even more appealing to gamblers. An interesting fact to mention is that the aforementioned casinos still welcome many gamblers from all around the world. 
Traditionally, gambling has been more active in the old continent than in any other place. The truth is that people have been gambling for ages – from the Romans and Greeks' thirst for gambling during the Bronze Age, Iron Age and Middle Ages to the Spanish, French, Italian and British peoples' love for gambling since the Middle Ages. In fact, there are only two countries beyond the limits of Europe with a significant role in gambling history. These countries are China and Egypt. 
Besides, Europe played a key role in the creation of a number of games that are widely popular nowadays. Johannes Gutenberg, a German publisher and painter, printed the first full deck of cards. The year was 1440. Initially, Baccarat was transported by the Italians to France and appeared in the 1400s. Also, it was the French people who created blackjack, and the roulette – "Little Wheel".
Nowadays, most casinos feature dozens of table games and hundreds of diverse gaming machines. Most of those casinos are part of gorgeous hotels and resorts which welcome a huge number of tourists every year. They offer appealing rooms and suites with many nice bars and restaurants.
Basically, Europe is just the right place to simply enjoy a sophisticated gambling experience. And even though European casinos are not as massive as those in Asia and the US, they still appeal to gamblers from all around the globe.
European Countries with Casinos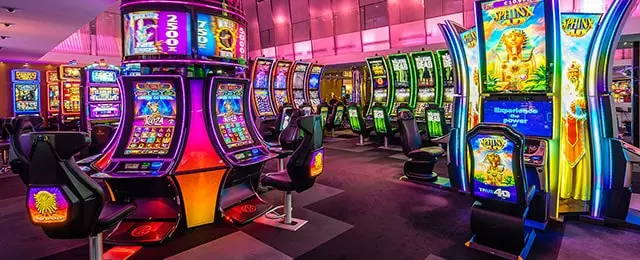 There are 63 territories in Europe and 54 out of these territories are home to at least one casino, according to information from March 2018. As the European Casino Association (ECA) informs, nearly 100 million people visited the casinos in the total of 27 registered countries (in 2017), and over half of them either visited the United Kingdom or France. Of course, there are 27-plus casinos in which at least one casino is located.
Those 27 countries are Serbia, Montenegro, San Marino, Latvia, Slovakia, Finland, Lithuania, Luxembourg, Estonia, Denmark, Belgium, Hungary, Sweden, Poland, Slovenia, Monaco, Czech Republic, Greece, Portugal, Italy, Austria, Spain, the Netherlands, Switzerland, Germany, the United Kingdom and France. Countries with at least one casino are Liechtenstein, Isle of Man, Gibraltar, Ireland, Malta, Aland Islands, Moldova, Romania, Russia, Ukraine, Cyprus, Croatia, Bulgaria, Bosna and Herzegovina, Belarus and Albania. Territories with over 100 casinos are Latvia, the Netherlands, Germany, France and the United Kingdom.
Types of Casinos in Europe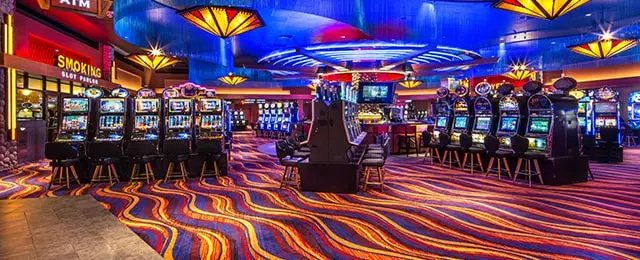 Most of the European casinos offer Electronic Roulette, Caribbean Stud Poker, Blackjack, Roulette, Three Card Poker, French Roulette, American Roulette, Baccarat, Video Lottery Terminals, Omaha Poker, Texas Hold'em Poker, Video Poker and Craps.
Even though gambling is popular, Europeans also love sports betting and lotteries. There is a National Lottery in every European country in which gambling is legal. 
The most popular sport in Europe is sure to be football but volleyball, wrestling, ice hockey, horse racing, greyhound racing, tennis, and skiing are also some of the most popular sports. 
One of the best ways to make a good impression, when speaking of casinos, is doing it by size. Undoubtedly, the casinos in North America and Macau dominate the world and are a hot spot for gambling lovers but what about the old continent? If you ever find yourself in Europe and would like to visit a casino, make sure to keep in mind the following list.
15. Casino de Monte Carlo, Monaco, France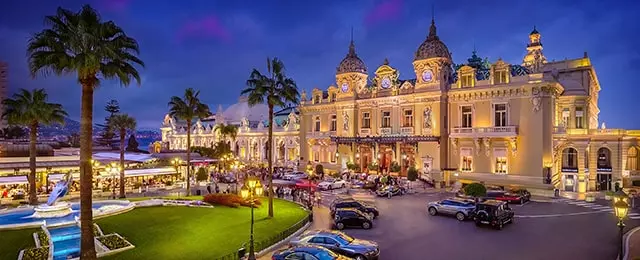 Casino de Monte Carlo is one of the most beautiful casinos in Europe and finds its place in our list. Without a shadow of a doubt, this casino is one of the most popular casinos in the world, too. Often, Casino de Monte Carlo has become closely linked to the quite well-known fictional British spy James Bond. 
An interesting fact to mention is that this exact casino has been truly noteworthy for being a major inspiration for the author of the famous spy character James Bond, Ian Fleming. The casino was also used in Bond movies Goldeneye and Never Say Never Again. We can also see the casino in another popular movie – Ocean's Twelve. 
Having opened doors in 1863, this casino is also one of the oldest in the world. It is a resort complex which is the home of the Les Ballets de Monte Carlo and the Grand Theatre de Monte Carlo. 
There is a broad range of games available for gambling lovers to play at the casino including blackjack, stud poker, blackjack, baccarat, craps, video poker, trente et quarante and a selection of slot machines. However, there is a lot more to do than just placing bets. 
14. Casino Baden-Baden, Germany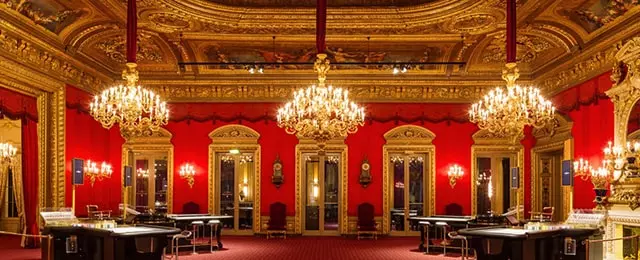 Part of the Kurhaus Baden-Baden complex, the Casino Baden-Baden is situated in Baden-Württemberg, Germany. The casino was established in 1838 which makes it one of the oldest gambling houses which is still operating. Even though the place was forcibly closed several times in the past, it still welcomes guests from around the world. The casino is one of the most successful and prestigious casinos in Germany. There, guests are welcome to spin the reels on a selection of slot machines, play a few hands on the table games or simply take part in the poker tournaments which are organised on a regular basis. 
13. Casino Estoril, Portugal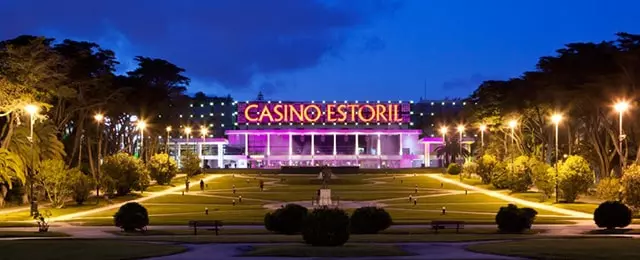 Undoubtedly, Casino Estoril (Portuguese: Casino do Estoril) is one of the most luxurious gambling houses. It is located in Portuguese Riviera, in the municipality of Cascais, Portugal. It first opened doors in 1916. The casino stands out from the crowd by the impressive massiveness, featuring more than a thousand games. Casino Estoril gives you the amazing chance to play slots and table games such as Baccarat, Blackjack, Caribbean Stud Poker, French Bank and roulette. Besides, the casino has one of the best poker rooms in Europe where you can enjoy a game of No Limit Hold'em and Pot Limit Omaha tournaments. Apart from the casino games, Casino Estoril features a number of discos, restaurants, and bars which you can visit during your stay.
Today, Casino Estoril is one of the biggest working gambling establishments in Europe.
12. Resorts World Birmingham, England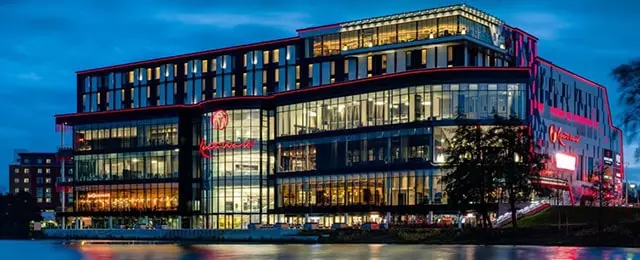 Resorts World Birmingham is an entertainment complex situated in Birmingham, England, featuring the biggest casino in the UK, cinemas, plenty of bars and restaurants and, spa centre shopping mall. The casino itself gained its license in 2011, making it relatively new. In spite of this, the casino will surely provide you with a wonderful experience, with a wide selection of table games, poker rooms and many slots. Apart from this, the casino features also a sports bar. 
Whether you are a professional player or amateur, the casino has something for everyone. A variety of games can be played there including poker, roulette, slot, three card poker, baccarat and blackjack.
11. St. Moritz Casino, Switzerland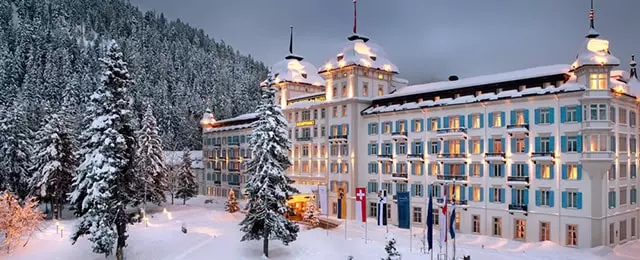 Casino St. Moritz is the highest casino in Europe, positioned in the lovely Alpine village of the same name, at 1850 metres above sea level. It offers its guests and players an amazing casino experience, making them feel like they are on top of the world, especially when they hit a large prize. If you would love to retreat from city life, you might like to consider a holiday to the fascinating Swiss Alps. The casino features a variety of games, such as Blackjack, American Roulette, Slots, and Texas Hold'em are some of the key attractions.
10. The Casino at the Empire, London, the UK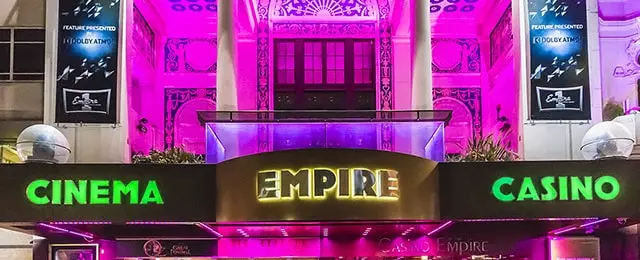 One of the biggest casino operators in the world is Caesars Entertainment, popular for some of the biggest casino names including The London Club in Cairo, Caesars Palace in Las Vegas, and of course, The Casino at the Empire in the UK.
The casino was opened back in 1884 and it is situated in the same building as the popular Victorian music hall which was named The Empire. The place provides the ideal setting for a sophisticated night at the slots and tables. There is a wide selection of games to play including Punto Banco, Pai Gow Three Card Poker, American Roulette, Blackjack, electronic gaming machine and slots. The Poker Room is one of the best in the United Kingdom with poker packages, cash games and tournaments. 
The Empire is open around the clock, seven days a week and it offers something for everybody. It simply has a game to suit every mood, taste and style. It is always buzzing with excitement and activity. 
The casino's famous Carlsberg Sports Bar has multi-screens so you can watch your favourite sports, from American football to Premier League matches. 
9. Ca Da Póvoa, Portugal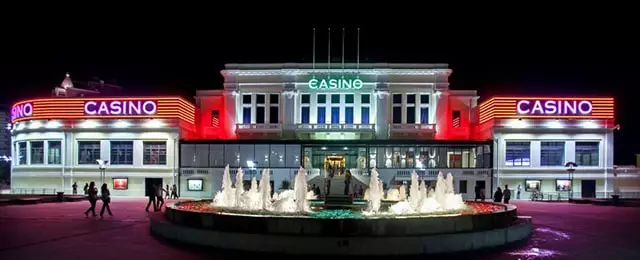 Casino da Póvoa is a popular casino positioned in Póvoa de Varzim in Portugal. It was established in the early 1930s. The building itself is in a Garnier-inspired modernist style. The casino has provided gambling entertainment for many years now, always adhering to extremely high standards of service. Apart from the casino, there is also a gourmet restaurant and an art gallery, exhibiting the works of art of some of the most popular Portuguese artists such as Júlio Resende, Rogério Ribeiro, Graça Morais and Nikias Skapinakis. Here, guests are welcome to place bets on a range of slot machines and selection of table games, such as Blackjack, Banca Francesa, Roulette, Baccarat and a lot more. 
8. Holland Casino Amsterdam Centre, Amsterdam, The Netherlands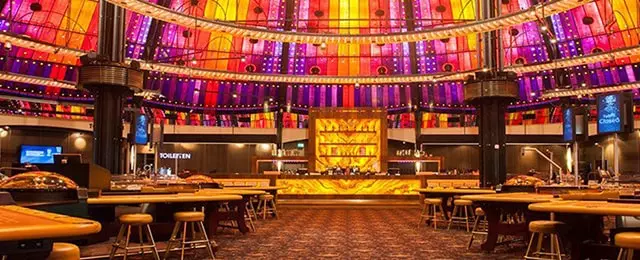 In the centre of the Leidseplein entertainment districts, Holland Casino Amsterdam Centrum is located. It is one of the 15 State-owned Holland Casinos in the country. Here you are given the opportunity to enjoy a fancy afternoon or evening out in a sophisticated casino where you will be surrounded by a great atmosphere, comfort, luxury and personal attention.
Interestingly, it is the only Dutch casino where the amount of tourists is bigger than the number of local people. 
Guests are welcome to enjoy the wide selection of table games including Blackjack, American Roulette, Cardette Poker, Punto Banco or play the extensive variety of slot machines. The annual poker tournament attracts all the top players not only from the Netherlands but from other European countries as well. There is also a wonderful restaurant where you can dine to your heart's full content. The chefs are truly professional and always use the best ingredients.
7. Sanremo Casino, Sanremo, Italy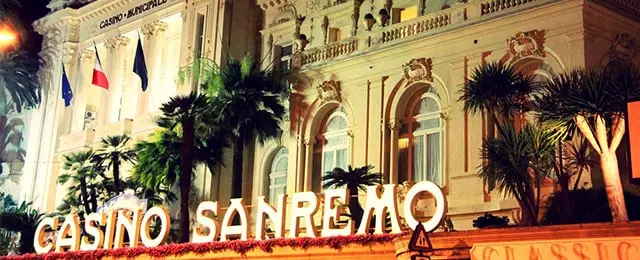 Sanremo Casino is an entertainment and gambling complex situated in Sanremo, on the Italian Riviera. The building itself opened doors in 1905, being designed by Eugene Ferret, a French architect. It is a truly majestic building in Liberty Deco style which will surely win your heart. On the first floor of Sanremo Casino, you will find several rooms for poker and traditional games. There is a room called "the Fireplace Room" (or Sala Cinquecento) with slot machines where you can while away your time. The Attigua Room and the Common Room are the rooms reserved for people who love traditional games. Of course, there is also a room dedicated to American gaming and Texas Hold'em poker where gambling lovers are welcome to take part in many tournaments and play the cash game.
6. The Hippodrome Casino, London, England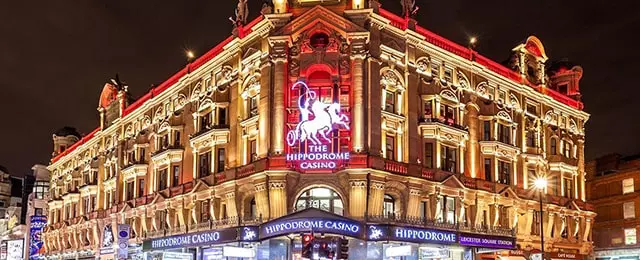 The Hippodrome is a building to be found right on the corner of Charing Cross Road and Cranbourn Street, London. The Hippodrome Casino is the biggest and busiest casino in the United Kingdom. It is one of the most popular entertainment venues in the British capital that has been welcoming millions of tourists and visitors since its opening in 2012.
The casino offers the broadest range of world-class table gaming, slots, electronic games and poker facilities on the island. Some of the games guests can play include Baccarat, Roulette, Blackjack, Casino War, Three Card Poker, Pai Gow and Dice. It does not matter whether you are an experienced player or a beginner, the Hippodrome Casino has got you covered. 
5. Casino Innsbruck, Innsbruck, Austria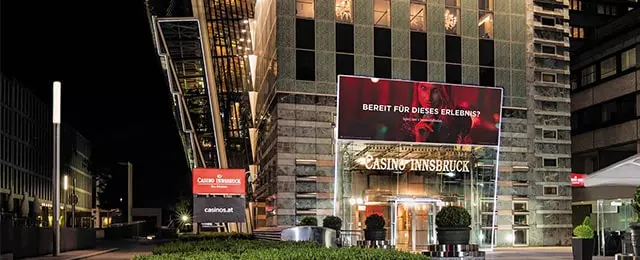 Casino Innsbruck is sure to be one of the most popular and visited casinos in Austria. Thanks to its privileged location right in the centre of Innsbruck, beautiful architecture, spacious rooms with an impressive interior and personal attention, Casino Innsbruck is a top destination for millions of people. Guests can enjoy the numerous casino games, state-of-the-art selection of slot machines, gourmet delicacies and events to remember.
At Innsbruck Casino guests are welcome to try their luck playing Blackjack, Roulette, Easy Hold'em Poker, Poker, Tropical Poker, Macau Baccarat, Wheel of Fortune on the exciting slot machines.
4. Casino Le Lyon Vert, France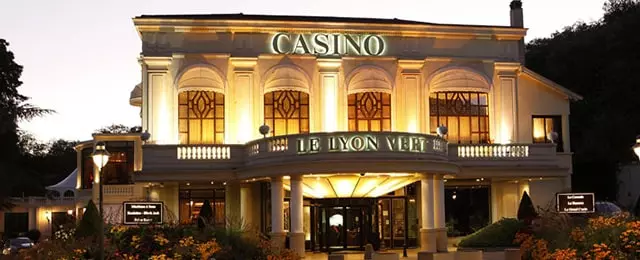 When you are looking for fun and excitement, France is sure to be the right place. The casino was established in 1882 and is situated in the park of Charbonnières. It has a large selection of games including slot machines and video poker machines. Of course, there are the traditional table games which tempt people from all around the world – European and American Roulette, Baccarat, Blackjack and many more.
3. Casino Barriere d'Enghien-les-Bains, France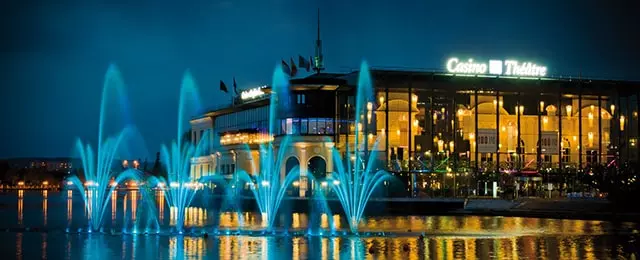 Completely renovated in 2005, Casino Barriere d'Enghien-les-Bains is the first casino of France. The casino features a variety of slot machines: video poker, video-rolls with ultra-modern touch screens and Hollywood scenarios, to provide you with intense emotions. You can try your luck at English Roulette, French Roulette, Texas Hold'em Poker, Punto Banco, Chemin de Fer, Stud Poker and more. There are two restaurants which you can enjoy during the break. 
2. Victoria Gate Casino, Leeds, England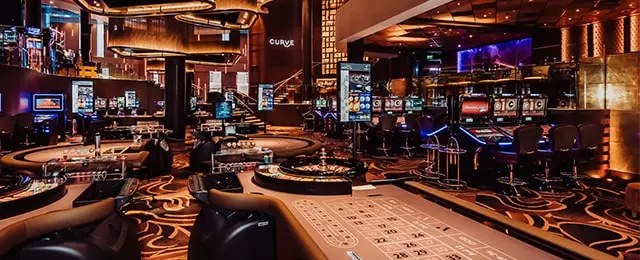 Victoria Gate Casino is the largest casino in the north of England and Scotland. The casino is favourably situated in the heart of Leeds city centre. Here, you can feel free to enjoy a truly wonderful atmosphere and bet with an eye on the live action. Thanks to the wall-to-wall big screens, you will not miss a minute from the sporting events from all around the world.
There is a room reserved for all poker lovers who can also enjoy the numerous tournaments held there. Some of the other games available at Casino Victoria Gate are Blackjack, Roulette, Three Card Poker, Punto Banco, slot machines, electronic tables and more. For every sports lover, there is also a Sportsbook and Racebook. 
1. Horizons Casino, London, England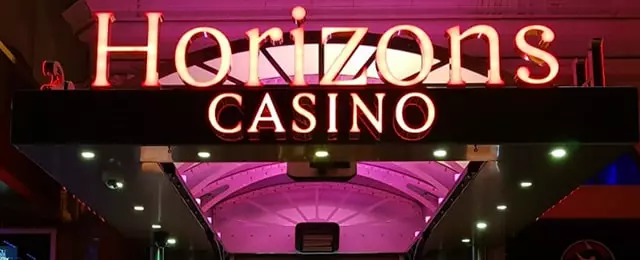 Situated in the heart of the West End, Horizons is one of the most popular casinos in the British capital. It features a variety of slots, table games and dining options to satisfy each and every taste.
Horizons Casino takes care of every guest. First-timers can set their trepidation aside – the friendly house dealers are always ready to give an assisting hand. You are welcome to try your luck against the house in a selection of casino games including Blackjack, Three Card Poker, American Roulette and American Roulette. The casino also offers Electronic Touch Bet Roulette games for those players who prefer their game to play away from the crowd.
And one more … Casino Lisboa, Lisbon, Portugal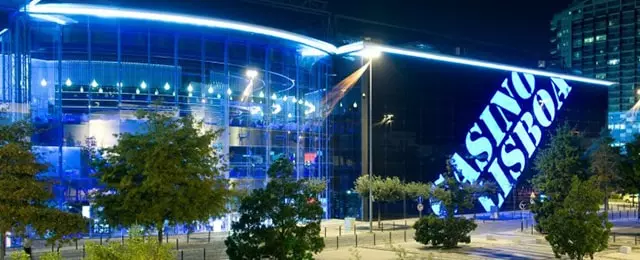 Situated right in the centre of the Park of Nations, in the city of Lisbon, Portugal, Casino Lisboa is one of the biggest casinos in the country. As it is positioned in a tourist centre, the casino is surrounded by a range of services and different venues for fun and entertainment. The casino is owned by the Chinese gambling king Stanley Ho, who owns a total of 19 casinos in Macau.
Thanks to a 200-plus game collection, fun is more than guaranteed. The high-quality graphics and sound will suit every taste! The slot machines available at the casino accept denominations that can vary between a cent to two euros. Once you choose the amount of money you are ready to spend, choose a denomination comfortable for you and enjoy your game to the fullest. 
It does not matter whether you are a professional player or a beginner because Casino Lisboa allows every player to try their luck. Progressive jackpots and surprise prizes are waiting for you.
Everybody can try how lucky they are at Blackjack, Roulette, Caribbean Stud Poker, French Bank and Baccarat. 
Feeling lucky? How about visiting some of the casinos we have listed? On your next visit to Europe, you should not miss the chance to visit at least one European casino. Gambling is an essential part of the European heritage, having roots in Germany, England, and France. 
The casino business is definitely one long-standing tradition that tempts millions of people from all over the world. The best part is that you do not have to be a millionaire to enjoy all those casino destinations. Even though luxury has been part of the gaming scene, there are many options for budget travellers.