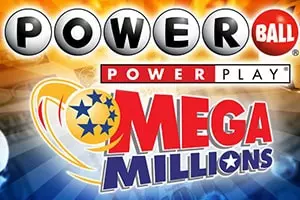 When you win the lottery, you suddenly become one of the richest people. Even if you win a second-place prize in Mega Millions or Powerball, you are still a millionaire. However, there are jackpots and there are jackpots. When they grow to amazing proportions, the winners become incredibly rich, sometimes even wealthier than many popular stars.
Here is a listing of the ten biggest American lottery jackpots in history. Are you ready to try to put yourself in the winners' shoes and experience what it feels like to be that rich?
10. Marie Holmes, TL Management Trust and Anonymous – $564.1M, Powerball, 11 February 2015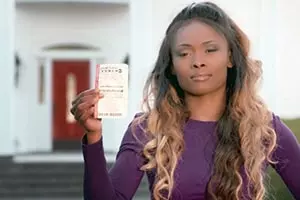 Marie Holmes is a mother of four and she has had quite a hard life. Being a single mother, she was raising her kids alone and had to quit her job so she could look after her son with special needs. Marie told her mother to get her a lottery ticket when the Powerball jackpot grew to an epic amount and this is exactly what she did. The rest is history.
Marie was one of a total of three big winners of the jackpot of $564.1 million. By winning it, she became the biggest jackpot winner in the history of North Carolina. She promised to herself to use the money for good causes. Since this game-changer, the lucky girl has been in and out of the news not only for positive reasons but for not so positive, too. It turned out she used some of her money to bail out her partner on a drug charge, and she used some of her millions to help out the church.
The other winner claimed a share of the jackpot as the TL Management Trust. The lucky ticket was bought in Princeton, Texas, at the Appletree Food Mart.
There was one more winner. All that we know about him or her is the country – Puerto Rico. The winner managed to remain completely anonymous.
The three winners got their money as a one-time cash payout of $127 million each. The sum, however, ended up being $87.9 million because of the taxes.
9. Matthew Good, Mark and Cindy Hill – $587.5M, Powerball, 28 November 2012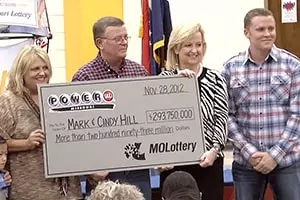 The two winners of the incredible jackpot announced their huge victory at the ceremony at the high school where they first fell for each other in the 1970s. Mark and Cindy Hill are a happy couple from Dearborn, Missouri. They spent only $10 on five tickets playing with random numbers, but they won the epic amount of $192 million cash payout (before taxes). Thanks to these two sweeties, many people now know where Dearborn is on the map.
The other person who settled on the lump sum cash payment was Matthew Good of Phoenix, Arizona. Was his name a hint for something great coming or was it just a coincidence? Undoubtedly, Good's life will be very good for many years to come thanks to his epic Powerball win.
8. Gloria C. MacKenzie – $590.5M, Powerball, 19 May 2013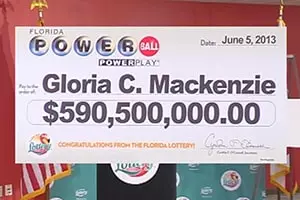 Here is a story about one very lucky woman and one… not so lucky. Mindy Crandell was patiently standing in a queue at a supermarket near Tampa, Florida, right in front of Gloria MacKenzie, an 84-year-old resident of Zephyrhills. Mindy let the old lady go in front of her without realising that giving her spot in a queue would mean letting the win slip away from her. Gloria took Mindy's spot, bought a ticket and became the lucky winner of the jackpot. In fact, it was the largest jackpot ever won by a single person at that time. Mindy Crandell said she did not regret what she did at all because teaching her daughter a lesson about kindness was much more important than winning the money. Quite impressive, isn't it?
7. Steve Tran and Ira Curry – $648M, Mega Millions, 17 December 2013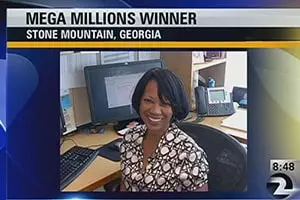 Some major format changes were made by Mega Millions in October 2013, which led to a huge growth of the jackpot. With the new rules, the lottery's jackpot boosted significantly. Mega Millions ticket sales reached extreme heights after a series of 21 rollovers. Even though it was not clear how large the prize would become, the jackpot ended up being $648,000,000.
Two lucky winners earned a $324,000,000 share that ended up being $173,819,724.50 after taxes. One of the tickets was bought in Stone Mountain, Georgia, and the other was bought in San Jose, California. The first winner who claimed the prize was Ira Curry, a 56-year-old lady. She said she chose the numbers based on family members' birthdays. The number selected as the Mega Ball was seven which was her family's lucky number.
Steve Tran bought the Californian winning ticket at Jennifer's Gift Shop. He said he almost lost the winning ticket but nobody can run away from their good fortune. Steve had not realised he was a winner because his lucky ticket was in a pile of many other old tickets which he had not bothered to even check.
6. Merle and Patricia Butler, The Three Amigos and Anonymous – $656M, Mega Millions, 30 March 2012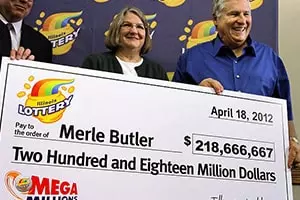 30 March 2012 – the day when Mega Million's largest jackpot was drawn. It was also the world record at that time. As the prize boosted to such large proportions, many people started to wonder whether the jackpot would ever be won.
The first three winners of the epic jackpot claimed their portion of the prize just after the win. The sum was worth $218.6 million. Because Kansas law allows lottery winners to stay anonymous, this is what the winner did. However, the world could semi-recognise the Maryland winners, employees in a Maryland public school. They called themselves "The Three Amigos". The three winners – a man in his forties, a woman in her fifties, and another in her twenties – bought a total of 60 tickets around Maryland, which is an investment of $20 per person that eventually made them millionaires. The Three Amigos split an epic $218.6 million.
Merle and Patricia Butler had the last winning ticked of the massive jackpot. They watched the news and surfed the internet all night long just to find out how many people won the money. When they found out that one of the winning tickets was boughт in Red Bud, Illinois – their native town – friends of Merle asked him if he was the big winner. Jokes on them! The retired couple claimed their cash payout being $111 million after taxes.
5. Robert Bailey and Lerynne West – $687.8M, Powerball, 27 October 2018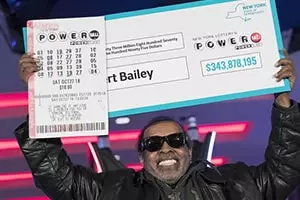 The 67-year-old retired postal worker Robert Bailey from New York admitted he had played the exact same lottery numbers for almost 30 years. He was given the numbers more than 25 years ago by a family member and he trustfully played them. After the announcement of the numbers, he checked the ticket online just to find out he had become a millionaire. Even though he won the big money, he said he would continue to play the very same numbers till "this train runs out".
The 51-year-old mother of three children Lerynne West from Redfield, Iowa, had just bought a new house and while she was moving in, she decided to stop for a coffee and pizza. She also bought a Powerball ticket. Little did she expected! Lerynne left the ticket for days on the pickup truck's floor of her sister before she realised she had just got the big money! $343.9 million was her split of the jackpot which was worth $198.1 million after taxes.
4. Mavis Wanczyk – $758.7M, Powerball, 23 August 2017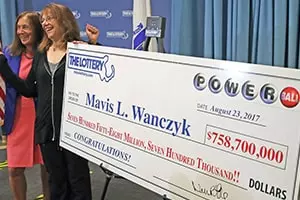 For a moment it seemed that the Powerball was right on its way to a second billion-dollar prize, but maybe next time. However, the big winner of the draw on August 23, 2017 made it directly to the record books. One man won the epic sum of $758.7 million! Mavis Wanczyk – a hospital worker from Massachusetts became a millionaire. At that time, this was not only the second-biggest lottery jackpot in American history but also the highest annuitised jackpot and cash value win ever won by one single ticket.
Not long after the draw of the jackpot, Mavis and Massachusetts Lottery officials held a press conference which was quite surprising bearing in mind that most winners tend to keep the winning in secret as long as possible. It looked like Mavis had nothing to hide!
3. Manuel Franco – $768.4M, Powerball, 27 March 2019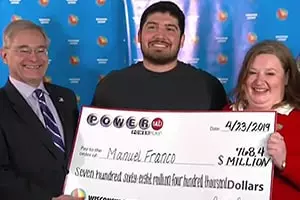 The third-largest Powerball jackpot in American history was won on 27 March 2019. The single winning ticket was bought in Wisconsin and its owner was a 24-year-old Wisconsin man called Manuel Franco. The numbers Manuel would probably never forget were white balls 16, 20, 37, 44, 62, plus Powerball 12. He said, "To win feels something like a dream and I feel like at any moment I might wake up. I just can't believe an ordinary guy like me would ever be in this position." The investment of $2 had definitely changed his life forever.
2. Anonymous from South Carolina – $1.537 Billion, Mega Millions, 23 October 2018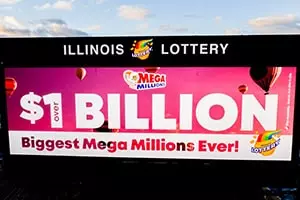 A single ticket purchased in South Carolina was the one and only winner of the enormous jackpot – $1.538 billion which was worth $878 million cash.
Initially, the draw had been introduced with a 1.6 billion prize and it seemed that Mega Millions was about to replace Powerball with a new record for the largest jackpot in the world. However, once the draw results were announced and there was only one winner, the sum was reduced due to low ticket sales.
White balls 5, 28, 62, 65 and 70, plus the gold Mega Ball 5 were the lucky numbers. The former lottery's record of $656 million was finally broken almost six years later (the former record was set in March 2012). Apart from the great win, the sales produced an epic 36 second prize tickets.
1. WORLD RECORD JACKPOT!!!
Lisa and John Robinson, Marvin and Mae Acosta, The Nickel 95 Trust – $1.58 Billion, Powerball, 13 January 2016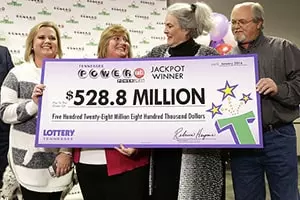 US Powerball hoped to get a billion-dollar jackpot by 2020 which is why they changed some of the rules in 2015. Who would suppose that they had not had to wait years but only a few months to see their wish come true?
The jackpot was getting closer and closer to the $1 billion line only after more than two months of rollovers. People from all around the world went mad in attempts to purchase Powerball tickets off- and online. When the jackpot prize boosted to $1.58 billion, millions of people held their breath in anticipation. Three tickets made history! Some people will never forget these winning numbers – 4, 8, 19, 27, 34 and Powerball 10!
A couple from Munford, Tennessee participated in a TV interview as if they wanted everybody to know that they were one of the lucky winners. They even did it before they claimed their share – $528.6 million. John and Lisa Robinson were lucky indeed! Lisa works in a dermatology clinic while John is an Air Force veteran. At the lottery press conference, John and Lisa brought their daughter and dog. The winners decided to get the lump sum cash option worth $327.8 million.
Another million-prize was claimed by Marvin and Mae Acosta, a couple from southern California. Can you believe that the family waited seven months before they claimed their portion of the prize? An interesting fact is that they delayed that much because they needed to hire a team of financial advisers and lawyers to help them deal with the large sum.
The final winner was The Nickel 95 Trust that chose to get the prize in a one-time, lump-sum payment.
Where Are Some of the Biggest Lottery Winners Now?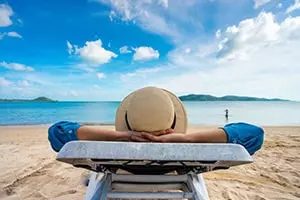 Most of us probably think that jackpot winners live happily ever after but is that the reality? In spite of the huge amount of money at their disposal, those people still have their own problems to cope with, just like many of us.
For many of those lottery winners, winning the big money was not exactly what they thought it would be. Yes, some of them have had better luck but most of their stories prove that having a fortune does not give you a shield to deal with the challenges.
John and Lisa Robinson, who won the epic sum of $327.8 million, used the money to upgrade to a multi-million dollar house. Other than this investment, they have kept it a secret.
In spite of the big win, the Robinsons planned to keep their modest home. However, 2 years later, the lucky couple lives in a gorgeous home worth $6.2 million. It has 10 bedrooms, 8 bathrooms and even a home theatre. What is even more, it comes with a private lake and some of the greatest views. It is not the modest home we all imagine, is it?
Remember the 84-year-old lady from Zephyrhills? After taking home the amount of $278 million, Gloria MacKenzie purchased a seaside mansion ($1.2 million) which is sure to be a huge upgrade from her run-down rental apartment ($30.000). The lady also donated $2 million to a high school in Maine which needed roofing. She shared her winning with her son as well.
Surprising or not, even though Mark and Cindy Hill won half of the $587.5 million, they have kept living a modest life. For example, Mark preferred getting a pickup truck to getting a Camaro sports car. Also, he still gets coffee at the local store.
However, it does not mean they have not been spending their money. Before winning the jackpot, the family had already donated to civic projects and now their generosity has even multiplied by tenfold.
Thanks to the Hills, now Camden Point, Missouri, has a new ball field and new fire station. The couple also pledges an enormous sum to the scholarship fund of North Platte High School. They gave $50.000-plus so the city could purchase a site to build a sewage treatment plant.
We do not know what Mark and Cindy have been up to since then, however, we know they have spent that big prize to good use only.
In February 11, 2015, Marie Holmes had one of the three winning tickets. She worked at fast food joints and supermarkets so that she could take care of her children, one of which has celebral palsy. She wanted to graduate, donate to charities, and buy her mother a new home. Of course, she also planned on spending the money to keep supporting her children.
Marie Holmes donated 10% of the jackpot to Pleasant Hill Missionary Baptist Church. Worth $1.5 million, that contribution is the biggest donated to a church from a lottery jackpot. However, the church's pastor sued the lucky girl for even more money – claiming that the jackpot winner pledged to give up to $10 million. She said she would agree.
Shortly after Ira Curry split the $648 million jackpot with another winner, she and her family disappeared. Where is she now and what she ended up doing with the winning, nobody knows.
The sole winner of the US Powerbrall draw in August 27, 2017, Mavis Wanczyk from Massachusetts quit her job at the medical centre. Both her status and whereabouts are not clear which was her plan, actually. Before she won, she said she would rather be alone and make plans about what she will be up to. Judging by the lack of any information about Mavis, it seems like she got what she wished for.
The single mom from Iowa, Lerynne West, decided to retire from her job in the insurance industry. Lerynne pledged to donate the epic sum of $500.000 to the Travis Mills Foundation at the time she made an appearance on The Ellen DeGeneres Show. She also established the Callum Foundation in honour of her grandson for which her family and wealth managed helped her a lot. It is a charitable foundation which offers financial support to different organisations that aim to improve veteran affairs, animal welfare, health, and children's education.
Marvin and Mae Acosta have managed to go into hiding since they won the jackpot. However, it is not surprising, having in mind the couple laid low for more than 6 months before claiming the win. The family did not want publicity back then, and nothing has changed a bit 2 years later.
The family still keeps a low profile. They planned to stay out of the spotlight which was the right thing to do. They once shared their plans to create a charity and scammers rolled up their sleeves. Many people received obvious scam letters claiming to be from the winners.
What Happens to Lottery Winners?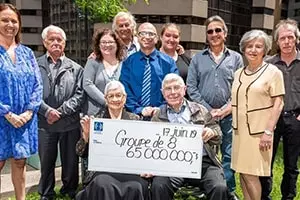 There are no guarantees to winning the jackpot just like there are no guarantees to being happy and successful in case you win. Judging by the stories above, it is pretty challenging to live the life of a millionaire. Not only will you have to face different threats but you might have to face your inner demons, too.