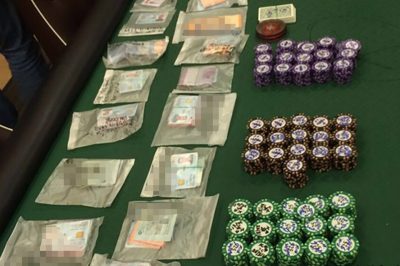 Police have arrested 26 individuals while holding simultaneous raids at 15 illegal gambling dens in Malaysia. The operation is part of a large-scale crackdown on a network of underground lottery betting centers, covered as regular small businesses in the Northeast District of George Town.
Called Ops Dadu, the joint operation between the Criminal Investigation Departments of Bukit Aman and Penang and officers from the Northern District was held simultaneously at 15 different locations and led by Bukit Aman's Federal Anti-Vice, Gambling and Secret Society Department assistant director Comm Datuk Rohaimi Md Isa. A total of 26 individuals have been detained, including 24 employees of the gambling outlets and 2 customers, during the raid on Sunday, August 26, Rohaimi announced at a press conference. Police had seized more than RM28,000 (approx. US$6,830) in cash and other betting paraphernalia during the operation.
The raids were carried out after authorities received tip-offs from citizens. According to the initial investigations, various bag, sundry, and stationery shops were a cover-up for the underground betting centers, Rohaimi explained. They were selling smartphone accessories, watches, bags and other small items as a front to their illegal business. Each outlet had a special enclosed space that was used for gambling activities. Along with the 24 workers and caretakers of the shops, two customers were arrested while purchasing numbers from the betting operators.
The operation was held around 3 p.m. on Sunday and included only shops in George Town, the sixth largest city in Malaysia and the capital of Penang. Rohaimi said during yesterday's press conference that Penang was the first state to be included in the investigation and that more raids would follow in the near future. He warned all illegal gambling operators to seize their operations as the crackdown on this underground network has just started.
Links to Gambling Syndicates in Thailand and Cambodia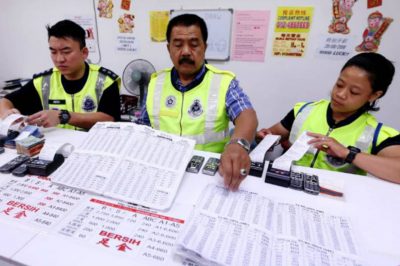 Almost all forms of gambling are illegal in Malaysia, with the very few exceptions being licensed lotteries, betting on horse racing, but only at physical race courses, and gambling at Genting Highlands Resort. Typically, the legal lottery operator offer lottery draws just two or three times a week. Underground lottery shops, on the other hand, attract more customers with daily draws.
The operators of these illegal businesses have links with gambling syndicates in Thailand and Cambodia, the Malaysian police explains. The daily lottery draws are being held in these two countries and those who play in Cambodian lottery games, they can even wager twice daily, at 9 a.m. and at 3 p.m., according to Rohaimi.
These are exceptionally lucrative businesses, according to authorities, as they can generate revenues of up to RM10,000 every day, or roughly $2,440. The betting system seems to be quite sophisticated, allowing for bets to be placed online. Prizes, however, are claimed in Penang, Rohaimi explains. He also stresses on the fact that all online betting and gambling activities in Malaysia are considered illegal.