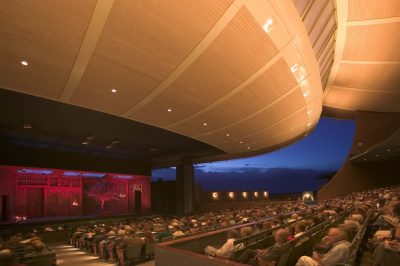 Yesterday, Tesuque Pueblo released a conceptual site plan according to which the new casino of the pueblo is to be separated from The Santa Fe Opera property by a large parking space. According to the plan, revealed by the pueblo, the parking is to be accessed from a road that is set to be built east of the casino and will be situated between the casino and the frontage road.
The concept also leaves the door open for an addition of a hotel to the property, saying that such will be constructed to the west of the casino. In addition, a roundabout which will direct motorists from Flea Market Road to the new road leading to the parking area is also planned to be built. The planned parking area is to feature a total of 950 parking spaces.
In December 2017, the Tesuque Pueblo officially revealed its plan for the casino that is aimed to replace the Camel Rock Casino. The new casino venue is set to be located on an area that has previously been used for flea market. The casino is planned to be located on approximately 72,500 square feet. It is to also feature 750 slot machines plus table games.
The new casino's main entrance is set to be located on the south-east side of the building, or at least for some time. Later, in case that a hotel is built, the main entrance is planned to be moved to the northeast side of the building.
Santa Fe Opera's Concerns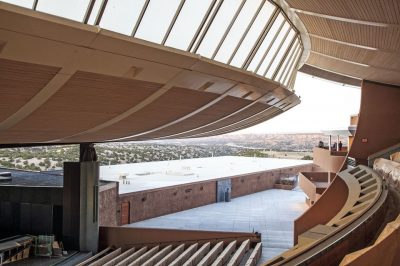 Steven Perich from the local Dekker/Perich/Sabatini architectural firm revealed that certain measures are to be taken in order for the light pollution from the vehicles to be decreased. As explained by Mr. Perich, these measures include parking area's landscaping and development. In addition, special concept for the lightning is to be made, with shorter-than-normal light poles installed and especially-chosen lightning direction.
Previously, The Santa Fe Opera has shared its concerns that summer evening performances in its open-air theater would be negatively influenced by possible light and noise pollution from the development. A promise has been made by Tesuque Pueblo that it will make everything that it takes to prevent such a thing from happening.
When it comes to the conceptual plan of the project, this has been the most-detailed construction project that has ever been released by Tesuque Pueblo. The latter had previously displayed the concept of the casino, which featured some modern architectural features, including glass walls.
The conceptual site plan of the project was rolled out by the pueblo right before the ceremony for the casino. As revealed by a spokesman of the Santa Fe Opera, official representatives of the Opera planned to attend the ceremony. As they have previously said, they have provided their support for the economic development efforts of the local tribe, but they have been concerned by the possible negative impact which the project could have on the Opera.