When it comes to development and investing in real estate, London is the thriving center of activity. According to recent news, one of the big names in the Asian gambling industry has been eyeing one of the historic buildings located in the British capital. The billionaire from Hong Kong Angela Leong has purchased one of the emblematic buildings in the Aldwych district amounting to 250 million pounds ($338 million). The community is yet to witness the future plans for the location.
According to people well-acquainted with the real estate field in London, Mrs. Leong bought the impressive Aldwych House from Rowan Asset Management and GI Partners LLC. An interesting fact regarding Mrs. Leong is that she is the wife of one of the most prominent names in the Asian and international gambling industry, namely Stanley Ho. Mr. Ho is the founder of SJM Holdings which is operating a total of 19 casino locations in Macau. This move is estimated to be a very strategic one since the interest towards commercial property purchases has skyrocketed in the last year.
Mrs. Leong has a net worth amounting to $3.7 billion and is also the executive director of SJM Holdings Ltd. Since it this is the third-largest casino operator in the Asian gambling hub, it is safe to make a speculation that this purchase is going to be somehow related to the development of the proliferating casino business and the exploration of the British market. As for the building itself, it is estimated to 174,000 square feet (16,200 square meters) and it is located in proximity to Covent Garden. In the past, the location has been temporarily leased to well-known tenants, among which WeWork Cos. And the popular ROKA restaurant.
Asian Investment Interest in the Area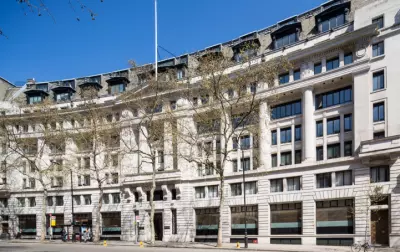 After last year's vote for Brexit, the commercial real estate has been experiencing a growth in the investment rates. Many Hong Kong investors have poured cash into buildings located in the metropolis, and the main reason behind this sudden interest is the low price of the British pound. Also in comparison to the Asian real estate market, the London one seems very tempting to foreign investors with its much lower prices. As it was stated in a report by broker CBRE Group Inc., as much as 4 billion pounds have been invested in London commercial property.
This amount of money has been poured since the beginning of this year, which equals a doubling compared to 2016. For the whole last year, the real estate market in London received a total of 2.7 billion pounds, which only comes to show how impressive the interest towards developing in this area is. As of recent, LKK Health Products Group Ltd. which is also Hong Kong-listed has bought the-the tower best known as the Walkie-Talkie. The purchase costed the company 1.28 billion pounds and this is only one instance of the surging Asian investment.