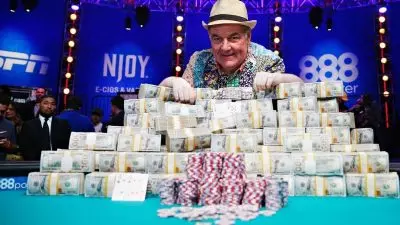 Every movie director dreams about creating the movie which they will be remembered for. And sometimes there are stories from real life which contain such a powerful message that they simply must be turned into a movie. This is the case with the 64-year old poker player John Hesp, who took the World Series of Poker Main Event by storm with his flamboyant personality.
Hesp resides in Bridlington, UK and taking part in a big poker festival such as the WSOP has been a dream of his for many years now. But he did not stop at just participating in the various events of the poker championship. He wanted to create a reaction in everyone around him and spread around the joy of life. He has so much of it in himself that it only made sense for him to share it with poker players around him. They all are striving to reach the big prize and the first place, however, Hesp thinks it is much better if you run towards the big cash with a positive attitude and help those around you have a good time too.
He participated in the Main Event of this year's WSOP, which took place in Las Vegas. Some think that he managed to go so far in the poker tournament with the help of his sunny disposition, and they might be right, since the British poker player finished fourth and received $2.6 million for his deep run in the tournament. He was content with his position on the leader board, since he has managed to live his dream. Following his participation he had the chance to share his life story in a recent interview for PokerNews and many people were touched by his outlook on life and his will to succeed against all odds.
Making Dreams Come True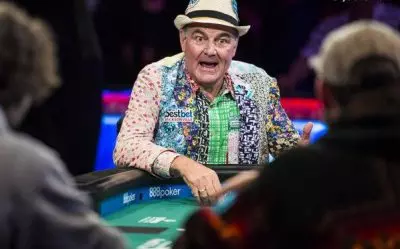 John Hesp was a high school dropout without big dreams and prospects in life, but with the help of his ambition he managed to become a successful businessman and then a poker player, able to play against some of the biggest names in the poker world and even defeat most of them. Several Hollywood producers have recently contacted the British player with a proposal for a movie based on his life, but Hesp decided to sign a contract with a UK-listed filmmaker instead. According to the initial plans the movie will have a budget of several million pounds and the producers are planning on shooting it in both Bridlington and Las Vegas.
In his everyday life Hesp is demi-retired, and he is the proud owner of a company which rents caravan vacation homes. With the money he has amassed from the WSOP Main Event he plans to begin organizing an annual poker tournament in Bridlington, which would attract local players and well-known poker faces from every corner of the world.