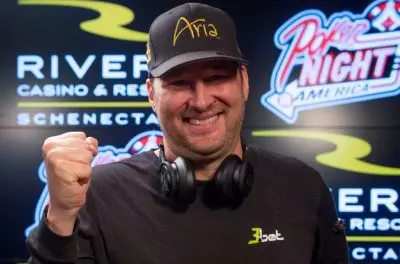 Phil Hellmuth expectedly dominated the final table at the Poker Night in America "King of the Hill" and he showed that he still has the skills he became so famous with. The 53-year-old poker master managed to defeat Dan "Jungleman" Cates, one of the most proficient heads-up players in the history of poker, which brought him $200,000 and the King of the Hill belt.
In a best-of-three match, Hellmuth reminded all poker enthusiasts closely following the action via a stream on Twitch why he is one of the best poker players in the world and his name has been in the hall of fame for quite some time. The Wisconsin poker pro demonstrated a high-level game at the Rivers Casino in Schenectady, New York where the major poker tournament took place. The whole event could be watched live and people witnessed a superb level of performance from Hellmuth.
Tuesday saw the first-rounded heads-up matches awaited by many, sending away Frank Kassela way too soon. He was in the game against Daniel "Jungleman" Cates for not more than ten minutes when he had to give up all hopes of winning the big prize and claiming the throne in the tournament. Prior to the battle, there had been some impressive threats coming from poker pro Doug Polk, who was trying to provoke Phil Hellmuth and make him fear the outcome of the battle, but the reality did not come close to his expectations. In the match, the 53-year-old poker legend defeated him without much effort and left him with his smack-talk only.
The next day brought the most exciting part of the tournament, including the two finalists Cates and Hellmuth. They played for the belt and the big prize coming with the first place in the tournament, amounting to $200,000. The style of their game was best-of-three, giving them all the chances to claim the top position. Starting the battle with $100,000 in casino chips, they managed to rapidly swell their stacks. In the game, blinds started at $50/$100 and each level lasted for 20 minutes. Many poker experts saw the match as an exciting clash between the new school and the old school style of poker play.
Hellmuth began the final heads-up battle ready for the win and the game was dynamic. Both Cates and Hellmuth were taking turns to have the lead and get their hopes up. The 14-time WSOP bracelet winner Hellmuth was at the losing end at a point, when after he decided to bluff, he was left with almost nothing. Cates took the 7:1 chip lead and his belt seemed even closer. About two hours later the situation completely changed and Hellmuth moved all in for 58,300, amassing some chips and regaining his lead. He received the King of the Hill belt by no other than his rival Doug Polk and his comeback was completed.