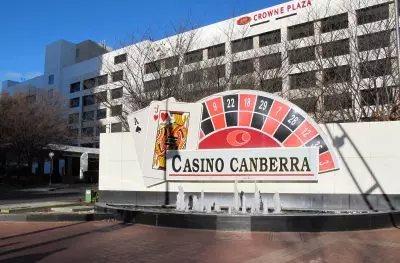 The government of Australian Capital Territory is ready to give the green light to introducing 200 poker machines to the Canberra Casino issuing a new legislation. This decision will inevitably affect the established control of Canberra's clubs over poker machines in the area.
Andrew Barr, Chief Minister of the Australian Capital Territory, publicly announced that the casino legislation will be implemented in the field this week, but further details were not provided. For the time being, there is no information regarding the restrictions and the regulation which is going to be applied to the poker machines placed in the casino venue. However, it became clear that the proposal will achieve success among the authorities and they will give their permission only if the casino players experience some limitations. The Greens stated that they are willing to support the idea if the spins on the poker machines are limited to A$1, instead of the A$10 ones which are currently allowed in clubs in Canberra. Casino player will also have to make the upfront decision on how much they are going to gamble on the poker machines.
The spring of 2016 saw the permission of the proposal for 200 poker machines to be introduced to the casino resort project the government was working on. It was an A$330 million redevelopment plan of the precinct located in the Glebe Park, set to include swank hotels, retail and restaurant options, as well as 500 poker machines operating in the casino venue. The announcement led to the outrage of Canberra clubs, which strove to make a difference, but this June brought the news that the revised proposal will still include the initial six-star accommodations and entertainment options, as well as an extra car parking and a new road access.
A legislation was approved this Tuesday by the parliament of the Australian Capital Territory, regarding the clubs in the city. According to it, the taxes paid by each of Canberra's 50 poker clubs will be reduced in half, which will cost about A$1 million per year. Officials stated that this move will lead to the diversification of the clubs away from gambling and thus prevent the conflict of interests. Mark Parton, spokesperson for the Liberal party said that this decision is aiming to support the clubs which had not taken part in the election campaign. The reduction of the taxes will give them the opportunity to amass enough money and redirect them towards funding new business models and provide new gaming options for their customers.
Recently there was another law passed, aiming to limit the amount of cash out at EFTPOS machines in gaming clubs. From 1st September every player will have the right to draw up to A$200 per transaction, which is expected to improve the state of problem gambling in the country.