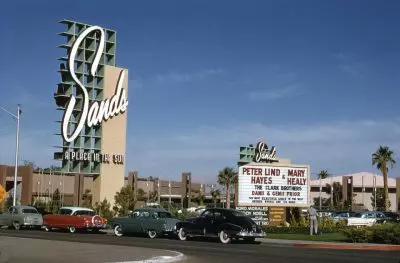 The future is now and there is a myriad of ways we can relive the glory days of the recent past. One exhibition, which is going to be on display at Essex Flowers in Manhattan will give us the taste of Las Vegas' 50's glamor through modern means such as the virtual reality.
August 12th will see the opening of the revolutionary exhibition for the public and everyone with an affinity to the old spirit of Vegas can have the whole experience of entering one of the most emblematic hotel-casino complexes from the past. It will be yet again revived not only in the memories of hundreds of people but also in the virtual reality world. The Sands Hotel and Casino can now live a second life in a whole new century, thanks to the VR exhibition which pays tribute to the symbolic building and its authentic nature.
The Blended Reality Crew have succeeded in capturing the true taste of the era in their futuristic exhibition and they deliver the real experience of walking around The Sands. The idea is to present a one-to-one scale recreation of the venue, which the visitors can explore by walking around the empty gallery space. Every of the nine days of the exhibition will provide new opportunities for interaction with the surroundings. As many as 15 artists have taken part in the realization of the project, which will be introduced to the wide public later this week and is expected to cause big interest towards both the extraordinary hotel complex, and the whole idea of virtual reality.
The original complex was one of the pioneers in the then-new Sin City since it was among the first seven entertainment facilities to open for business, and it was located on Las Vegas Boulevard. The historic hotel and casino venue was functioning between 1952 and 1996, making it one of the long-lasting projects in the Nevada state. One of the most memorable features of the hotel was the noticeable 56-foot (17m) high sign bearing the name of the hotel. With its distinctive features, this is the first association of many people, when we talk about The Sands Hotel and Casino.
In its peaking years, the venue was the hub of hundreds of famous entertainers and celebrities, which desired to be seen having fun there. Among the legendary guests of The Sands were Frank Sinatra, Sammy Davis Jr., the famous Rat Pack, Dean Martin, and many others. It is also famous for being the setting for the original Ocean's 11 movie and it naturally brought the same air as the movie production itself. Because of its popularity at the time, in 1960 the whole complex was bought and renovated by the worldwide-known billionaire-inventor Howard Hughes.