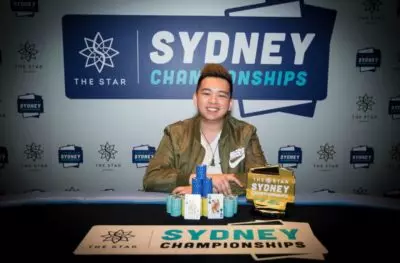 The new champion of the 2017 edition of the Sydney Championships is already official and his name is Henry Tran. The three weeks of poker play came to their end and the new and upcoming poker player will have the chance to receive his title and the A$300,000 prize from the tournament.
Star Poker Room has been hosting one of the most prestigious poker tournaments in Australia for the last three weeks and poker players from near and far had the chance to fight for the big prize and the coveted title from the tournament. The locally famous poker player Henry Tran gave his best on the field and managed to defeat all of the competitors present. This automatically made him the Champion of Sydney in the A$3,000 buy-in Main Event, proving his skills are something to be reckoned.
Almost 500 players came to the major poker event also known as the 2017 Sydney Championships and he outlasted all attacks of his opponents at the poker tables, making it effortlessly to Day 3 of the final table of the tournament. At the beginning of the race for the big prize, Tran had something else in mind. His initial plan was to attend the Opening Event of the Championships, as well as the Monster Stack. What changed his mind was the fact that he survived till the final table of the Monster Stack Event and he felt like he could perform well at the Main Event as well.
Henry Tran is known to take his financial state very seriously and only the smile of Lady Luck was able to change his mind and put up the entry fee. Damon Zhou for sure knows what Tran is talking about since he also had no intention to participate in the Main Event. Something which should be taken into account when it comes to Zhou is the fact that he has never taken part in a poker tournament before, and yet he managed to win third place in the Championship. His experience with poker gaming developed rapidly, and his first encounter with it was just a week before the Sydney Championship.
He played a satellite to the Main Event, which he managed to win. In his attempt to sell it, he was told he should play in the tournament, where he finished fourth and took home A$135,000 after the initial A$300 he invested. At the final table of the championship, there were many prominent players, one of them being Brad Hawkins, who finished as a runner-up. He proved he still possesses the skills he demonstrated at the 2016 WSOP International Circuit Sydney Main Event, where he got the fourth place. Right now the big winner Tran is on his way to Melbourne, where he will demonstrate his proficiency at the poker table.