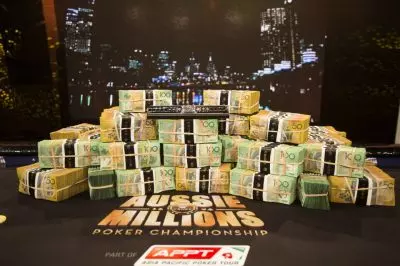 One of the most renown Asia-Pacific poker series will take place at the beginning of 2018. The 2018 Aussie Millions Poker Championship is scheduled to commence on 17th January and run all the way to 5th February, lasting three whole weeks.
The Aussie Millions Poker Championship is going to take place at the Crown in Melbourne, Australia. Well-known as one of the leading brands, Crown is an integrated entertainment resort which is able to meet the requirements of a tournament of high-profile rank. Representatives of the resort have announced recently that they are going to be hosting the Championship, aiming to provide its guests and players with their best service.
Ever since the beginning of the poker festival, there has been progressively increasing interest in it and a constant of more than 7,000 poker players attending. Some of the most respected names in the poker world make their appearance at the annual tournament, all of them hoping they can get their hands on the big prize reserved for the winner, or at least a hefty part of the prize pool, which is estimated to a total of A$20 million.
January is usually the hottest month of the year in the southern hemisphere, and scheduling the championship for that month in particular is no coincidence. The peak of Australian summer is considered the most suitable time to invite hundreds of leading and renown poker players and transform Crown Melbourne into the mecca of the poker world. Many of the poker enthusiasts have already marked the day in their calendars with important poker events. The Asia-Pacific poker series enjoy big interest and the Aussie Millions Poker Championship is perceived as one of the essentials.
It was founded in 1998 and in the span of almost 20 years the tournament has developed and grown into the major event it is at the moment. It was the first tournament to introduce a six-figure buy-in. Joel Williams, Crown Melbourne's Tournament Director, stated that next year's event is going to boast a record number of entries. He has come to this conclusion after observations of the 2017 events which have taken place so far. There are going to be 26 separate poker events in the span of those three weeks, all of which featuring buy-ins.
The amount of money required for a buy-in will range from A$1,150 to A$100,000 and there will also be 25 Aussie Millions Championship Rings. Each one of them will go to the winner in the Events. The $10,600 buy-in Main Event features an estimated first place prize of A$1.6 million which is the prize everyone is looking forward to winning. It will continue eight days, starting from 28th January and it is going to feature three starting flights.