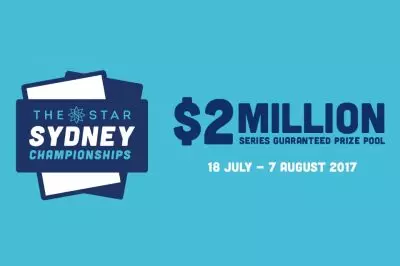 The winners in the 2017 Sydney Championships Team Event Despina Yiannakoulias and Andrew Markos were ecstatic after their dynamic game at the event. Their similar style of play and synchronicity of reactions led them to the top position at the leaderboard and the winning of A$19,340.
Despina Yiannakoulias and Andrew Markos both described their performance at the Championship as "Awesome" and they kept their smiles on their faces, even though they went through a lot during the span of the tournament. At some point during the championship, the two players have reached 1,050 in chips while the blinds were 200/400.This put them in a tough position and they had to put in some hard work during the next two and a half big blinds. Their game could best be described as a roller coaster of events and they provided for an interesting game.
Along their journey towards the top and the final table, there were a couple of crucial hands, which had the potential to make or break the game. At the beginning, they had 1,000 in chips and Despina Yiannakoulias managed to raise the stakes up to 3,000. When the next opportunity presented itself, she went as high as 8,000 in chips and elevated the couple on its way to the big prize. Andrew Markos placed a pair of aces on the table then and this led them to the winning of a big pot at that point of the game and set them well on the path to winning the championship.
At the event, there was a total of 179 teams participating and most of them were striving for the big prize with all their forces. What made the team of Despina Yiannakoulias and Andrew Markos stand out in the crowd was the fact that both of them were giving their best to remain calm and methodical about their gameplay. They were patient and thought their strategy well enough to guarantee a successful end of the championship. The whole championship, due to its team character provided for a lot of entertaining moments and there was a lot of cheering on the teams involved.
This was the ninth edition of the Sidney Championships and as such, it returned with an extended schedule. This year's tournament is set to last 21 days starting on 18th July and going well into 7th August. There were some never-before featured events such as a A$330 buy-in Masters Event for players aged 50 and above, a A$1,100 Monster Stack at which players started with a 50,000 chip stack and one of the schedule's most anticipated events – a A$20,000 High Roller. The A$3,000 Main Event is yet to come and it will commence this Friday, 4th August, featuring the impressive A$1 million guarantee.