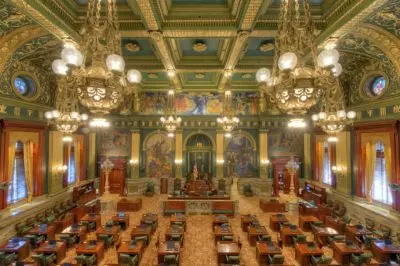 The $2.2 billion gap in the state budget of Pennsylvania might finally be filled after the Senate Republicans have come up with the plan for doing it. After a Wednesday session, which extended well into the night, the authorities have decided to implement the iGaming law in the process.
In the planes of the Republicans is the soon-to-be-discussed gaming expansion in the state. The expected revenue from it amounts to $200 million and this money will fit in the gaping hole in the state budget. Legalized gambling and iGaming have the full potential to generate this amount of money by the end of this year and help the budget. The Senate, Governor Tom Wolf, and House Democrats are approaching their final decision to give their approval to online games. Pennsylvania-located players will have the opportunity to use them.
According to the Republicans, they intend on improving the state of the budget by introducing new taxes and borrowing against a settlement with tobacco companies, which is expected to involve a couple of states. Another way in which the officials intend to fill the gap is by opening a new string of satellite casinos located in less developed markets. They will be smaller since this is the intention of the Senate. They will also make sure they update the regulation of daily fantasy sports companies, the online sales of tickets to Pennsylvania Lottery tickets, and the building of new gaming kiosks in airports in the state.
Jake Corman, Senate Majority Leader, said that the bill is discussed at the moment and the officials are approaching a conclusion regarding it. The gaming package has spent the last few weeks in the Senate since it is the subject of debate between the two parties – the House and the Senate leaders. Furthermore, there have been some plans for legalizing video gaming terminals in taverns based on numerous locations in the state, but the House seems to lack the support for it and this project is soon-to-be dismissed. The waiting game for the vote on the Senate has begun.
Another potential reason why the whole decision process is taking so long is the fact that there appear to be some competing interests which still need to be resolved. They are regarding the way local share payments will be distributed among casino host municipalities. While the authorities of Pennsylvania are trying to come up with a working plan and to reach a consensus, there is another opportunity in the gambling industry taking shape. Proponents of slots-style video gaming terminals located at bars will make an attempt to wedge their way in and pursue their agenda.