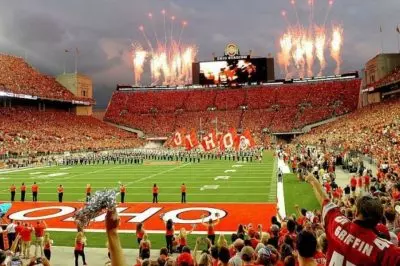 A conclusion has been finally reached to the dispute between Ohio State University and one of the biggest Cincinnati casino operators, regarding the trademark of "The Shoe".
Horseshoe Casino, operated by Caesars Entertainment Corp. put an end to the problematic situation which occurred between the casino and Ohio State University, following the expressed by the casino desire to trademark an entertainment venue "The Shoe". As it was decided, the state university will continue being the sole holder of the name, since Horseshoe Casino has decided to withdraw its application for ownership. About two years have passed since the beginning of the dispute between the entities back in 2015.
Details about the way the two sides of the debate have settled and come to a decision have not been disclosed as for this moment. The problem in the whole situation has arisen, because "The Shoe" is the nickname with which Ohio Stadium is well-known among the citizens and guests of the state. Naming the entertainment venue, located on the property of Caesars Entertainment Corp. with the same name might lead to confusion. Furthermore, Ohio State already owns the trademark for "The Shoe" and it applies to toys and t-shirts. It is also expected "The 'Shoe" to apply for entertainment services as well because the state has already listed its application.
By taking this decision Ohio State University also confirmed it is going back to its plans to host concerts and a wide variety of entertainment events in the stadium called the Horseshoe. This is a beloved tradition which will immensely benefit the state and keep the entertainment industry in it afloat. However, this was the main reason why lawyers maintained the opinion that the university stadium is a direct competitor of the entertainment venue which is located at the site of Horseshoe Casino.
The argument with which Caesars Entertainment Corp. has been trying to convince the officials to agree with them on the trademark is that Ohio stadium is located relatively far away from the casino site and this will not affect in any way the business and interest neither in the entertainment venue nor in the state stadium. There will also be no confusion because locals and guests alike know that the two places are not connected or part of the same brand. Also, "The Shoe" cannot be perceived as a household name, and according to the major casino operator, anyone has the right to trademark it and use it according to their own judgment.
As it could be recalled, Ohio State University has had another dispute before regarding the abbreviation OSU. It also managed to win it against Oklahoma State University, which had also claimed to use it for branding university apparel.