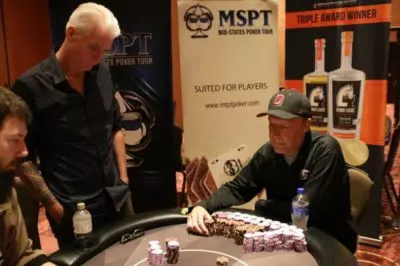 The Mid-States Poker Tour $350 Regional Event took place at the Potawatomi Hotel & Casino located in downtown Milwaukee, Wisconsin, and it attracted a spectacular number of entries. As many as 1,658 poker players arrived to show their best game, marking the biggest poker tournament held in the state so far.
Day 1A did not show any signs that the number of poker players in the tournament will swell to this impressive amount. There were only 421 people present and they demonstrated their skills on the tables. A slight and gradual change was noticed on Day 1B, where 524 players played, as well as flight 1C, boasting another 713 of them. So far in the history of poker events held in the town, the biggest number of entrants has been 1,272. This many poker players arrived for the World Series of Poker Circuit, which took place at Potawatomi in February this year.
This edition of the Mid-States Poker Tour $350 Regional Event was classified as the largest tournament in Wisconsin state history and the poker player, who managed to defeat the large crowd which came for the big money, goes by the name of Matthew Vignali. He is a 47-year-old attorney based in Milwaukee and he plays poker as his hobby. However, his spare time occupation has made him an expert of sorts and this is how he survived until the end of the tournament and claimed the first place on the leaderboard. He won $70,240 for his efforts and deep run in the competition.
When asked to comment on his performance after the final table of the Mid-States Poker Tour, Vignali said that he feels quite exhausted, but the exhilaration of the prize is there. He also added that he plays poker for fun and only on a local level. So far he has taken part in the Mis-States Poker Tour and the World Series of Poker Circuit when they were at their Milwaukee stop. The prize he won is also something he did not expect since his biggest cash so far has been $1,299. He is married and has three children, so when he was asked what he plans on doing with the prize, he said they will go for the university tuition bill of his son.
The final table of the tournament commenced with high stacks, as Michael Berry had 10.5 million, whereas Vignali possessed only half of that amount. This, however, did not discourage him and he continued fighting for the first place. He said he had a good feeling about the final table and his chances against his opponents. This is how he stood against Alexander Hill and left him a runner-up in the tournament.