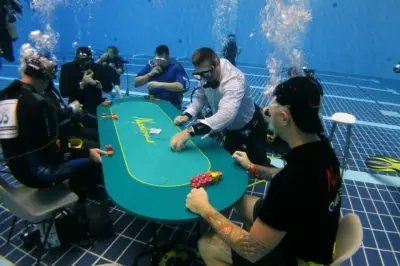 An unusual underwater poker tournament will take place on Sunday, 23rd July, in South Florida Diving Headquarters, celebrating the first anniversary of the sinking of 324-foot tanker named Lady Luck, which is part of the cultural arts attraction called Shipwreck Park.
The underwater poker tournament welcomes poker enthusiasts to cool down, while playing their favourite card game on Sunday, 23rd July, when the last 6 players, who manage to survive in the poker battle will grab their snorkels to meet in the final round of the event.
The Texas Hold'em tournament kicked off yesterday, 19th July, when the cards were thrown in the air for the first time and the players took their seats at the poker tables. All the players will firstly compete in poker rooms before the names of the final 6 hopefuls, who will dive for the final round on Sunday are announced.
The 6 survivors will firstly dive to the aqua attraction Shipwreck Park, where they will continue with the poker battle. The poker table is already installed even before Lady Luck was settled on the bottom. The idea was suggested by the creative artist Dennis MacDonald, who installed a faux casino, including a poker table to the ship's deck.
The players will be handled plastic cards and clay chips. The player, who manages to top the poker field, settled on the bottom will be honored not only with a trophy, but also with the chance to be the first to dive on the sinking of the ship Okinawa, said to take place on 18th August.
The main sponsor of the event, and unsurprisingly of the ship's sinking, is Isle Casino Racing Pompano Park. The event is expected to be attended by almost 60 people, who are eager to observe closely the game.
The first underwater poker event in the world took place at Ponds Forge in Sheffield in 2013, aiming to raise financial cancer support. The European underwater poker event was organized by Napoleons Casino and it appeared to be very successful. Following the European underwater model, now South Florida is impatiently expecting the underwater poker event.
Players will be swimming up to poker tables, slot machines, enormous dice and many other casino decorations. This time the cards will be thrown "in the water", celebrating exactly year after the formerly named Newtown Creek, now Lady Luck was sunk as an artificial reef in the Pompano Beach's Waters.