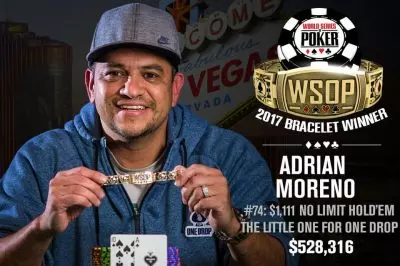 The 48-year-old poker player Adrian Moreno managed to outlast a field of 4,391 players to captivate his first-career gold bracelet and to rake a massive cash prize worth $528,316 in the WSOP charity One for One Drop event.
Moreno managed to win his first WSOP-branded gold bracelet on Sunday, 16th July, when he outplayed his heads-up opponent Martin Lesjoe, after almost 2 hours of intense play. The annual charity WSOP event supports financially the One Drop foundation and offers massive cash prizes to the players. This year, the prize pool reached the solid amount of $3,951,900, with a buy-in for the event worth $1,000. Due to the great interest, the event was extended into unscheduled Day 4.
In an interview, the winner of the event shared that the WSOP gold bracelet has been one of his dreams. Moreno explained that he manages to successfully combine his job with playing poker and his poker earnings are the proof of it. This is not the first payday for the Moreno, as he plays both cash games and tournaments. The player expressed his preferences to the more aggressive style of play, which could be noticed in his strategy while on the poker field.
The 11th day of the tournament welcomed only 12 players, among which was Moreno. Even though Moreno appeared to be very close to the elimination more than once, he managed to focus on the game and take matters in hand. The official final table welcomed 9 players, but the action took a rapid pace in the beginning and the first to leave the poker field was Alexandros Papadopoulos in 9th place, adding $45,578 to his poker earnings.
However, the two players, who managed to enter the heads-up duel were Adrian Moreno and the 28-year-old Martin Lesjoe, who entered the match with a significant chip advantage over Moreno. He was holding almost 3 times bigger stack of chips than Moreno. The intense game witnessed many turns and twists till the decisive hand was already in the air and all the chips were pushed at the centre of the table.
The dealer turned [Ks][Jc][5s][Qs][6s] on the board, which gave Moreno a flush and rocketed him straight away to the first place. Lesjoe scooped $326,314 cash prize for his deep run in the event, but he missed the chance to add the last for the summer season WSOP gold bracelet to his poker trophies.
In a post-victory interview, the winner explained that his opponent manifested great skills on the poker field, but the cards were well-disposed to Moreno. Besides the generous prizes, the event managed to generate $487,401 for the One Drop organization, which is concerned with solving water supplying problems.