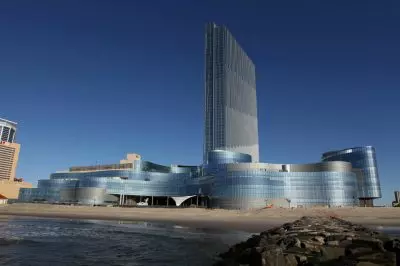 The former Revel casino in Atlantic City which was shuttered and dormant for more than two years may be soon awakened. A private equity company in New York City has allegedly made an offer of $200 million to purchase the venue of the former casino.
This was confirmed by the Director of Operations for Digital Launch, Alex Fredericks. This is the development and management company representing the private equity firm, whose name is yet to be unveiled. To this moment the Revel has been under the ownership of Glenn Straub, who is a Florida-based developer. He acquired the Boardwalk property after its bankruptcy in August 2015 for $82 million. This happened three years after the 47-story tower was finally completed. The whole project was estimated to cost $2.4 billion.
The owner of the 6 million-square-foot property claimed that he had no idea there is an offer made for the resort, as well as he has never been reached by any equity firms regarding a sale. When he first purchased the venue he went through a myriad of setbacks involving utility providers, sewage, and former tenants. Last fall he announced the full rebranding of the project he is making and its new name TEN. There have been several promised opening dates for the new project, but regardless his best intentions, as of yet the property remains closed for business.
Glenn Straub has led a legal battle with the Casino Control Commission, in relation to their claims that he should obtain a gaming license if he wants to open a casino venue on the property. His position on this issue is that his business partner, the CEO of TEN Robert Landino already holds a license in another state. According to Straub, he should not be required to apply for one, because he is leasing the casino area to a third-party vendor. Despite his previous plans to open the resort as a hotel-only venue, Straub is currently insisting on implementing a gambling property as well.
According to Jean Muchanic, Executive Director of the Absecon Lighthouse the prospect of a sale seems exciting. He said that the property has a great location and the gambling field will benefit immensely if it goes to once again a thriving attraction and a place for entertainment. Muchanic said that the area has great potential and is a hidden gem, which awaits its discovering.
Straub has been prompted to sell the property since it was inactive for so long. Only last month, Mayor Don Guardian said that investors have been expressing their interest in the property for quite some time now. In addition, Gov. Chris Christie stated on his June "Ask the Governor" radio show that the casino owner has not been able to do anything productive with the site.