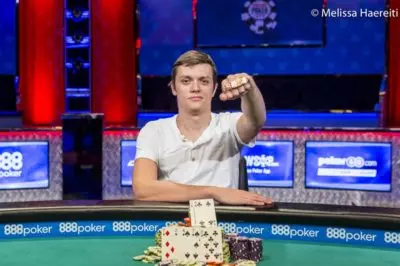 On Monday, 3rd July, the Belarus-born poker player Artur Rudziankov managed to outplay 1,763 players in $1,500 No-Limit Hold'em and top the field during an extra day. He pocketed $395,918 and started his WSOP collection of trophies with the first gold bracelet in his career.
The 29-year-old Rudziankov managed to almost double his poker bankroll, by adding the first-prize to his earnings. The event was met with great interest, which is not a surprise having in mind the guaranteed prize pool, which was swollen to $2,380,050. 265 players managed to attain a cash prize, but it was Rudziankov, who got the big one.
This triumph is more than a personal achievement, as this is only the second time, when a Czech Republic poker player manages to win the gold bracelet. In fact, Rudziankov is born in Belarus, but he lived most of his life in the Czech Republic.
Due to the great interest in the event, an extra day was added. Moreover, the game was following a slow pace, as every player was struggling to appear in the list of top players. Day 3 welcomed 23 players, who managed to survive the crowded field. However, after the number of poker players was melted down to only 9, the official final table welcomed the contestants. In fact, it took a while until the names of the two players, who were about to enter the heads-up battle were announced, as all the players on the final table were poker heavyweights.
Nevertheless, after the number of players was reduced to only two, it appeared that the two finalists, who will enter the two-handed battle are Artur Rudziankov and the Spanish-born Mario Prats Garcia, who managed to scoop a WSOP cash prize for the second time. However, this was the player's biggest payday, as he managed to rake $244,611 for his deep-run performance, finishing as the runner-up.
What appeared to be the winning hand was hand number 200 in play. Both players moved all-in and all the chips were already placed at the centre of the poker table, ready to decide who will be the final winner. It was Artur Rudziankov, who gave the start of the all-in confrontation, and his opponent called the bet. At that time Prats was holding [Ac][Js] against Rudziankov's [Jd][4c]. The Czech Republic player could not hide his annoyance by the hand he was holding.
However, the flop changed the situation as the dealer turned [4s][2s][7d], followed by a turn of [8c] and a river of [7s], which appeared to be a blank draw for both players. Thus, Rudziankov's managed to flop a pair and secure the biggest share of the prize pool, along with inscribing his name in the history of the Czech Republic as the second poker player, who brought gold and fame for his country.