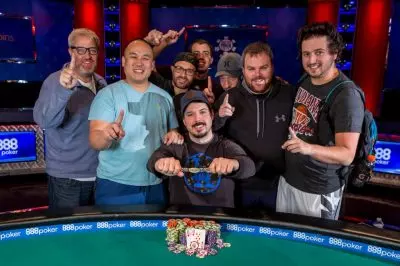 The Floridian poker player Chris Bolek triumphed over a field of 1,927 entries and defeated his heads-up opponent Bryan Emory in 2017 World Series of Poker $1,500 No-Limit Hold'em Bounty event, only to scoop $266,646 in cash and add his first career WSOP gold bracelet to his collection of trophies.
Bolek has long experience on the poker tables. This can become clear only when one takes a look at his seven-figures poker earnings and the collection of trophies from different poker events. The only piece, which was missing in his collection was the WSOP gold bracelet, but from yesterday on, 29th June, the player managed to capture it.
The guaranteed prize pool reached $2,601,450 and after each elimination, the first prize was increased with $500. The whole event was planned to continue for 3 days in total, but the game took longer an thus, the organizers added one more day extra. Even though Bolek brought the shortest stack of chips to the final table, he ran on a hot streak to significantly melt the difference. He did not retreat from his position and even managed to take the position of a chip-leader after derailing James Gilbert in 3rd place.
Thus, he added a significant amount of chips to his stack and sent Gilbert home with $119,479 in cash. Bolek continued to march ahead to the victory, entering the heads-up battle against Bryan Emory with 5 times more chips. The final duel did not take a lot of time, until the decisive final hand was in the air.
All the chips were already placed on the table, when Chris Bolek was holding [8d][8h] against Emory's [Ah][4h]. The dealer flopped on the table [10d][9c][5c], which was a blank draw for Emory. The turn ran [Qs], which means that only an ace could help the player survive in the game. [2h] appeared on the river to send Emory to the runner-up position, which paid him $164,735.
It was an interesting heads-up match, but what was really thrilling was the intense five-hand table, which was the reason for the extra 4th day. From being one of the three players with the shortest stack of chips, the eventual winner managed to climb the ladder of success and eliminate some of the opponents. This helped him to gain the upper hand over his opponent at the most decisive moment – and namely, just before the heads-up battle started.
The player shared his excitement from the victory, explaining that he did not expect to make it to the first position, as he had not a very good start at the final table. Nevertheless, this is not the first tournament for the player, which is the explanation for his self-control. The fans of the player will be able to see him in action on the poker field of the Main Event.