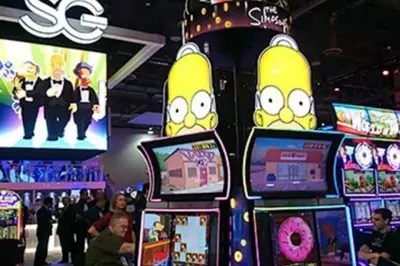 Scientific Games Corporation announced the release of its gaming product yesterday, 27th June, which is called The Simpsons, featuring the beloved characters from the popular American animation, providing the players with the opportunity to win a life-changing jackpot, as the product is a slot game with an accumulative prize.
Scientific Games united forces with Twentieth Century Fox in a conjoint venture to launch a product, which will introduce movie features incorporated in a gaming product. The two companies shook hands as far back as 2015. The idea about the innovative gaming product was presented at the Global Gaming Expo (G2E), where the company-developer exposed its Gamescape cabinet. It was announced that the product will be inspired by the Simpsons animation.
It was yesterday, when the product's debut on the market. Players can enjoy their favorite characters from the animation, while having the chance to win a cash prize. The entertaining game is a part of the Gamescape cabinet, which utilizes HD screens and 40-inch other curved top screen, so that the player can feel as being a part of the animated program.
The 3D sound effects even enhance the gaming experience. What is the most unique feature of the game is that it enhances the interaction of the player with the game due to the motion sensor technology.
To celebrate the debut of the game on the market, Scientific Games included some interesting bonuses and promotional options. Currently, the Simpsons game is on the market in North America with the perspective to expand very soon. Derik Mooberry, Executive Vice President and Group Chief Executive at Scientific Games explained that the company expects that the game will be welcomed warmly by all players, especially the fans of the animated channel.
Scientific Games Corporation is a forward-thinking gaming developer, which has in its portfolio different products, featuring more than various content. It co-operates with many international casino operators worldwide, who are counting on the company to enrich their selection of games.
The slot game as a product is not something new on the market, but the recently-released Sci Games' product combines the traditional features with some innovative, more advanced technology. Thus, the developers place hopes that it will attract the attention of both millennials and amateurs. What is more is that the players will have the possibility to increase the bonus prizes by making an extra bet.
Having in mind that the slot games are as old as the world itself, the chance for the regular players to get bored is increasing. Thus, many gaming developers, including Scientific Games, always try to introduce something new on the gaming scene. However, the company-developers keep their fingers on the pulse of the most innovative technologies, as the gaming market is in a never-ending search of improvement.