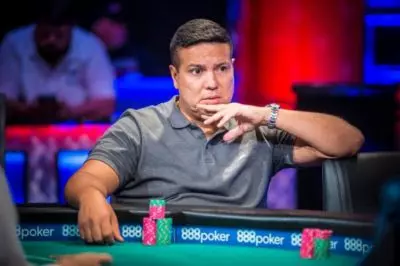 Luis Calvo managed to top a field of 630 entrants and derail his heads-up opponent Rudolph Sawa to win his first career WSOP gold bracelet and add $362,185 to his earnings at the 2017 PLO 6-Handed event.
This is a significant triumph for the 41-year-old American poker player Luis Calvo, as he managed not only to rake a significant cash prize of $362,185, but also to win his first WSOP branded gold bracelet. The event welcomed 630 players, who were competing for a share of the guaranteed prize pool worth $1,701,000.
The final table, though, did not welcome any gold bracelet winners, as Jeff Madsen was derailed in 16th place, raking $15,531. Statistically, only 19 players managed to reach Day 3 of the event and it took no more than 4 hours till the number of players was reduced to 7, who appeared on the unofficial final table. However, the third-place finalist was Mark Reilly from Ireland, who scooped $149,258 for his deep run in the tournament.
The two players, who were still in the game were Luis Calvo and Rudolph Sawa. They entered the two-handed match, which was about to announce the winner of the PLO event. The heads-up duel was intense and took sharp turns of chips swinging back and forth, but it did not last long. The moment of triumph came when the flop run [9c][7h][4c] and Sawa checked. Calvo placed 200,000 chips and Sawa raised to 920,000.
At that moment Calvo was holding [Ac][Ah][Kd][10c] against Sawa's [8d][6c][3d][2s]. The turn did not tip the balance in any way, as [Qd] appeared on the board. The river was also a blank card for both of the finalists, since the dealer turned [Qs] on the board. But Calvo's two pairs in his hands secured him the pot and the victory.
In apost-victory interview, Calvo shared that he is not really into live tournaments, but more a cash-game high stakes player. Nevertheless, he explained that he really enjoyed this $3K PLO experience, sharing also that he had never liked the no-limit variation of the game.
This is not the first WSOP cash prize for the winner, but probably one of the most significant. Following the course of the game, the player managed to eliminate some of the most fearsome players on the table and showed immsaculate strategy. On the other hand, Sawa's runner-up position is also a significant achievement for the player, having in mind that he is not that old on the poker field.