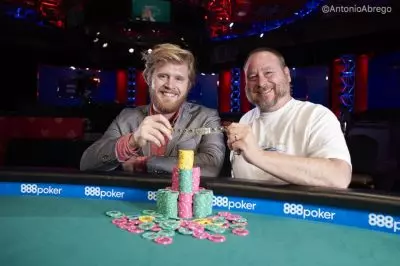 Nathan Gamble, a former soldier, managed to top a field of 830 players in $1,500 Pot-Limit Omaha Hi-Lo WSOP event, which took place previous night, scooping the cash prize of $223,339 and his first-career gold bracelet, along with winning a last longer bet.
The 27-years-old Army veteran and poker player became the winner of the $1,500 Pot-Limit Omaha Hi-Lo event, derailing 830 other players, who were competing for the title and the prize pool. It became clear that Gamble's favorite variation of the game is namely Pot-Limit Omaha and Pot-Limit Omaha 8 or Better, which explains the perfect skills, which the player showed on the table.
Being confident enough in his brilliant performance, Gamble entered a last longer bet with 5 other players, which he eventually won. It is the player's biggest achievement in his poker career, having in mind that he did not reach the final table before.
Despite the big excitement, the poker player shared that he managed to keep his emotions under control to best the final table. Gamble backed up his position, by holding the most massive stack of chips from the 8 players left on the final table.
By the time when the players were reduced to only 5, Gamble was the actual chip-leader and he did not retreat from his dominant position till the end of the game. He went on a hot streak, which gave him a big portion of all the chips in play.
Even though the final table welcomed only experienced players, among who appeared even bracelet winners, it did not take longer than an hour for the player to eliminate the opponents and enter the heads-up battle against the eventual runner-up Adam Hendrix, who added to his earnings $137,992 for his second position in the list.
The heads-up duel, in fact, took only one hand time, as Gamble was holding ten times more chips than his opponent. The board run [Jh][8d][3h], when Gamble bet 120,000 chips. His opponent moved all-in and placed all his chips to the centre of the table, while Gamble called the bet, holding [Kd][Qh][Jc][8h] against Hendrix' [4s][10h][10c][2c]. The [8c] flopped on the board, followed by [Kc] on the river. Thus, Gamble managed to strike a full house and derail Hendrix to the second position.
Gamble shared that he would like to dedicate his victory to his father, who revealed him the ins and outs of the game. He explained that he will give the gold bracelet to his father in return for the precious poker lessons he taught him.