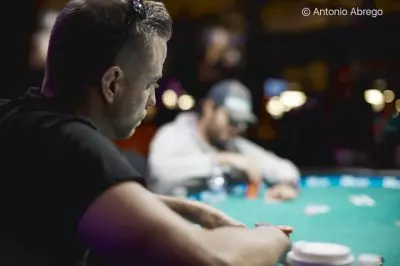 The late hours of Thursday will stick to the mind of the poker player Tyler Groth, who managed to gain the upper hand over all the 1 058 players, who participated in $1,000 Pot-Limit Omaha event, and bring back home $179,126 in cash and his first WSOP gold bracelet.
This is the first time for Groth, in which he manages to add a six-number prize to his poker earnings. What is considered as a great achievement for the player is the fact that he managed to win the first-prize by playing pot-limit Omaha, even though he shared that he is not a PLO player. He explained that he is attached to play split pot version of the game. That is the reason why Groth was more than excited, having in mind that most of his opponents were PLO players.
He added that at first he felt nervous, but then he adapted to the atmosphere, which helped him to run deep in the game and appear on the final table. Groth managed to eliminate Allan Le, who was the last to leave the final table before the heads-up battle started. Le managed to scoop $78,372, but he missed the chance to add another gold bracelet to his previous one.
This, on the other hand, gave the chip-lead position to Groth, who entered the heads-up battle with a significant chip advantage of more than half of the chips in play over his opponent Jonathan Zarin.
This was the decisive moment in Groth's game. In fact, his runner-up Zarin could not threaten Groth's leading position even for a minute. The heads-up battle continued for more than an hour, in which the players were trading small pots. But the cards were not well-disposed to Zarin, who appeared to be on a losing streak against Groth.
In the last minutes of the heads-up battle, the flop gave Zarin a bottom set and the turn helped him to fill his bottom set and make a full house. Groth, on the other hand, rivered a full house of aces, which sent him straight away to the first place in the list.
The 32-years-old poker player has previous experience on the poker tables. Even though he stopped playing for some time, he still managed to manifest skills and immaculate strategic in a variation of the game, which is not his regular one. Of course, the luck also had a fair share in Groth's game, since he managed to "survive" after his stack of chips was melted significantly by Darren Taylor, which was one of the most critical moments for Groth. With such a great chip advantage, Groth entered the heads-up battle, being confident that he will win.