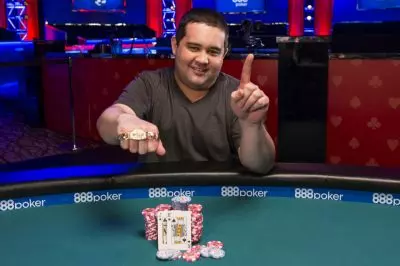 The 33-year-old Bryan Hollis managed to outperform 651 players, who participated in the 2017 WSOP Casino Employees No-Limit Hold'em to win $68,817 and subscribe his name as the first bracelet winner of the event for this year.
The event, which gave the first gold bracelet to Hollis, and it was the first to be given from 2017 WSOP, attracted 651 players. The buy-in for the event was $565, and thus the prize pool reached attractive levels. All the players were competing for a fair share of the prize pool, but it was Hollis, who managed to appear on the first place. The player shared his excitement from winning his very first gold bracelet.
The three players, who entered the final table were Bryan Hollis, Chris Solomon and Josh Clanton. Solomon appeared to have the biggest stack of chips over most of the time, but Hollis managed to take the chip lead by eliminating Clanton, who was holding top pair against Hollis' two pairs.
Thus, Hollis entered a heads-up battle against Chris Solomon, who fall in the bluffing trap of Hollis. The one-to-one No-Limit Hold'em battle run for 25 hands, when Brian Hollis finally managed to gain the upper hand over his opponent. He outplayed Solomon, who left the poker table with $42,508, while Hollis managed to take a bigger portion of the prize pool, bringing back home $68,817.
It became clear that the winner of the event does not have a rich background when it comes to no-limit tournaments. Even though he is an experienced player, he acquired his skills in limit cash games. The reason for this is that the player started his poker career with the seven-card stud variation of the game and then he started to play limit Hold'em. But as a matter of fact, most of the poker tournaments offer no-limit Hold'em and that is why this is seen as a great success for Hollis.
The advantage of Hollis against his opponent was that he played against him just the day before the final table was set and he knew the strategy of Solomon. The winner shared that he did not expect to reach that far in the tournament, because his main intention was to try himself in the no-limit variation of the game.
The event ended in a really interesting way, giving the first prize to Hollis, who managed to outperform his opponents in a variation of the game, which he usually does not play. This experience may encourage Hollis to continue with the no-limit Hold'em variation of the game, but it is yet to become clear what are the intentions of the young player.