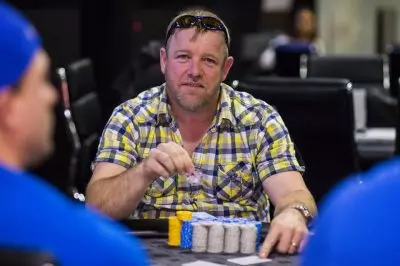 Event 4 presented by Playground Poker Club was NL Hold'em Survivor, which took place at 7 p.m. in Kahnawake and chopped an equal share of the prize pool between 16 players, out of 169 in total.
The tournament is inspired by the real "Survivor" show, where all players need to take the upper hand over the opponents and "eliminate" them. The event witnessed great interest by players, recording 169 entries for the event.
The participants in the Hold'em Survivor needed to cast off 90% of the players and the 10%, who managed to outlast the rest, get an equal piece of the prize pool. Thus, this year the tournament presented 16 winners, each awarded $2,910.
The course of the game was outlined by some very intriguing moments, which changed the whole outcome of the game. Such example is the play of Neil Trahey, which was highly affected by a big mistake, which he did by himself. The wrong step of the player cost him a stack of chips. He even appeared among the players with the smallest stack of chips and was cast away from the game.
Trevor Delaney appeared to be the player with the biggest stack of chips. He benefited from the distraction of Trahey and managed to outwit him with [A][K] over [A][3]. The loss of Trahey was estimated by many people as a fail, but not as a lack of skills. Many of the players were comforted by the fact that Trahey is eliminated, without even hiding it.
Arthur W did not manage to range among the first 16, but the tournament offered a prize also for the one, who takes the 17th position. The amount, which the player earned was $2,619. Just a couple of minutes before the end of the tournament, Arthur W crossed the edge of the list of 16th, but he still managed to walk away from the tournament with a prize.
A phase of another major event was held on the same day and that was the partypoker LIVE Million North America. It offered the opportunity for the players to benefit from a discount to grant a seat in the solid Main Event. What is more is that the players were allowed to take all the chips, which they accumulate to the first day of the Main Event. The player with the biggest stack was Sammy Chao, who had 3,149,000 in chips. This granted him a good start in the Main Event, holding the biggest stack among all the other qualifiers.
The NL Hold'em Survivor is part of the poker festival presented by Playground Poker Club. This year, the observers of the tournament could enjoy interesting twists and turns of the game. Following the same structure of the Survivor show, Hold'em Survivor checked not only the abilities of the players, but also their vigilance over the game.