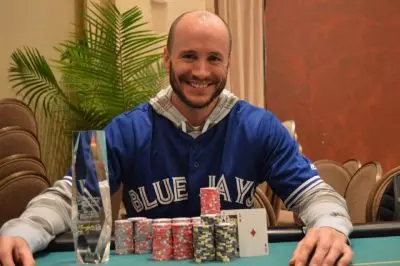 After the second day of the partypoker Live Grand Prix in Canada, Mike Leah got the upper hand over the rest of the players and outlined the possible winner of the event.
The poker expert Mike Leah took part in the first event of the Playground Poker Spring Classic. Up to now, Leah is undoubtedly the leader among all the other players, emerging on the top of the leader board with a stack of 6,054,000 in chips.
There were 269 players who were competing for the title. The championship consists of 14 levels, in which the players are given the chance to show their skills in the game. Despite the big competition, Mike Leah, the Canadian pro poker star, managed to eliminate his opponent during the final levels of the second day with [A] [Q] over [A] [J]. Of course, the championship will continue until a winner is crowned, but until now everything is in favor of Leah.
The second day of the championship went in a more dramatic way, when Leandre St-Laurent managed to take the lead until Mike Leah managed to take it back. The interesting change of the two players surprised many people, since during most of the day St-Laurent was the leader.
The first 100 players who qualified for the second day of the championship online were awarded a Golden Chip. So far, 11 Golden Chip holders are in the event, among who is also Leah. The reason is that he managed to win the bonus prize of $20,000 and outlast among the rest of the players.
Despite the fact that the second day was marked by an attractive bonus, it was not a good day. Most of the players, who stopped playing on time managed to avoid substantial losses, but all the rest melted their stacks of chips.
Of course, there were players who did not hesitate to continue to play. Among these players were noted the names of Timothy Deering and the World Poker Tour Champions Club member Eric Afriat. They will also appear on the third day of the gaming festival.
The third day is expected to start at 7 p.m. in Kahnawake and it will continue until a player wins the title. Of course, the beginning of the day will start with the name of Mike Leah atop of the board. He will be followed by 38 players in the competition for the crown. The players will struggle not only for the crown, but also for the prize, which is $100,000.