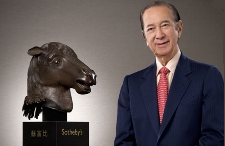 After suffering from poor health, Stanley Ho, the casino magnate of Asia, has transferred to his family members most of the stake that he had in the gambling company called Sociedade de Jogos de Macau Holdings. This is being touted as the latest move in the octogenarian's effort to hand over power from himself. Ho had almost 32% stake in the company, which owns more than 50% of Macau's casino operators. He had handed over all of this, according to a brief sent to the Hong Kong Stock Exchange on Monday. He now remains in possession of merely a 100 shares of the company.
The 89 year old Asian billionaire has long been planning to pass over the reins of the gambling empire that he built in the former colony of Portugal, Macau, to his children and this transfer is being seen as the latest development towards the realization of those plans. He was admitted to a hospital two years ago and underwent surgery for unspecified reasons. According to the local media he had a brain surgery after a severe head injury. He hasn't appeared much in public ever since.
The news had come after SJM, the Macau gambling company owned by Ho, announced Angela Leong, the fourth wife of Ho, as the new managing director of the company in December. A Macau newspaper reported her as saying that the move came after it had become increasingly inconvenient for Ho, due to his medical condition, to frequently travel from Hong Kong to Macau and back for handling the company's business. SJM also announced that no changes will be made as far as the strategic direction of the company is concerned.