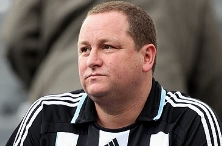 It has been reported that the multimillionaire owner of Newcastle United Football Club, one of England's elite Premiere League, in a few hours of gambling in a casino lost a staggering sum of around 1 million Great British Pounds. Apparently, he was on a night out with the manager of the football club, Alan Pardrew, and lost the entire amount on a single session in a game of crabs, which is a game of dice.
The incident was reported in the British newspaper, the Sun. The report also said that Ashley had initially been on a winning spree and had collected 130,000 GBP in a couple of hours of gambling which he had started right after he arrived at around 11 in the night. However after he had saved a 100,000 GBP from that sum into his casino account, he quickly lost the rest of 30,000 GBP he had left in the second session after he made his return to the table, and still kept playing after that.
The worst started for the 47 year old Newcastle owner at around 2 in the morning, when he apparently lost 30,000 GBP in a mere ten minutes. A source for the Sun even claimed that Ashley, at times, covered the table with his bets as he always bet in thousands or tens of thousands at a time. The source also added that Ashley left the casino at 4 in the morning, by which time he had already lost 970,000 GBP and to top it up, he didn't look bothered in any way. It is told that while leaving, Ashley had a smile upon his face and he also tipped 700 Pounds to the dealer, something gamblers usually do after they win.