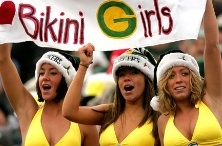 An upcoming game in the NFC championship with the Packers up against the Chicago Bears has got fans in both the states on the edge of their seats with excitement. However, in the light of both the teams' very successful campaigns in the playoffs, there could be compounded debts for the many problem gamblers in the states. Fans are known for pouring money over many bets as a response to their team's success and that is exactly what they are doing now. Saturday's game between the Packers and Bears could be one of the most bet upon game of the season, quite possibly the biggest gamble in a while, says Richard Gardner who is the manager of sportsbooks in the online gambling site called Bodog.
There has been heavy betting so far for the NFC championship game, from the Chicago and Green Bay areas in particular, and an overwhelming 65% of these bets are on the Packers covering a 3.5 spread. An associate professor for psychology and human development, Dennis Lorenz, who teaches at the University of Wisconsin in Green Bay, studies the attitudes people have toward sports gambling. He says that even though the Super Bowl might be the most bet upon sporting event in the country, people use championship games such as these as an excuse to get involved in betting during the build up to the event.
Lorenz explains that people get involved in the betting in order to feel that they are directly involved with the result of the game and thus the game itself, they feel connected to the event and thus get innate satisfaction from betting. With the success of the Packers, such tendencies of the fans are increased and that in turn results in even greater betting turn outs.