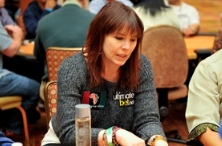 An announcement made by the Federated Sports and Gaming revealed an alliance it has forged with the Palms Casino Resort for showcasing a revolutionary new league for professional poker in 2011. The initial schedule includes four marquee tournaments and a single championship event to be held in Las Vegas. It was also announced that Annie Duke will, for the first time in her career, be assigned the role of the commissioner of the league. She said that the group is looking forward to growing the poker business and aligning with one of the best-in-its-class gambling venture.
This newly formed poker league, led by Duke, will be made up of 200 of the world's best poker players and they will enjoy some very generous prizes for these events. The proprietary ranking system used by the league will feature eligibility criteria which will be mathematical and will also consider the player's past historic achievements. This system will employ techniques that will rank poker players in ways similar to those used in ranking professional golf and tennis players.
Federated Spots and Gaming was formed by Jeffrey Pollack, Michael Brodsky, David Goldburg and Jeffrey Grosman who are all some of the top names in the gaming and gambling industries. These people along with Duke have given birth to a series of televised poker events, in the form of this league, which will showcase the best of poker players of the world. The management team that is behind Federal Sports and Gaming is comprised of management executives who are unparalleled in terms of experience in gaming and gambling industries. The initial focus of the company is on the merchandising and developing innovative forms of poker entertainment.