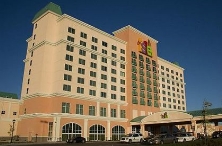 It's good news for the gaming industry of Iowa as it starts to rise again after the recession, following which the revenues from all over the state had dropped for the first time ever since 1993. It is a far cry still from the best days the industry in the state has seen. However, it is good to see that the revenues are increasing, with 12 of the 17 casinos in the state showing an increase in the profits from the last six months than what they had earned in the 2009 July to December period. Casino revenues from the whole state showed an increment of over 1% for the previous six months as compared to those last year, says a report from the Racing and Gaming Commission of Iowa.
Jack Ketterer, the administrator of the commission said that the situation wasn't getting worse and the movement at present is for the betterment of most properties. The regulating body of the state cited that the condition of the casinos wasn't very good in terms of the profits and gave recession as a reason for its decision in May last year to reject the casinos that were proposed in Fort Dodge, Tama County and Ottumwa. The revenues of Iowa casinos had dropped by an astounding 3.5% in the previous 12 months that ended in June. It was the first downturn the industry had faced in over 17 years. License for only one casino was approved, the Grand Falls Casino Resorts which cost around $120 million and is now being constructed in the Lyon County of northwest Iowa.
The slight upward graph of the casino industry in Iowa is similar to the situation of casinos in the rest of the country. Revenues that have been generated from casinos and gaming in 14 states for the year of 2010 have shown an increase of just under 1%, which is quite an improvement from the diminishing profits in 2008 and 2009 when the recession was in full swing.